Sitecore Composable DXP: 5 Top Areas to Future-proof your business with end-to-end Digital Experiences
Over the past couple of years - there has been a paradigm shift in customer priorities, primarily aided by the pandemic. Naturally, marketing priorities have also changed.
According to Sitecore,
Moving marketing technology to the cloud has become a priority for marketeers with cloud adoption increasing from 30% in the pre-pandemic scenario to 42% in the post-pandemic world
54% US Marketing teams indicated that Digital Experience Platforms forms a crucial part of their digital investments
Marketing strategies in 2022 & beyond would be focused on seamless integration of technology platforms, cloud adoption and upgrading the tech stack for greater agility and resilience. Sitecore Composable Digital Experience Platform (DXP) has emerged as a leading Digital Experience Platform for brands to drive impeccable digital experiences at scale.
A DXP platform as we know today, has evolved over time- what was once a web content management CMS has now developed into a robust digital experience platform. Headless content creation and distribution functionality, AB testing and personalization capabilities, commerce and marketing automation tools – all of these can be easily managed and hosted on cloud.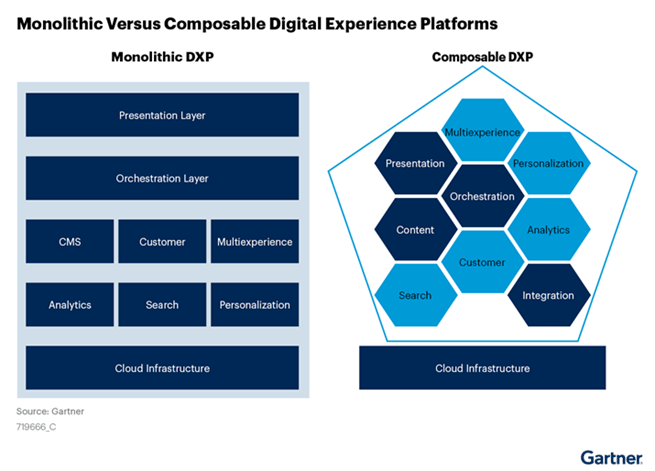 By 2023, organizations that have adopted an intelligent composable approach will outpace competition by 80% in the speed of new feature implementation, states a recent Gartner report.
At Espire, we assess and analyze a brand's business bottlenecks to develop a composable DXP architecture with state-of-the-art technologies to help brands derive the maximum value of their digital investments. In this blog, we will showcase how Espire is leveraging Sitecore Composable DXP to help brands drive impeccable total digital experience across touchpoints.
1. Cloud Migration & Managed Services
42% of businesses are moving marketing tech to the cloud, which is 40% more than before the pandemic, states report.
Leading brands across sectors are adopting a digital experience platform hosted on cloud as a ready replacement for their legacy content management platform for faster deployment of marketing campaigns and reducing capital costs. Espire provides end-to-end migration and managed support services to help brands adopt a scalable solution to fast-track business growth.
This success story highlights how we optimized data and content management with an Azure-based solutions for a leading Singapore-headquartered transshipment hub. We recommended the customer to host Sitecore CMS on Azure PaaS, for seamless tech deployments and enhancing the time to market. Read the complete case study!> here

2. Total Digital Experience
Total Experience not only enhances customer experience and engagements, it also streamlines business processes and improves employee productivity, thereby, leading to a rapid increase in customer acquisitions for businesses.
We helped a leading Australian university deploy total experience solutions to enhance student and staff experiences across all digital channels. Our solutions improved staff efficiency with optimized processes and increased student conversions. Read more >
3. Marketing Automation
With an easy drag & drop interface, Sitecore Marketing Automation tools help brands drive automated and targeted campaigns to a large customer base with a single tap of a button. It helps marketers deploy multiple omni-channel campaigns simultaneously for greater business outcomes.
Espire received an honorable mention award at Sitecore Experience Awards 2021, for helping a leading UK-based motorcycle insurance company drive impeccable omnichannel digital experience. We deployed more than 20 Sitecore marketing campaigns which targeted both existing and prospective customers to help the brand witness a significant increase of 15% increase in open rate & 8-10% increase in click rate. Know more> here
4. Personalization
Sitecore personalization tools help brands drive contextual communications to customers at the right time and through the right channel. It helps marketers analyze customer preferences and behavior, allowing them to drive targeted communications to enhance customer experience throughout the sales funnel.
This success story highlights how Espire helped a Global Supplier of Integrated Printing & Packaging Company, improve customer experience with Sitecore personalization. We upgraded their E-commerce platform for delivering personalized customer experiences with improved user navigation & enhance the overall customer journey. Read more> here

5. Digital Asset Management
Digital assets like images, doc files, media library etc form the bedrock which helps marketers develop engaging content for improving customer communications and experience across touchpoints.
By Designing a Sitecore Connector, Espire helped a leading US DAM Solutions Company improve their customer experience and optimized processes with less dependence on manual efforts. Our solution enhanced the time to market by up to 50% with improved sales. Know more> here
The volatile market combined with the dynamic customer needs has compelled marketers to abandon monolithic technologies that cannot meet market demands and adopt a futuristic composable DXP solution to deliver exceptional user experiences. Sitecore, the digital experience leader is constantly integrating new capabilities, with its latest acquisitions- Four51, Moosend and Boxever, to emerge as a scalable end-to-end digital experience platform for all your branding needs.
To know more about our Sitecore capabilities, Visit here >
For more queries, get in touch with us at marketing@espire.com