Top Benefits of leveraging cloud solutions for Customer Communications Service Providers
According to Gartner, by 2023, over 75% of all customer communication management implementations will be cloud or hybrid solutions. The need for change is being driven by the wholesale redesign of CX across digital and nondigital channels.
Over the last decade, cloud solutions have emerged as a must-have technology for brands to instill agility in processes and fast-track business growth. Cloud computing empowers businesses with the flexibility to leverage cloud services and IT resources anytime, anywhere. It relieves businesses from the burden of owning and maintaining data centers and servers on-premise by providing cloud and hybrid solutions on-demand basis from cloud providers.
According to Gartner, IT leaders need to formulate a cohesive cloud strategy that is expansive and forward-looking to fully reap the business value of cloud.
There are primarily, three types of cloud computing solutions which include Infrastructure as a Service, Platform as a Service, and Software as a Service, these solutions come power-packed with their own specifications and benefits, to be leveraged by organizations based on their unique business needs.

1. Infrastructure as a Service (IaaS)
With wide access to networking, computing and data storage, Infrastructure as a Service provides businesses the flexibility to ramp-up and ramp-down their IT requirements. IaaS reduces the dependency on maintaining on-premise data centers and helps businesses to save infrastructure costs, while increasing stability, security and storage.
2. Platform as a Service (PaaS)
Platform as a service (PaaS) helps businesses to easily design and deploy cloud-based enterprise applications on-the-go without the need to buy and manage multiple software licenses. It allows the IT experts of your company to easily carry out software maintenance, patching of servers, software management etc with the click of a button.
3. Software as a Service (SaaS)
Software as a Service allows the users to connect and work on cloud-based applications. With enhanced scalability, automatic updates, data security and advanced tools for collaboration, SaaS allows businesses to drive connected experiences and elevate staff experience.
In this blog, we will discuss the top benefits of leveraging cloud solutions for Customer Communications Service Providers in 2021 and beyond.
1. Enhanced Flexibility
Cloud and hybrid solutions have gained popularity for its seamless integration and easy deploy-ability globally- across multiple geographical locations with just a few clicks. By reducing the dependence on physical on-premise infrastructure and local servers, cloud solutions allow businesses to migrate an application or workload to the cloud seamlessly and access business data from anywhere on any device.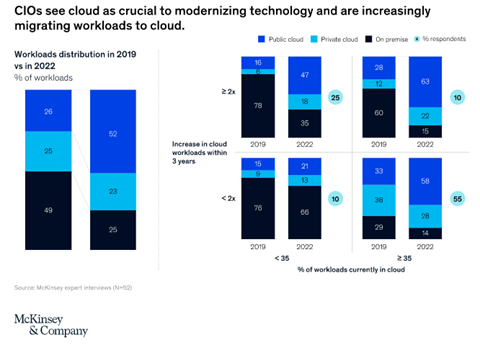 Cloud provides businesses the flexibility to scale up and down as per their operational requirements, expand their geographical footprint, meet compliance with increased security protocols and reduce the costs associated with maintenance and support.
This success story highlights how Espire helped a leading European Insurance Holding Company migrate their Customer Communication (CCM) Solutions to Azure Cloud for improved flexibility and scalability. Our team helped the customer migrate the data centers to Europe and implemented a Quadient upgrade. Our solutions future-proofed their systems, provided them with the ability to utilize azure cloud native services & access the latest features from Quadient for multi-channel delivery of customer communications across touchpoints, which enhanced business performance and scalability. Read more >
2. Facilitate Staff Collaboration
The pandemic has forced businesses to reinvent their operating models and deploy innovative solutions for enhanced employee collaboration and productivity. With work from home emerging as the next normal, brands have readily adopted cloud solutions for hosting their digital workplace solutions. With hybrid cloud solutions, employees can easily share files and documents, collaborate with different departments, store confidential data and access their files across multiple devices. Cloud solutions are an effective way for driving connected employee experiences for enhanced engagement and productivity.

3. Increased Security
Gone are the days when data was stored in the physical document form or downloaded onto the desktops and laptops, businesses world over have moved towards cloud adoption, simply because of data security and management. Cloud computing ensures all the prescribed regulatory compliances are met, the cloud-based data is efficiently protected with complete encryption and privacy of customer data. With multi-factor and single sign-on authentications, individual access and data can be managed securely.
This success story highlights how Espire helped a leading Singapore-headquartered transshipment hub successfully carry out Azure migration and eliminate on-premise hosting environment, to eradicate patching servers and carrying out regular enhancements, as these are handled by Microsoft rather than mitigating IT-related issues. The cloud migration enhanced the security of business assets using Azure web application firewall which empowering the employees to access files, add authors or update web content anytime and anywhere. Read more >
4. Optimizing Costs
Most cloud computing or hybrid cloud solutions are mostly pay as you use, which simply means that the users will only have to pay for the features that they leverage. It helps brands to manage their capital expenses on cloud-based applications and drive cost benefits.
5. Agility
Cloud adoption empowers businesses to rapidly design, test and launch software applications with enhanced agility to maximize business growth. Cloud adoption streamlines the entire process of integrating software while reducing IT dependence for monitoring or development. It also provides brands the flexibility to efficiently scale up or down as per the dynamic business requirements and enhance the time to market.
Cloud has various use cases for businesses, no matter their industry or size are leveraging cloud solutions to simplify business operations such as software testing and development, data storage, designing customer-facing web applications, enhancing collaboration with modern digital workplace solutions hosted on cloud etc. Leading customer communication service providers are leveraging agile CCM solutions hosted on cloud to drive contextual communications at the right time and through the preferred customer touchpoint. Cloud native CCM solutions are secure and a scalable way of future-proofing your business to achieve greater outcomes in record time!
Espire, with its expansive experience in cloud deployments, has helped leading brands across industries bolster their productivity and growth with cloud solutions. To know more, visit > or get in touch at marketing@espire.com