Top 5 Reasons to Modernize and Automate Your Reinsurance Management System Now
Automated reinsurance and accounting systems are becoming increasingly popular in the insurance industry. These systems use advanced technology, such as artificial intelligence and machine learning, to automate the process of reinsurance and accounting. This can greatly improve efficiency and accuracy, while reducing costs and human error.
Reinsurance is the practice of insurers transferring portions of their risk portfolios to other companies. This helps to spread risk and protect against large losses. Automated reinsurance systems can analyze data, such as claims and policyholder information, to identify which risks should be transferred and to which reinsurers. This can be done quickly and accurately, reducing the need for manual analysis and decision making.
According to the Gartner, Digital focus among insurers is shifting from growth to improving the customer experience and operational excellence for 2023. Over half of CIOs report increasing technology investments, with the most common areas being application modernization, cybersecurity/information security and BI/analytics.
Changes in technology investment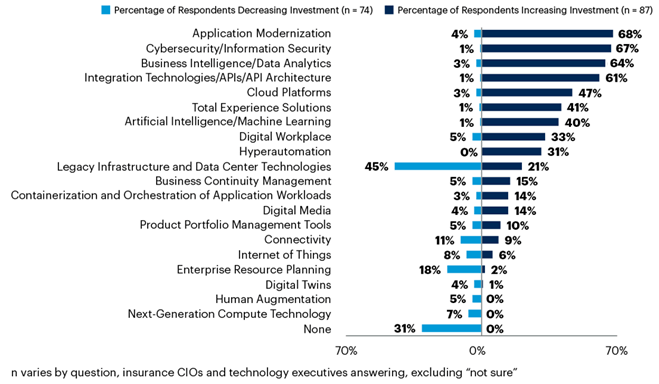 Reinsurance is a critical aspect of the insurance industry, helping companies manage risk and protect against large losses. However, many companies are still using outdated systems for managing their reinsurance operations. In this article, we'll explore the top 5 reasons why companies should modernize and automate their reinsurance management systems now.
Improved Data Management: Modern reinsurance management systems are designed to handle large amounts of data, making it easier to track and analyze information. This can help companies make more informed decisions about their reinsurance operations and identify areas where they can improve.
Increased Efficiency: Automating reinsurance processes can significantly increase efficiency and reduce the time and resources required to manage reinsurance. This can help companies save money and improve their bottom line.
Better Risk Management: Modern reinsurance management systems can provide companies with real-time insights into their risk exposure, helping them identify and manage potential losses. This can help companies take proactive steps to mitigate risk and protect against large losses.
Enhanced Compliance: Reinsurance regulations are constantly changing and becoming more complex. Modern reinsurance management systems can help companies stay compliant by providing them with the tools they need to meet regulatory requirements.
Better Collaboration: Modern reinsurance management systems can improve collaboration between different departments within a company and between different companies in a reinsurance pool. This can lead to better decision-making and improved results.
Here are some common business problems faced by legacy accounting and reporting solutions-
Legacy technologies like AS400, Cobol, etc. which require regular maintenance and enhancements
Dependency on excel sheets for complex calculations which led to financial leakages due to incorrect cash/ledger entries
Inefficient reporting system leading to mismanagement of critical business data
Incorrect manual financial calculations led to revenue loss
Espire's Automated and Modernized Accounting and Reporting Solutions for Insurance Industry
User-friendly cloud-based accounting and reporting solution- Intuitive fast and scalable cloud-based solution which is easy to maintain and cost effective.
The system supports end-to-end inward and outward data- Comprehensive system to support both inward and outward business into a single application which includes policies, claims, closings, cash and technical ledgers from both inward and outward businesses
Developed a cash ledger module- Existing unapplied cash items can be enquired upon from different parameters like item type (receipts/payments), ledger type, broker code etc. this makes ledger technician tasks easier to process and reconcile it
Inbuilt ledger maintenance processes- Allow ledger technician to work upon and permanently get rid of organizational unapplied cash issue via de(reconciliation), write-off, restore and transfer processes
Inbuilt ledger control reporting functionality- This validates the data regularly, if everything is properly reconciled (including unapplied cash) or not, allowing stakeholders to take actions proactively
Well-controlled user access management system (UAM)- All intended policies, claims and ledger data would be readily available in the reporting module for easy access to the administrators

Benefits of implementing Espire's Automated Accounting and Reporting Solutions
Espire's automated reinsurance & accounting system allows the administrators to get auto calculate liabilities out of the system for a creditor
It provides easy access to critical business data and ensures faster generation of reports
It mitigates the problem of unallocated cash with increased automation accounting processes, and ledger enquiries and maintenance processes with enhanced control frameworks
It stops financial leakage arising due to human errors and helps reduce operational costs
In conclusion, modernizing and automating reinsurance management systems can provide companies with significant benefits in terms of data management, efficiency, risk management, compliance, and collaboration. By taking advantage of these benefits, companies can improve their reinsurance operations and ultimately their bottom line.