Sitecore Marketing Automation: Customize Your Way Towards Limitless Possibilities
In our earlier blogs, we have already discussed how Sitecore Marketing Automation can bring quick wins for brands in the new normal to nurture sales leads, personalise marketing campaigns and build customer loyalty. In the second installment of this three blog series, we also discussed the top 5 ways Sitecore marketing automation is transforming digital journey for brands and offering delightful experiences for customers.
As we conclude this blog series, we present the extension to functionalities of Sitecore Marketing Automation towards a world of limitless possibilities.
Sitecore marketing automation comes packed with rich features that guide you towards personalising your offers, understanding & automating the digital customer journey, delivering contextual content & creating human connections with a single click!
However, Sitecore has kept the doors of creativity open for developers and brands by allowing to extend its own functionality for pursuing ideas and goals pertaining to your industry & business goals.
Sitecore Marketing Automation: In Action
Sitecore allows you to trigger marketing actions for your contacts by leveraging a wide variety of data that may cover geographical location, online behaviors, goal triggers, devices or memberships.
Collection of data over time as your contact moves through automated campaigns, allows you to further create highly contextual digital experiences by building detailed contact profiles - leading to positive marketing outcomes
Automating campaigns with Sitecore simply requires you to craft user journeys using a user-friendly drag and drop user interface.
A new campaign can be created to welcome your new customers - thereby collaterals such as e-books or white papers can be shared with them over email once they take pre-specified actions.
While you undertake marketing automation you will find various elements in your automation campaign:
Default elements - these elements basically are the Start and End elements that show you which is the point where you contacts are first enrolled in the automation campaign and as the name suggests, the end element shows where your campaign will automatically end.
Marketing actions - these are elements that decide how you treat, value and give scores to a contact in your automation campaign, for example, you can add or subtract points from your contact's engagement value.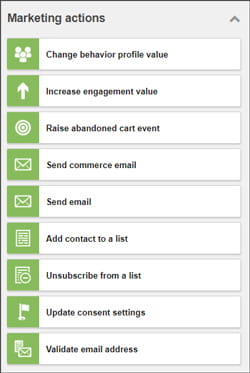 Listeners - the listener element can be used by you to listen to any specific action made by your contact in a specific period and to identify how the contact should proceed through the automation campaign.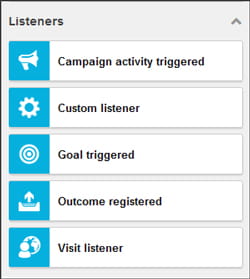 Decision points - these elements help you specify a rule to identify as to how a contact moves across your campaign. Decision points are used to quickly filter contacts because they are evaluated against the specified rule.
Other elements - these elements help you transfer your contacts from one point to another, say, from anywhere to the beginning of a campaign or you can transfer it to any other campaign; these can also be used to delay a contact's movement across your campaign.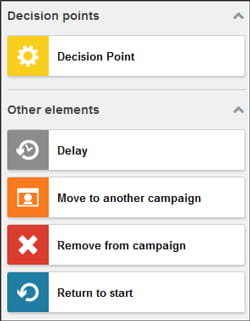 Sitecore Marketing Automation: Extension of Functionalities
Although Sitecore's automation capabilities are packed with user friendly & powerful elements that can be leveraged for various automated marketing goals, leveraging marketing automation for its maximum potential and extending its functionalities for limitless possibilities - certain modifications and customization would be needed, as explained below.
Start Condition: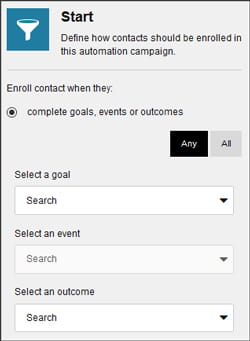 Sitecore Marketing Automation comes with the start and end elements that determine the initiation and completion of an automation campaign. The start condition for an individual contact would mean their enrollment into your campaign as they trigger a specific start condition.
A simple start condition would be to enroll the contact once it signs up for a newsletter. However, you might wants other rules based on some user properties stored in Sitecore xDB rules, This would require creating new rules & custom sets then you can extend Sitecore Automation Rules for Marketing Automation similar to custom personation
Marketing actions: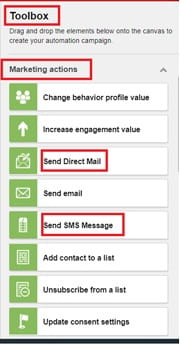 Another important element in your Sitecore Marketing Automation user interface is the element which helps you take action like sending email / update engagement value or their behavior profile value by adding and subtracting points etc .
You can extend the marketing action elements with integration with messaging services from Azure and then extend other functionality from there like send sms/text that will again give you an added advantage by creating custom marketing actions which is not available as pre-defined value set.
Listeners: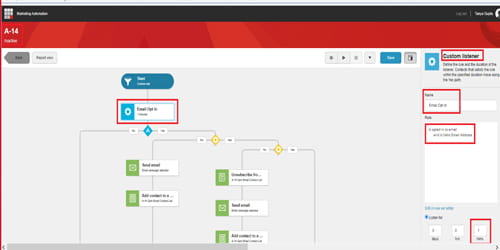 A listener element helps you listen or keep track of specific actions made by your contact in a particular period and helps you create rules on the movement of your contacts through your automation campaign. A yes or no path will be followed by a specific contact it meets your presets within the specified period.
You can create custom listeners by defining your own criteria which in the first place not available by default based on any properties stored in xDB against each contacts like its loyalty status, last content visited etc. You can set the custom listener to track anything that you specify in a custom rule in the rule set editor.
Campaign Results: Report View
Sitecore has a feature called Report View that gives you an overview of how many contacts are interacting with your automated campaign. In Report View, the appearance of each element changes to show the number of contacts that are currently in that stage of the automation campaign. Sitecore has enriched Marketing Automation Report API as well, which you can also used to create your own custom report and get access to such data sets that are more relevant to your specific marketing goals.
Sitecore marketing automation can help you easily customize/extend your way to personalized customer experiences with automated, relevant and targeted communications. It offers you a single power packed platform that seamlessly leverages all your visitor's data to support all your cross-channel marketing strategies with ease. It's a win-win situation for both customers and brands as customers get the exclusive attention and brands get to target the right audience with right content.
At Espire we can help you get your digital journey started with Sitecore Marketing Automation. Global partnerships with over 20 leading brands including Sitecore, Microsoft, Kofax, Quadient, MessagePoint, and others - enables us to be your one-stop destination for business on the go, towards a flawless digital transformation, personalization and an awe-inspiring customer experience in the new normal. Subscribe to our blog for latest industry updates and trends and reach out to us at marketing@espire.com for any queries.
Read other Sitecore Marketing Automation related blogs :
Sitecore Marketing Automation: A Quick Win for Brands in New Normal
Sitecore Marketing Automation: 5 Ways to Transform Digital Journeys for Brands Everyday