Sitecore Marketing Automation: 5 Ways to Transform Digital Journeys for Brands Everyday
In our discussion around Sitecore's Marketing Automation, we have already covered the quick wins of Sitecore led automation and the seamless digital journey the DXP leader (i.e. Sitecore) offers.
In this second blog of three-part blog series, we bring here to you - the use cases of Sitecore Marketing automation and delve deep into how it really translates into a win-win platform for both marketers looking for digital transformation for superlative CX delivery, as well as customers themselves!
Crafting relevant conversations, streamlining content and responses across all channels have never been this easy!
Sitecore Marketing automation is all about simplifying your efforts to produce effective results in a record turnaround time, with seamless ease and precision. Let's now look at how Sitecore is transforming digital journey for brands.
1. Digital Events and Webinars
Sitecore Marketing Automation can be applied for various purposes including setting up new normal digital events & webinar; in today's era of COVID-19 (as well as post-Covid-19 era). Webinars are the go-to platform to drive customer and brand communications. It entails key aspects of brand awareness and lead generation & nurturing.
Sitecore Marketing automation along with experience forms enables marketers to drive complicated events or webinars where marketing teams can send multiple reminder emails to target audiences - based on their actions/goals achieved like registration, payment etc and send auto pre and post event/webinar communication.
The successive points in this blog detail how Sitecore Marketing Automation can be leveraged for setting up flawless webinars, case studies, generic campaigns etc. by designing & building actionable customer journeys, user profiling and proactively communicating with customers - by personalizing human connections with machine led automation.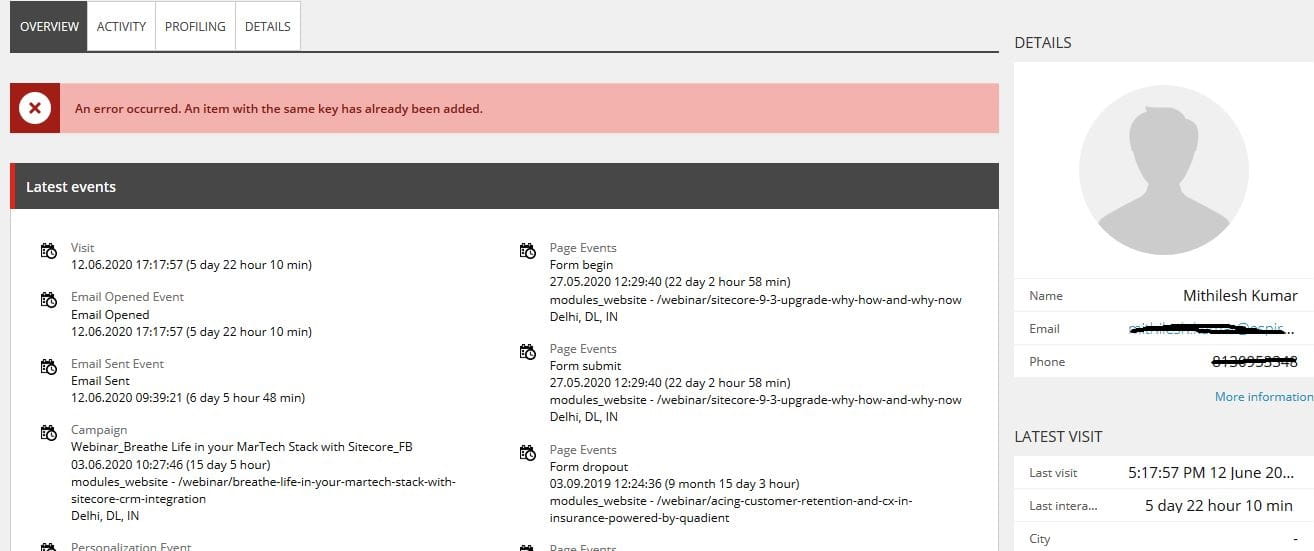 2. Qualified Leads
Sitecore Marketing Automation leverages automated lead generation and tools for creating personalized content & driving customer experience that naturally converts every time.
Sitecore Marketing automation can help in managing engagement score of a customer based on action, campaign, time taken to complete the action etc. It seamlessly helps in attracting right prospects with targeted content delivery and nurtures qualified leads in a faster and more efficient manner.
3. Customer Journey using Personalization
We have discussed above how Sitecore Marketing Automation can help you identify the purchase point. It also helps you create a complete automated journey for your customers by spotting your customers from start- through unqualified to qualified leads and then towards the final purchase.
Sitecore Marketing Automation comes with automation capabilities that nurtures customers throughout their journey with personalized content in real-time and across multiple channels.
4. User Profiling
Sitecore's new-age Marketing Automation coupled with Sitecore's CMS (including Sitecore xDB) provides you with multiple ways to create automated online campaigns. It helps create pre-defined user profiles through enrollment of contacts and contact evaluation, based on defined rules.
You can thus perform various marketing actions for your individual contacts. Sitecore marketing automation helps in auto associating Sitecore profile cards to user on multiple conditions like opening the website from mobile or a particular location or filling up a particular form etc.
For more, refer to our first part of the blog series.

5. Proactive & Contextual Communications
With Sitecore, you can now proactively communicate with your prospects, leads and customers through in-context interactions of user with your brands, like three days after signup, unfinished cart, related product after a week of purchase, few days after physical visit to sales office etc .
You can now execute campaigns with automated content and experiences. Crafting relevant conversations, streamlining content and responses across all channels was never this easy. You can now nurture customer relationship for long lasting loyalty and better and bigger customer lifetime value.
Sitecore Marketing automation thus brings in a win-win situation for both customers and brands together. Customers of today demand exhilarating experiences and Sitecore is helping you do just that. Stay tuned for the last blog in this series as we discuss how you can customize and apply rules.

Looking for intelligent automation for your brand, with measurable outcomes? Join us in our effort to transform experiences for brands as well as their customers. Subscribe to our blog and hope you don't miss the concluding part of this blog series!
Read other Sitecore Marketing Automation related blogs :
Sitecore Marketing Automation: A Quick Win for Brands in New Normal
Sitecore Marketing Automation: Customize Your Way Towards Limitless Possibilities