Sitecore Composable DXP: Multiexperience solutions for driving greater business outcomes
By 2023, more than 25% of the mobile apps, progressive web apps and conversational apps at large enterprises will be built and/or run through a multiexperience development platform predicts a recent report by Gartner.
Multiexperience has emerged as a key differentiator for brands by reinventing – customer and employee experience. The concept of 'Multiexperience' is gaining popularity as it focuses on connecting and engaging with customers across multiple touchpoints to enhance customer experience and build loyalty.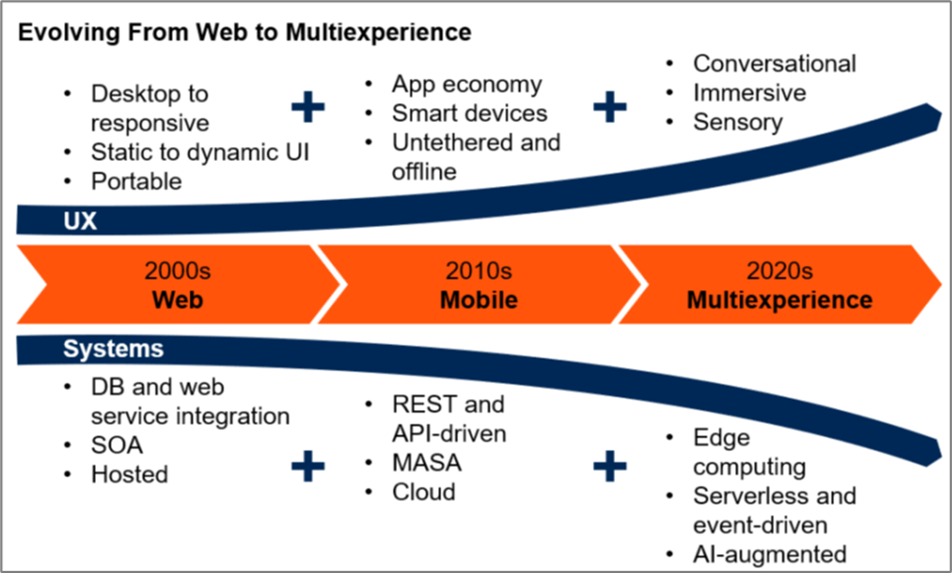 *Source - Gartner
Digital Experience Leader, Sitecore, is constantly adding cutting-edge tools and technologies to give marketers and developers the flexibility to compose their DXP platform by adding the latest tech solutions to their existing tech stack.
In this blog, we will showcase how Espire is helping leading brands deploy Sitecore Composable DXP to deliver multiexperience and total experience solutions at scale.
1. Customer Data Platform
Sitecore has recently acquired Boxever CDP, to build an agile customer data platform that provides a 360-degree view of the customers with advanced segmentation data to the marketers. This data is segmented on the basis of customer behavior and preferences. Sitecore CDP empowers brands to collect and unify customer data across multiple channels, this data can then, be used for driving effective marketing campaigns with on-point customer targeting.
2. Digital Commerce
Sitecore OrderCloud, an API-first headless e-commerce solution has been designed by Sitecore with Four51 to enable intuitive purchases and delivering an engaging digital experience to customers. Sitecore OrderCloud has advanced capabilities and easy deploy ability, allowing brands to deliver their products and services across industries with a faster time to market.
3. Marketing Automation & Customer Engagement
Sitecore Send is a state-of-the-art platform which provides expansive marketing automation tools and AI-powered customer engagement features, enabling brands to nurture customer relationships throughout the sales funnel. Moosend's acquisition has enhanced Sitecore's capabilities in driving personalized customer experiences across all customer touchpoints.

4. Comprehensive Search and Merchandizing Features
Sitecore's latest commerce offering, Sitecore Discover optimizes visitor engagements by leveraging AI to showcase products as per the visitor preferences and needs. With individualized search context, Sitecore Discover prompts products as per the unique user journey along with visual and textual recommendations.
5. Sitecore Experience Edge
Sitecore Experience Edge is the latest SaaS platform which provides headless content delivery to easily design awe-inspiring digital customer experiences and deploy them across all digital touchpoints. By leveraging a JAMstack architecture, Experience Edge simplifies the entire content cycle right from content planning, authoring, deployment and analytics.
The Gartner 2021 Digital Business Acceleration Survey found that the top two reasons for pursuing digital initiatives are to enhance customer experiences and improve employee productivity.
Most product-focused companies are prioritizing moving towards delivering multiexperience solutions to deliver impeccable customer experiences and staff experience at scale.
Espire's Customer Engagement Hub (CEH) includes all key enablers of excellent Customer Experience (CX) - such as Digital Content Management, Experience Design, Customer Communication Management, Customer Analytics, CRM and IoT. Our partnership with global digital and customer experience technology leaders coupled with our extensive industry experience is helping us deliver exceptional digital transformation solutions for leading brands.
For more queries, get in touch with us at marketing@espire.com