Top 5 Reasons how Sitecore Experience Edge enhances Content Delivery & Digital Experiences
In the world we live in, any business' digital engagement strategy should focus on addressing dynamic needs of customers throughout the customer journey, across all touchpoints. Designing content that caters to buyers' needs has become more imperative than ever to create a positive brand recall & improve customer engagement.
Nearly 50% of organizations claimed that they can track the financial benefits of CX projects, while Gartner's marketing leaders survey shows that over 80% of organizations expect to compete mainly based on CX, meaning that the skill of realizing benefits will be in high demand.
Now that we know the indispensable need for content delivery, let's talk more about the future of content delivery and innovation - i.e Headless CMS. By easily integrating with your existing tech stack, Headless CMS allows you to repurpose content efficiently as per the dynamic market needs.
Sitecore Experience Edge is a revolutionary SaaS-based platform with headless content delivery capability, which will help brands drive engaging digital experiences and maximize revenue growth. Aimed at improving content delivery across touchpoints, Sitecore Experience Edge does not add any architectural complexity, as it seamlessly integrates with Sitecore XM and Content Hub, maximizing both marketing and IT efficiencies.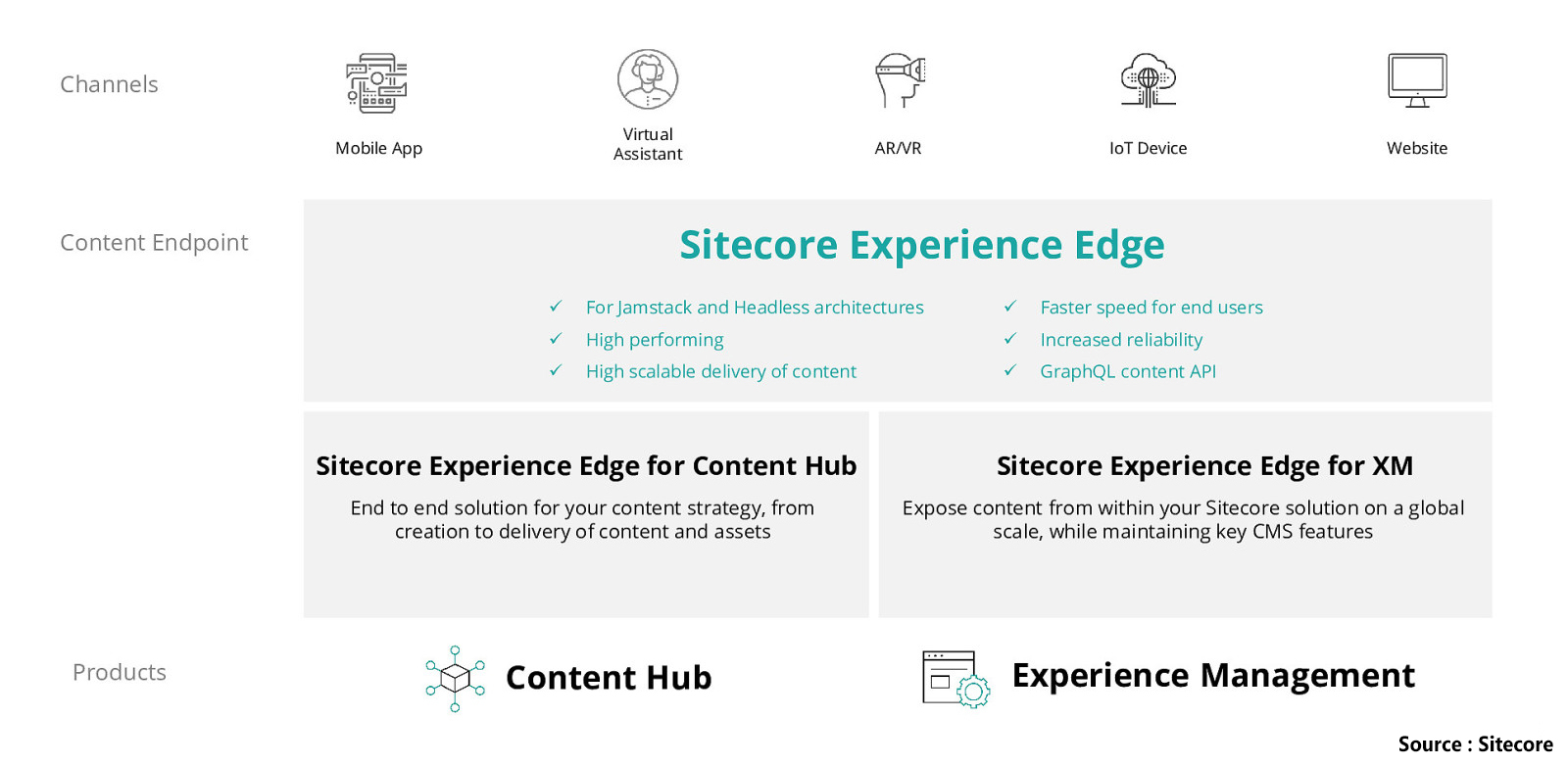 Initially, Sitecore Experience Edge will have two options for content service delivery at scale:
1 . Sitecore Edge for XM:
Sitecore Experience Edge is an API-based solution which easily integrates with the Sitecore Experience Platform, allowing customers to access the tools, layouts and media while publishing Sitecore JSS sites. With Sitecore-hosted GraphQL API available with Experience Edge, marketers can deploy content in any language into the headless sites, without the burden of infrastructure set-up.
2. Sitecore Edge for Content Hub:
Experience Edge works as a Content as a Service (CaaS) model and facilitates headless content delivery by leveraging GraphQL API to deliver high performing content to any channel as per the brand needs. By integrating with Content Hub, Sitecore Experience Edge provides the marketers all the content creation and distribution tools to maximize band engagements at scale.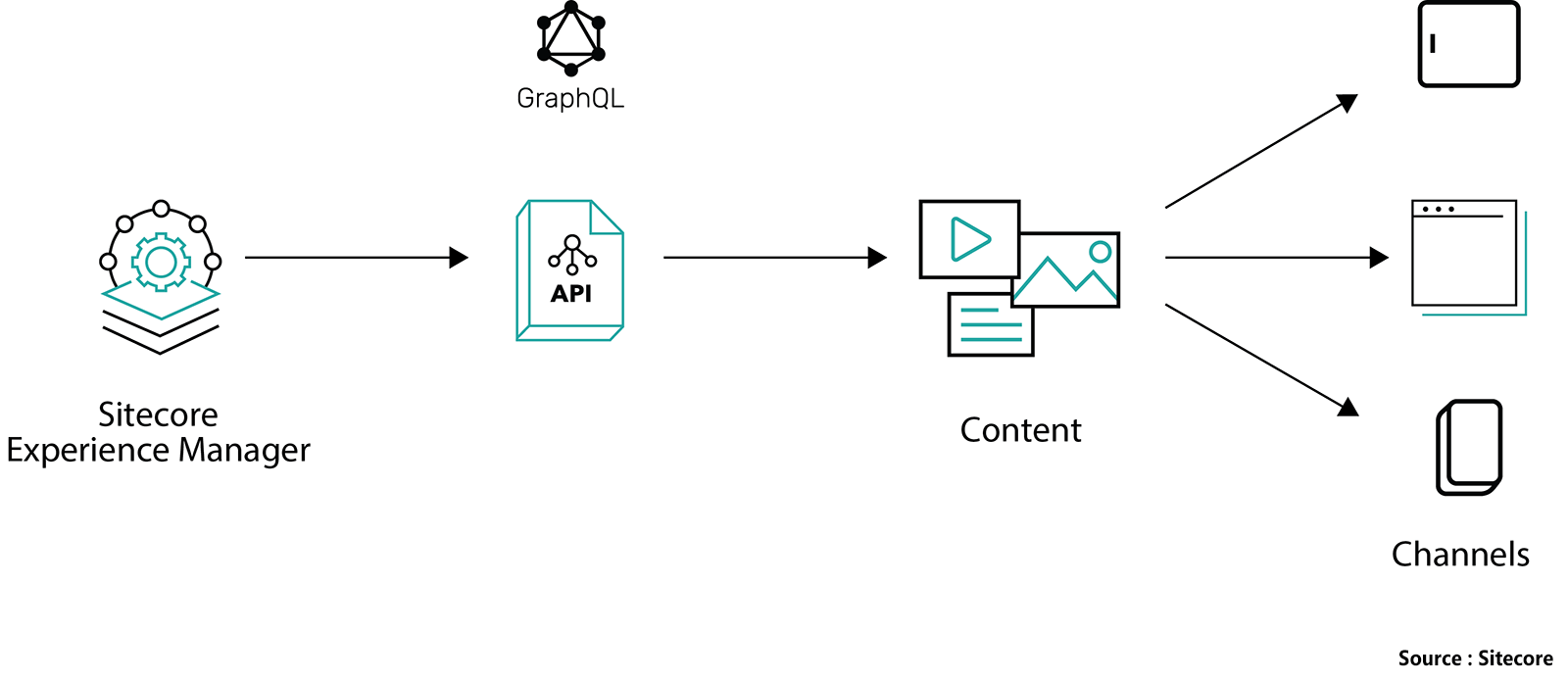 In this blog, we will highlight the top 5 reasons why Sitecore Experience Edge is a must-have technology for businesses.
1 . Flexible Content Deployment across channels
There has been a paradigm shift in the way we consume information, brand engagements are no longer restricted to emails and websites. With the availability of multiple channels like mobile applications, smartwatches, digital assistants etc, brands need to deliver contextual communications across all touchpoints to improve customer experience and build trust and customer loyalty. Experience Edge, with its headless content capabilities empower brands to deliver engaging content across multiple touchpoints at ease, with reduced cost and manual efforts.
2 . Reducing the dependence on Development Teams
Sitecore Experience Edge creates efficiencies for both the marketing and IT teams, reducing their dependence on one another. Experience Edge easily integrates with different platforms with the help of APIs, reducing the need for long-drawn development processes and regular platform enhancements. This not only improves employee productivity and experience but also paves the way for scalable omnichannel content delivery.

3 . Headless Content Delivery
Experience Edge has been positioned by Sitecore as an agile Content as a Service (CaaS) platform which is hosted on Sitecore-cloud and facilitates quicker content deployment across multiple customer touchpoints. With its headless content delivery capabilities, Experience Edge complements Sitecore's personalization and marketing automation features, building the way for brands to drive connected digital experiences at scale.
4 . Greater Agility & Performance
In a world where customers are constantly pounded by brand communications throughout the day, delivering personized content at the right time through the right channel becomes of utmost importance. Experience Edge provides greater agility and performance, allowing brands to improve their time to market and engage with customers throughout the sales funnel.
5 . Rapidly develop Secure Sites and Apps
Experience Edge leverages the JAMStack architecture which allows brands to seamlessly develop websites and applications at optimum costs with reduced risk of dynamic servers. Brands that utilize Sitecore JSS and XP can drive content delivery at scale with Sitecore Experience Edge's headless capabilities.
According to Mckinsey & Company, companies should focus on creating a digital experience, which is at par with or even better than in-person experience to maximize customer engagement.
Sitecore Experience Edge is a disruptive technology solution which can help brands deliver exceptional customer experiences with speed and agility to maximize business outcomes.
Through our partnership with Sitecore, Espire is empowering brands to attain greater value from their investment on a digital experience platform. We have delivered 50+ Sitecore projects and have been awarded multiple times for our work on helping leading brands across industries to implement a scalable digital transformation solution & maximize business growth. Get in touch with us at marketing@espire.com for your queries.