Sitecore Send: Top 5 Features to drive Powerful Digital Experiences across Touchpoints
'Customer is the king', the age-old mantra preached by business tycoons is proving to be the reality of the post-pandemic world. With rapid digitalization, brands are constantly in the race to provide the best-in-class products and impeccable digital experiences across all customer touchpoints, to make meaningful customer relationships and build trust.
According to Mckinsey & Company, A positive customer experience directly impacts a retailer's success: it yields 20 percent higher customer-satisfaction rates, provides a 10 to 15 percent boost in sales-conversion rates, and contributes to an increase in employee engagement by 20 to 30 percent.
The dynamic business environment, with rising competition and price pressures, has compelled brands to build a 360-degree customer engagement plan and drive personalized customer experiences. Digital Experience Leader, Sitecore has acquired Moosend to provide brand marketers a one-stop marketing automation solution with greater personalization, data analytics and reporting tools. The combined offerings of Moosend with Sitecore, will help brands ramp up their customer engagement initiatives, enabling them to drive targeted communications throughout the customer's journey across every digital channel to successfully engage, nurture and build lasting customer relationships for driving greater business outcomes.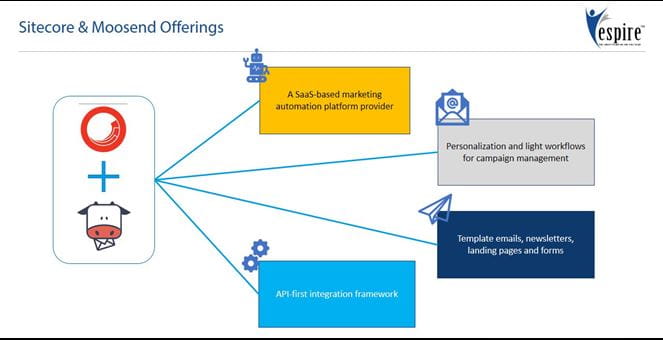 What is Sitecore Send?
Sitecore Send, is a latest offering by Sitecore which empowers marketers to drive targeted and contextual communications by leveraging visitor's data. With a beautiful design template and an intuitive drag-and-drop interface, Sitecore Send simplifies email creation and delivery, enabling marketing professionals to drive customer interactions at scale across all digital channels.
In this blog, we will discuss the top 5 features of Sitecore Send, an agile offering which is helping brands drive personalized customer interactions at scale.
1. Seamless Integration with DXPs
Sitecore Send can be easily integrated with your existing Digital Experience Platform by using APIs, enabling you to drive omni-channel automation of marketing communications. As a SaaS-based marketing automation platform, it provides the marketing team a holistic view while driving marketing campaigns, analyzing campaign performance, mapping revenues and storing customer data.
2. Build an expansive customer database
Customer privacy and protection is a key concern for brands, Sitecore empowers marketers to collect user-permissioned data to build contextual interactions throughout the customer journey. By capturing email interaction data, Sitecore Send helps businesses to optimize their customer interactions as per the dynamic customer needs and preferences.

3. Intuitive Interface for Customized Communications
Sitecore Send provides easy access to a range of exquisitely designed pre-built templates to help marketers design brand communications on-the-go. With drag and drop tools, an easy-to-use interface, content message templates and designs, brands can easily customize and create digital communications consistently to engage with the customers.
4. Drive Omnichannel Digital Experiences
With the emergence of multiple devices like desktops, tablets, mobile phones and different channels like websites, applications, emails or messages, there are multiple ways of interacting with the customer. Sitecore Send helps marketers get an overall view of the customer journey across channels with user-permissioned data, enabling them to trigger contextual communications at the right time and on the preferred customer channel.
Marketers can design customized emails, landing pages, newsletters and communications real-time by analyzing customer responses and activities while interacting with the brand, simply by pre-defining the communication triggers for situations (like if a customer signs up for an offer, if a customer browses a product etc) in the workflow automation process and streamlining campaign management.
5. Building greater Customer Lifetime Value
Sitecore Send enables marketers to plan the entire communication lifecycle by deploying workflow automation, thereby, enhancing the time to market. With several built-in activity types covering basic scenarios, marketers have the flexibility to create custom activity types for their customers and easily build automation campaigns from an available set of elements to drive greater customer lifetime value

With its user-friendly interface, Sitecore Send empowers brands to drive exceptional customer experiences throughout the customer journey. It can be easily integrated with DXPs using prebuilt API framework, to drive marketing automation at scale for greater customer retention and positive business outcomes.
As an award winning DXP service provider, Espire has partnered with Sitecore, to help brands drive exceptional customer experience across touchpoints. Over the past 2 decades, we have served over 50+ global business, won the Sitecore Best Personalized Experience Award, and have multiple MVPs, along with 100+ certified resources. Espire can help your brand deploy CDP solutions by integrating it with your existing technology stack, enabling you to build scalable solutions. Get in touch with us for a free assessment> here
For more queries, get in touch with us at marketing@espire.com