Sitecore OrderCloud: Top Features and benefits for driving exceptional Digital Experiences
The pandemic has compelled the world to adopt digitalization at a rapid pace. In the new normal, it is imperative for brands and manufacturers to focus on digital sales to ensure business continuity and resilience. Both B2B and B2C brands must reimagine their online presence to respond to the ever-changing customer preferences and build business resilience.
As per Gartner, by 2023, organizations that have adopted a Composable Commerce approach will outpace the competition by 80% in the speed of new feature implementation.
Key business bottlenecks faced by brands leveraging a legacy commerce solution are:
Businesses struggle to adapt to changing business needs due to lengthy technical deployments in the legacy software
Lack of customization leading to slow time to market
Legacy commerce solutions have no platform extensibility hence, adopting new tools and technologies is a hassle
Lack of business agility to withstand business changes
Digital Experience Leader, Sitecore recently acquired Four51 to innovate and design a cutting-edge eCommerce solution for brands to drive end-to-end digital experiences. Sitecore and Four51's 'OrderCloud' has taken the market by a storm and is empowering businesses drive exceptional customer experiences at scale.
What is Sitecore OrderCloud?
Sitecore's OrderCloud is an API-first headless cloud platform which empowers brands to streamline key business operations like efficient order management, marketplace application integration and driving eCommerce experiences for customers. Developed on MACH architecture, OrderCloud functionalities can be developed independently, and multiple deployments can be facilitated and managed efficiently as per the dynamic business needs. Sitecore OrderCloud seamlessly integrates with your brand's existing technology stack to drive targeted customer communications and digital experiences across multiple touchpoints.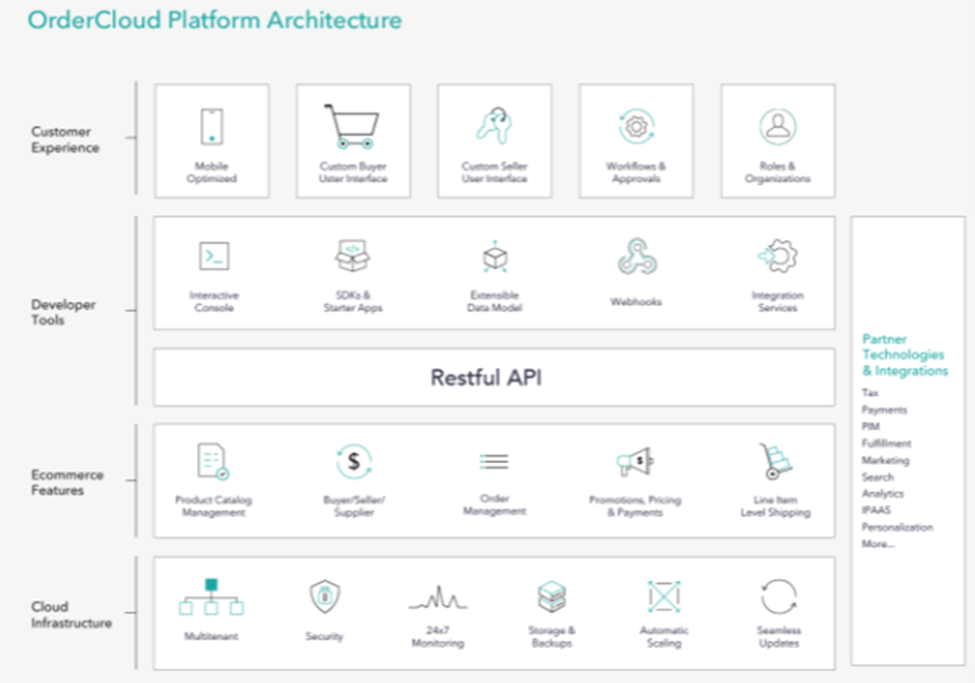 In this blog, we will discuss the key features of Sitecore OrderCloud for driving exceptional digital experience.
1. Omni-Channel Integration
As an API-first headless platform, OrderCloud streamlines your brand's commerce operations by connecting with multiple applications seamlessly to provide impeccable customer experience across multiple touchpoints. It integrates with your brand's existing tech stack and helps your marketers get a 360-degree view of order administration across 3rd party tools and manage buyer experience.
2. Enhanced Enterprise Readiness with Cloud
With multi-environment deployment ability, OrderCloud has a cloud-native headless architecture which provides brands the flexibility to scale up or down as per their unique business requirements. OrderCloud is preferably deployed on Microsoft Azure due to its enhanced security features, it allows marketers to store and manage key business data in a safe and secure environment.
3. Platform Extensibility
OrderCloud has emerged as a one-stop platform for brands as it can be easily integrated with third-party microservices, allowing your brand to add newer functionalities for streamlining key business processes like indexing of products and shipping services, driving content delivery for digital platforms, managing real-time pricing and inventory etc. With webhooks and integration events, OrderCloud provides platform extensibility to help brands fast-track their business growth.
4. Personalized Shopping Experience
OrderCloud was built to support different marketplace formats and it consists of multiple features to manage catalogs, products and pricing for brands. It enables brand marketers to segment and create unique catalogs with various products and prices for different suppliers and buyer groups.
With faceted keyword search, product configurations, customized price rules, promotion configurations and price breaks based on quantity ordered etc, OrderCloud enables intuitive purchases on customer touchpoints by guiding users as per their preferences and indicated choices. This one-on-one personalization improves buyer experiences and helps brands instill customer loyalty.

5. Market Segmentation and Supplier Order Management
OrderCloud empowers brand marketers to seamlessly segment products, suppliers and buyer groups. It also helps brands design built-in relationships and personas as per the unique customer preferences to deliver targeted and personalized search results.
Supply order management forms the bedrock of customer experience, as the tech-savvy customers of today want to track their order right from its placement, dispatch right until its delivered successfully. OrderCloud streamlines the order management process with seamless OMS integration and advanced payment methods as well as providing brands the added advantage of providing timely customer communications as notifications through email, text messages etc.
The top benefits of leveraging Sitecore OrderCloud for brands are:
OrderCloud is a flexible and scalable platform for brands to future-proof business commerce strategies
Seamless integration with the Sitecore DXP and other 3rd party tools using APIs
Facilitates omnichannel management across multiple customer channels
OrderCloud is also available as SaaS, which helps build business agility and resilience
Sitecore and Four51's OrderCloud has been designed to empower brands future-proof their technology stack and building business resiliency while driving personalized shopping experience for customers and suppliers across different marketplaces and platforms.
As a leading Total Experience solutions provider, Espire is helping global businesses deploy agile Sitecore solutions to drive profitability and improve their digital experience. Over the past 2 decades, we have served over 50+ global business, won the Sitecore Best Personalized Experience Award, and have multiple MVPs, along with 100+ certified resources. Espire can help your brand deploy Sitecore OrderCloud by integrating it with your existing technology stack, enabling you to build scalable solutions. Get in touch with us for a free assessment> here
For more queries, get in touch with us at marketing@espire.com