Maximize Your Personalization Potential with Sitecore Content Profiling
In an era of empowered customers and stiff competition, communicating and delivering products and services to customers in a way they prefer has become essential. Leading brands today spearhead this challenge by delivering customized, relevant, contextual and tailored recommendations and products to their customers with the likes of Amazon, Netflix, Coca Cola, Nike and Spotify taking the lead.
Recent surveys and studies have emboldened the belief on the need for more personalization:
According to Instapage a majority of 74% of customers find it frustrating when a brand's website is not personalized.
The Same is true with the Epsilon survey which found that 80% of customers shifted their brand loyalty to other brands that offer an improvised personalized experience.
Another study by SmarterHQ found that 70% millennials were fed up and frustrated with irrelevant emails.
All this and the risk of getting left behind has necessitated brands to unravel the power of personalization and maximize their own personalization potential to meet the expectations of their modern customers. In this blog, we will discuss how Sitecore Content Profiling has been helping brands do just that, as part of our third blog in the series of Sitecore Content Profiling.
Sitecore Content Profiling : Delivering Personalization with Ease and at Scale
Sitecore Profiling offers marketers with tremendous opportunity to know what their customers are looking for and what interests them for a real-time content personalization and customer service, by tagging Sitecore content with defined visitor profiles. Profiling enables marketers to categorize web pages into different profiles and target audiences that are aligned for specific customers. It not just helps you to offer relevant recommendations but also builds on your personalization strategies by tracking and monitoring user behavior as they navigate through your website.
Sitecore Content Profiling starts with Marketing Control Panel where profiles are set up, profile keys are generated, and profile cards are assigned values. Setting a profile card eliminates the need to set values for every web page by allowing profile cards to be assigned for different web pages, helping marketers seamlessly personalize with ease and at scale. You can assign multiple profile cards to a web page as well and maintain the ratios (percentage) of these cards to be applied on that specific page.
Sitecore Content Profiling - Helping You Understand & Target Your Customers Accurately to know more about profile keys, profile values, profile cards etc.
Every value associated with a specific profile card (a combination of profile keys) is then associated with the customer who navigates a particular web page that is allocated that profile card. Now as the user journeys and navigates through your website and browses specific web pages, s/he goes on to accumulate certain scores that act as an identifier for the visitor with respect to the values assigned to those webpages (i.e., the profile cards assigned to the web page). It is here Sitecore Content Profiling is enabling marketers to now personalize their visitors with a given set of score to display recommendations and offers that interests them and which they most likely will be interested in to engage and complete intended goals. So, the entire scope of profiling is all about giving access to marketers and the system with information hitherto unknown about anonymous customers, adding value to business and leading to higher conversions.
Role of Pattern Cards in Real Time Personalization
Pattern Cards are also a combination of profile keys which is used to match or segment visitors to its closest pattern. Sitecore automatically assigns a pattern card to the current visitor. Pattern cards have threshold values and as a visitor consumes content tagged with profile cards matching that threshold, a pattern is matched for personalizing the content for the visitor. Pattern cards thus help in serving personalized content to visitors in real time.
Using goals, call to action, forms, marketing automation action- changes user profile, other activities offline,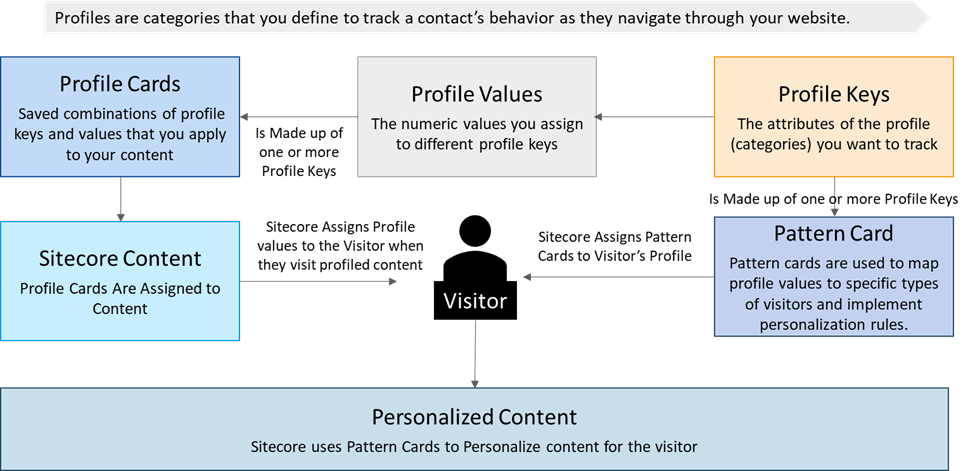 This would mean that you can constantly track, monitor and categorize visitors for offering real time personalization in the moment of truth. Multiple pattern cards can be generated by you and a visitor may get attached to a specific pattern card with respect to her/his activity on your website. However, the dynamic nature of pattern card assignment is such that a visitor may get mapped to a different pattern card as s/he interacts with more pages and reflect any change. This way your personalization gets more dynamic and attuned to customer's real time interest.
Personalization through Sitecore is profoundly diverse as you get to know your customers not just through their profile scores on your webpage tagged with profile cards and pattern cards but also through:
Rule/action-based profiling of contacts
Sitecore Marketing Automation- by nurturing customers throughout their journey with you
Associating profile cards to users on conditions like opening website from a particular device (say mobile phone) or from a particular location, or while filling up a particular form
Marketing actions can be triggered with the help of wide variety of data pertaining to behavior, goal triggers, memberships and devices



All said, personalization rules (for profiling contact) are not rigid and may not just be dependent on single profile or pattern card as Sitecore users can create personalization rules based on a set of parameters, employing more than one pattern cards together, along with other data including location, device, size or nature of contact's attributes.
Sitecore Content Profiling - Personalize at Will and in Real Time
Once you create your profile keys, assign profile values, set up profile and pattern cards, you are all set for delighting your visitors with impressive customer experience by displaying and recommending curated content based on customer interest and insight achieved through visitor activity. This not just allows for real time personalization but helps in gaining deeper understanding of the customers to keep them engaged and personalize at will and in the right moments.
Espire is a Sitecore global partner with multiple Sitecore projects delivered for global locations and clients across multiple industry verticals. We are enabling digital transformation & personalization by crafting awe-inspiring Customer Experiences. Get in touch with our experts for a quick demo and to learn how you can leverage Sitecore platform for creating impressive customer experiences, faster time to market and boosted business returns in the new normal.
Stay tuned to our blogs for latest trends and insights and write to us at marketing@espire.com for your queries.