Customer Data Platform: Drive Personalization the right way with Sitecore + Boxever CDP
The COVID-19 pandemic has brought about a radical change in the way companies operate, with digitalization being the new reality, most companies had to fast-track their digital investments to keep up with the changing customer needs and behavior.
According to a recent survey by Mckinsey & Company, During the pandemic, consumers have moved dramatically toward online channels and industry leaders claim that at least 80 percent of their customer interactions are digital in nature.
With digitalization blurring the lines of aspirations and realities, brand sentiments and relatability take a higher ground for creating lasting customer relationships. It has become imperative for brands to deliver impeccable customer experiences across all touchpoints as customers have emerged as brand critics-with the exponential power of making or breaking a brand overnight. Personalization plays an important role in driving contextual customer experience, as it helps brands create tailor-made solutions as per the unique customer behavior, building customer loyalty and a heightened customer experience.
To successfully personalize customer touchpoints, a company requires to orchestrate and analyze customer data across all organizational levels to design unique experiences for individual customers. It is here that Customer Data Platform (CDP)- the driving force behind delivering every successful customer experience comes into play.
In this blog, we will discuss how brands can drive personalization at scale by leveraging Sitecore CDP.
What is Customer Data Platform (CDP) ?
Customer Data Platform (CDP) is a combination of softwares which easily integrate with a company's tech stack to gather data across multiple sources like servers, apps, emails, social media, CRM etc to create a unified customer profile, accessible across different connected systems. By capturing first, second and third-party data, it empowers brand marketers to drive targeted 1:1 personalized campaigns for segmented customer pools and deliver exceptional customer experiences and loyalty.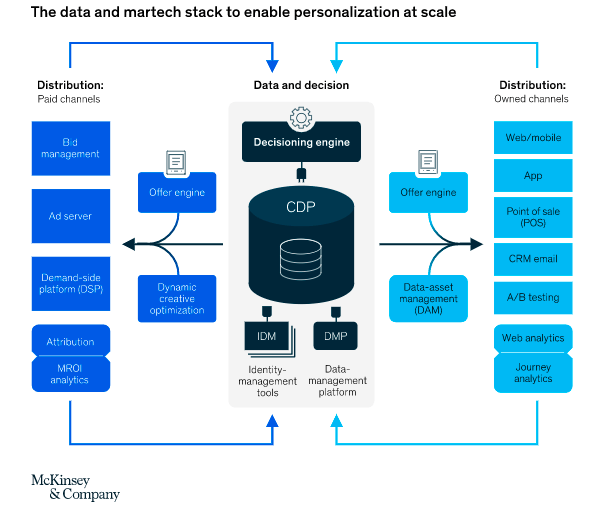 What are the benefits of Customer Data Platform?
As per IDC, 'To get the most out of the data inventory, every staff member needs to learn how to use an expansive set of enterprise data to do their jobs better, invent new things to do, and serve brand new experiences to customers. CDPs deliver extraordinary data inventories and analytical power to help brands drive greater value.'
Much like the event planners, CDP is responsible for driving the entire show-behind the scenes. Customer Data Platform forms the bedrock of the Digital Experience Platform (DXP), which helps marketers drive informed decisions. Below are the top five benefits of CDP:
Provides a unified 360-degree view for individual customers, which enables the marketers to deliver personalized customer experiences across the entire customer journey
With AI-powered predictive analysis and decisioning, it provides enhanced opportunities for upselling and cross-selling of products and services across multiple digital channels. It also enables to share audiences across your ecosystem for better campaigns
CDP segments the customers into customized buckets as per their unique needs and preferences, by leveraging this data point, marketers can drive contextual customer experiences through the preferred digital channel of the customer to inspire trust and loyalty
It helps marketers get the maximum value of their customer data for advanced targeting and customer segmentation. It successfully activates customer insights for optimization and personalization in any channel.
It makes the data accessible to all business decision makers across multiple systems breaking all departmental silos. It senses digital signals real-time as people interact with your channels, allowing brands to take immediate actions based on customer behavior



With CDP becoming a game-changer behind the success of marketing campaigns, they have emerged as a must-have technology for businesses looking to maximize their market reach and brand recall. CDPs easily integrate with a Composable DXP, helping brands drive personalization at scale across all digital touchpoints.
Sitecore acquires Boxever
Digital experience leader, Sitecore has acquired Boxever to empower brands to deliver unmatched personalized customer experiences at scale.
The USP of Boxever CDP is advanced customer segmentation with a 360-degree view of customer journey complemented with real-time decisioning capabilities. These features, when combined with the Sitecore CDP, will create an unmatched CDP platform, which will help brands leverage real-time customer data with AI-driven personalization at scale to deliver relevant digital experiences to customers through their preferred channel at the right time.
Maximize your business outcomes with Sitecore CDP
'In most companies, customer data is distributed across separate, disconnected systems typically managed by different stakeholders. A CDP solves this problem by centrally connecting the most valuable data in a flexible, unified model to develop an addressable customer identity that can be used consistently across channels', states a report by Mckinsey & Company.
Sitecore CDP is a state-of-the-art customer data platform which helps businesses to ramp up their personalization efforts with unique 360-degree customer view combined with intelligent decisioning, predictive analytics, experimentation, and orchestration capabilities.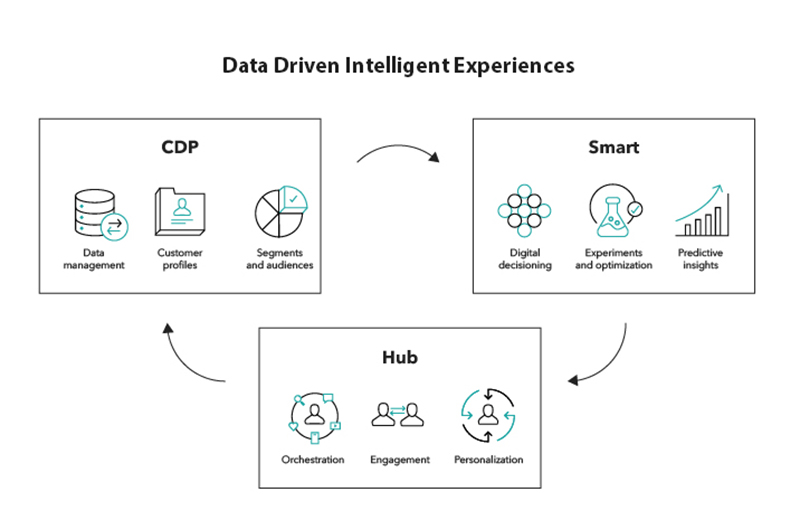 Top Usecases of leveraging Sitecore CDP:
Activate customer insights and predictive models in any channel
Generate audiences based on all your sources of 1st party data
Sync audiences across social, paid media networks and email or campaign tools
Enable an omnichannel customer experience
Visualize and analyze the entire customer journey
Level up your optimization and personalization strategies with a real-time data capability

Sitecore's Smart Hub CDP helps brands unlock the trapped value of customer data to drive scalable digital experiences across touchpoints to achieve greater customer acquisitions and loyalty.
As an award winning DXP service provider, Espire has partnered with Sitecore, to help brands drive exceptional customer experience across touchpoints. Over the past 2 decades, we have served over 50+ global business, won the Sitecore Best Personalized Experience Award, and have multiple MVPs, along with 100+ certified resources. Espire can help your brand deploy CDP solutions by integrating it with your existing technology stack, enabling you to build scalable solutions. Get in touch with us for a free assessment> here
For more queries, get in touch with us at marketing@espire.com