Our Company
With over 2 decades of experience behind us, and global operations spread across 12 locations worldwide - our Agile Digital Transformation Services help brands to be resilient to market disruptions and focus on business outcomes and returns.
We believe that true Digital Transformation can only be achieved with Total Experience (TX), and it is the sum of Customer Experience (CX), Employee Experience (EX), Business Experience (BX), Multi-Experience (MX) and User Experience (UX).
To make this possible, we adopt a cross-enterprise approach, backed by robust operations systems - leading to meaningful customer engagements, retentions and increase in new customer acquisitions for businesses. Thereby, we are the preferred partner for our customers, and we aim to become a TX leader with end-to-end services of CX, EX, BX using MX & UX.
Our focus is to bring a positive impact to brand's profitability and revenue streams, with emphasis on delivering engaging digital experiences, especially when the world traverses through a new normal.
ESPIRE ADVANTAGE
Meaningful CX

Engage with millennial customer in a more meaningful manner

Customer conversion

Build customer conversion strategies with better customer insights/sentiments

Technical Expertise

Scale up or down as per need with specialized digital experience transformation Subject Matter Experts (SMEs) and consultants

Complete View

A 360-degree view of customer and complete control of his/her journey across all brand touchpoints

Fast Time To Market

Vast repository of ready-to-deploy & easily integrable DX technology frameworks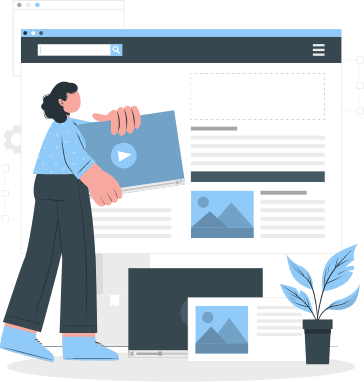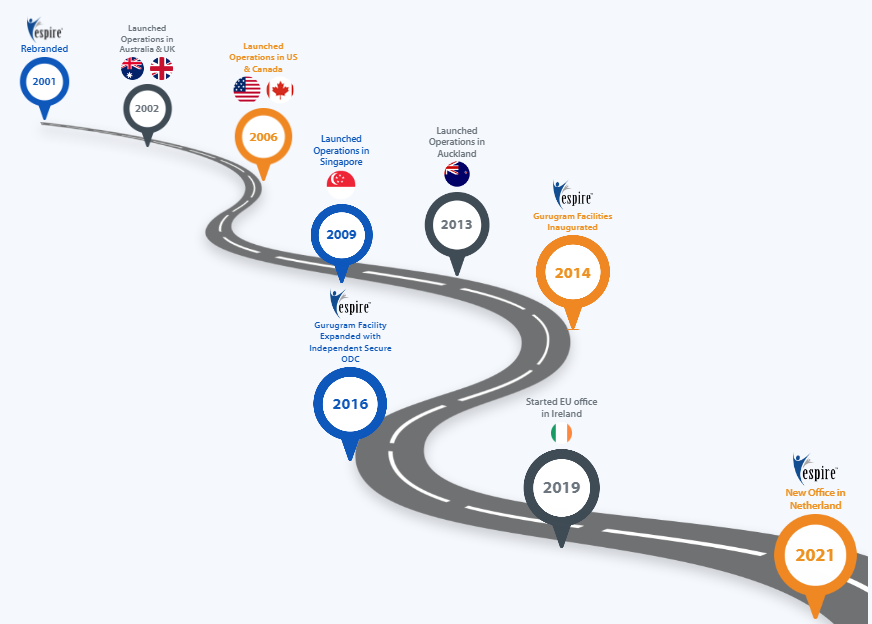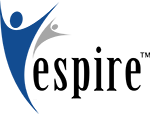 New Office in Netherland
2021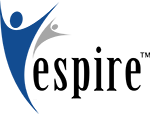 New Office in Netherland
2021
OUR JOURNEY OVER THE YEAR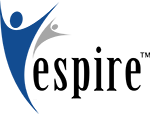 New Office in Netherland
2021
Started EU office
in Ireland
2019
Standard DR center
in Navi Mumbai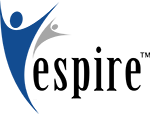 2018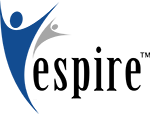 Gurugram Facility Expanded with Independent Secu ODC
2016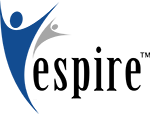 Gurugram Facilities
Inaugurated
2014
Launched Operations in Auckland
2013
Launched Operations in Singapore
2009
Launched Operations in US & Canada
2006
Launched Operations in Australia & UK
2002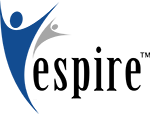 Rebranded
2001
MEET OUR TEAM
Our experienced leaders have been the torchbearers of our strong foundation and culture, empowering us to scale greater heights of success.
View our leadership team
Client Testimonials

Executive Group IT strategy has been developed to meet the need for a closer alignment between IT and Business units. It is a high- level strategy which identifies an IT transformation program leveraging on Cloud Technologies to reposition IT function in the organization to act as an effective strategic partner of the business. To support this transformation, we partnered with Espire, as its consultative approach, due diligence in understanding our business needs and proven expertise in migrating the applications & infrastructure to Azure were exemplary. Espire has helped us in fast-tracking our Azure cloud adoption and increasing uptime of the app to 99.5%, reducing our operational costs, increasing operational efficiency by 20%, along with significant savings on the time of the employees and increasing their productivity while providing 24x7 managed support services. We are glad that we chose Espire as our strategic IT partner and hope to extend this partnership for our future Digital Transformation requirements as well"
S.Rathinakumar, Asst. General Manager, IT Systems, ESM

Amcor's 2 year-long engagement with Espire has been extremely fruitful, resulting in the delivery of our warehouse management system (WMS) and manufacturing system (MES). With both system developments we have successfully managed to ramp up productivity and operational efficiency. With expert guidance and services from Espire, we have been able to develop and deploy .NET best practices, achieve on-time delivery using Agile and enhanced our business solution offering resulting in business benefits such as more accurate inventory tracking and a better user experience.
IT Applications Director - Asia Pacific

We wanted to revamp our PSA Singapore website to allow content owners to be self-reliant and to empower them with a more sophisticated content management platform. Espire was chosen as a partner to help PSA achieve this by using Sitecore. In this project, Espire have shown their capabilities in Designing and Implementation while supporting PSA's requirements. Our engagement with Espire as our implementation partner started nearly a year ago, and continues to be highly collaborative and insightful. Great experience to have Espire's Sitecore expertise with Agile Implementation approach.
Head of Corporate Communications

About a year ago, we switched from another resource provider to Espire for the technical development of our Sitecore 9 web content management platform. The transition went very smoothly and we are pleased with the collaboration model and the expertise offered by Espire in the Sitecore and .NET area. Espire thinks alongside us as a true partner, they have a mature delivery model and try to leverage opportunities where appropriate and possible. We will soon start a new project with Espire to implement Sitecore Commerce 9. We are currently working on further expanding our collaboration with Espire in other IT domains and expect to build up a fruitful long term collaboration.
IT Manager

A number of considerations made us choose Espire as our Technology partner, key among them being their diversified capabilities in Digital Experience Management, Infrastructure Projects, Fleet Management industry experience and Managed services.
We are also very impressed with the standards in customer engagement displayed by Espire's team, which is evident at all levels of their organisation. We have always found them ready to listen at any time, proactive with solutions and, delivering with speed and agility. We certainly, look forward to continue our relationship with Espire.
Chief Information Officer

We had an excellent experience working with Espire. Crocs engaged Espire to develop and implement a customized solution for lease information and rent system for Crocs.
The ideal combination of Espire's expertise in Microsoft technologies along with their commitment to customer focus and service excellence, has left a positive impression on the Crocs team.
Regional IT Director

One of the reasons T-Systems chose Espire as our development and support partner was the depth and breadth of their experience in the Oracle and Microsoft technologies. We are extremely satisfied with the high quality of resources they bring to the table, which has had a direct impact on delivery of innovative solutions and commitment to timely delivery of projects to our customers. The Espire team has demonstrated flexibility and high standards of work which works towards the success of a win-win partnership between T-Systems and Espire.
Managing Director

We decided to migrate our website to the Drupal open platform in order for us to update the website with greater ease. For this project we engaged Espire, who had proven expertise in the design and development of websites using various CMS platforms. The Espire team demonstrated excellent knowledge and expertise in Drupal, the chosen open platform CMS. They understood our requirements and ensured that the project was completed within a tight deadline. We are very impressed with their quality of work, attention to detail and domain expertise.
Head - Customer Service/Learning & Innovation

Espire has been a supplier of managed services to Fuji Xerox Australia since 2008. The company supports business critical applications across the Microsoft and Oracle technology platforms. With Espire's contribution, Fuji Xerox Australia has been able to offer enhanced service levels, increase operational efficiencies and balance cost complexities to maintain the smooth performance of their applications.
Engineering Services Manager

SDL recognizes that our partners are crucial for our success and reach in the marketplace. Espire's Portal and Web Content Management practice has invested in developing in-house SDL Tridion specialists who have strong competencies on the SDL Tridion platform. This, in combination with Espire's broad spectrum of IT services provides our mutual customers with a wealth of expertise. Partnering with Espire ensures our customers receive a comprehensive end-to-end customer experience solution.
Director - Account Management

As the holding company for Singapore's public healthcare institutions, MOH Holdings (MOHH) needed a digital platform that was effective in communicating our role in the local healthcare landscape. Espire, with its SharePoint expertise, worked with MOHH as collaborators and partners in our journey to transform our public facing websites that are user friendly and accessible on any digital mobile device.
Director - Corporate Communications Division

We have had a long standing strategic partnership with Espire going back to year 1999. And over these years Espire has truly contributed excellent value to Fuji Xerox Asia Pacific and its operations in the region. Being associated with us for all these years also means that Espire has an excellent understanding of our business and have delivered. The partnership with Espire has enabled our IT function to rollout solutions that has created positive impact for our business. Another crucial reason we continue to work with Espire is their deep expertise covering a broad spectrum of services in the Microsoft and Oracle technologies, their flexibility and service delivery maturity. We continue to engage them for new development and migration projects, and the modernization of our applications to meet our ever changing business needs.
General Manager - Information Management

Our partnership with Espire, extending to over 10 years now, is founded on many years of professional experience and draws together the skills and expertise of our specialisation in automotive solutions with Espire's innovative application development and management services. Together we offer unbeatable fleet and vehicle leasing management solutions (www.bynx.com) globally. With our shared market knowledge, we are able to ensure seamless deployment of our software and solutions package combined with extensive in-life support, which bring maximum benefits for our customers.
Operations Director

St. Albans required an IT services provider with specialisation in web content management with proven expertise on the SDL Tridion platform. We chose Espire for this project because they successfully demonstrated their domain knowledge in Web Content Management with specialisation in SDL Tridion platform. We appreciate that the project was delivered with value for money, and the Espire team contributed with very useful recommendations to enhance the visitor experience of our site.
Web and E-Communications Development Officer

Espire has been a trusted managed services provider to Packcentre since the Year 2005. We have engaged their expertise to migrate and consolidate our warehousing distribution applications to one centralised web based application, supported on mobile devices too. As our chosen managed services provider, Espire supports the smooth operations of various business critical logistics applications at Packcentre. We greatly appreciate their contribution and commitment to technical excellence, primarily in Microsoft technologies.
General Manager
OUR QUALITY CREDENTIALS
At Espire, we maintain the highest standards of quality to deliver unparalleled service experience to all our customers worldwide. We follow stringent application of quality processes across the entire project lifecycle and leverage well-established, structured methodologies, and tools & techniques.
ISO 9001:2015 | ISO 27001:2013 | ISO 22301:2012 | ISO 20000-1:2011 | ISO 27017:2015 | ISO 27018:2019 | ISO 22301:2019 | ISO 20000-1:2018 | CMMI V2.0 ML5 Appraised | EcoVadis accreditation
Awards & Accolades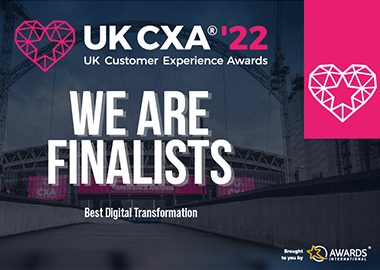 CXA Award UK 2022
Espire has been chosen as a finalist at the UK Customer Experience Awards 2022 for delivering Best Digital Transformation to a leading Insurance as well as a Logistics company. We are excited and looking forward to the finals at Wembley Stadium, London on 12th Oct 2022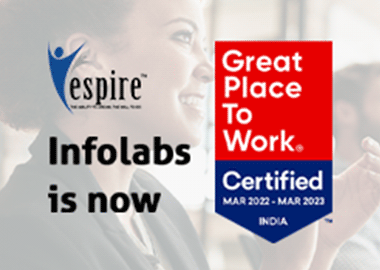 Great Place To Work
Espire Infolabs Pvt Ltd has been Great Place to Work-Certified™ in India. Employee happiness and satisfaction have been a key priority for us. We remain committed to providing a collaborative culture, equal opportunities and immense value to our employees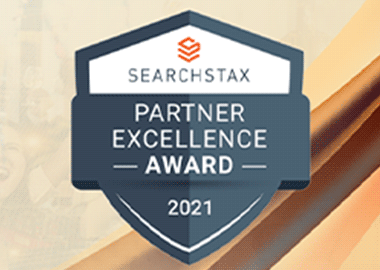 SearchStax Partner Award 2021
The global leader in search experience management, SearchStax has recognized Espire Infolabs in the Partner Excellence Award 2021 (APAC) for assisting Australian Catholic University (ACU), transform its site search with SearchStudio and driving greater engagement and conversions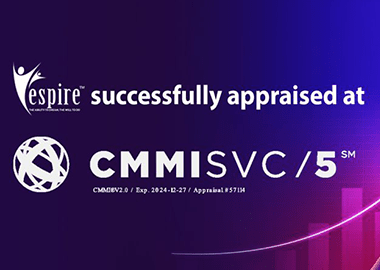 CMMI Level5 2022
Espire has been chosen as a finalist at the UK&nbsp;Customer Experience Awards 2022&nbsp;for delivering Best Digital Transformation to a leading&nbsp;Insurance&nbsp;as well as a&nbsp;Logistics&nbsp;company. We are excited &amp; looking forward to the finals at Wembley Stadium, London on 12<sup>th</sup> Oct 2022.<br class="t-last-br" /> <br class="t-last-br" />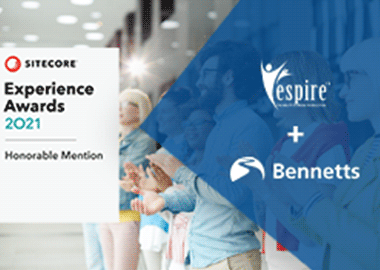 Sitecore Experience Awards 2021
Sitecore has recognized Espire Infolabs in Sitecore Experience Awards (SEA) Honorable Mentions, for helping a leading UK Motocycle Insurance specialist - Bennetts in Best Digital Experience Transformation category to provide personalized digital experiences with the Sitecore platform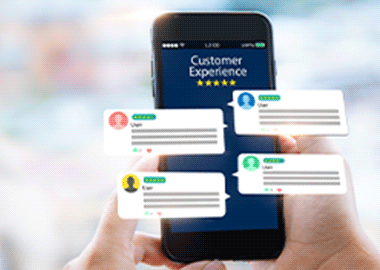 Microsoft and ACU
Microsoft recognizes Espire Infolabs & Australian Catholic University's efforts in cloud, data and AI to spur staff and student success
Espire Infolabs attains Achilles UVDB Accreditation
Espire Infolabs has successfully qualified for Achilles UVDB - the biggest utilities supplier online management community in the UK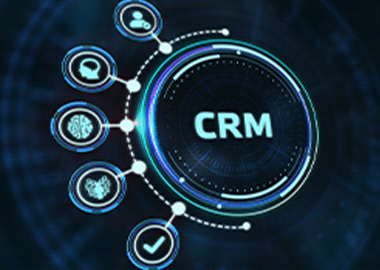 Microsoft Dynamics CRM Specialist
Espire Infolabs was recognized as a Global Microsoft Dynamics CRM Specialist Provider in Gartner's CRM Vendor Guide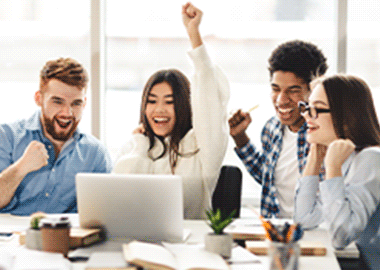 Document Strategy featured Espire Infolabs as a Customer Experience Leader
Document Strategy featured Espire Infolabs as a Customer Experience Leader
Global Locations
Global Customers Served
Resources
Technology Partnerships
Years of Experience in Digital Transformation & Total Experience
Speak to Our Digital Transformation Specialists
Let's get you started on the digital-first & transformation journey. Reserve your free consultation or a demo today!