Modern Digital Workplace: Transforming Employee Experiences With Better Ways of Working
The industrial and manual productivity was increased by fifty-fold in 20th century however workplace productivity did not progress at such fast pace.
In this digital age, the amount of digitized data is increasing at an exponential rate which demands a rapid shift of office work from repetitive tasks to knowledge based, flexible, and adaptive tasks. Hence, it leads to the focus of modern digital workplace towards information related productivity - which requires employees to have anytime, anywhere, any device access to the right information to collaborate & take informed, better & faster decisions.
"A recent commissioned research found that only 44% of companies thus far have adopted digital workplace tools"- States Reserachgate.
Employees have become smarter and intelligent (much more than machines and bots) and their capabilities have seen a gigantic turnover. Explosion of technology has exposed them to tools and devices that fulfils their creative urge and satisfies their hunger for more. However, the same is grossly untrue for their workplace, which translates to utter discontent.
Arrival of Modern Digital Workplace: Greater Employee Experiences
The past few years/decades have certainly seen an uplift in development, implementation and deployment of modern digital workplace technologies. Again, the rate of adoption and the rate of change of workforce potential remains a gross mismatch. More so, the principal reasons for enterprises adopting these technologies are directed towards efficiency, growth and productivity; but their digital workplace policies fail to address to the element of collaboration and employee experience.

In this article, we will discuss how modern digital workplace (and more importantly understanding the problems associated with its implementation) can pave way for employees to collaboration seamlessly and productivity with faster time to market.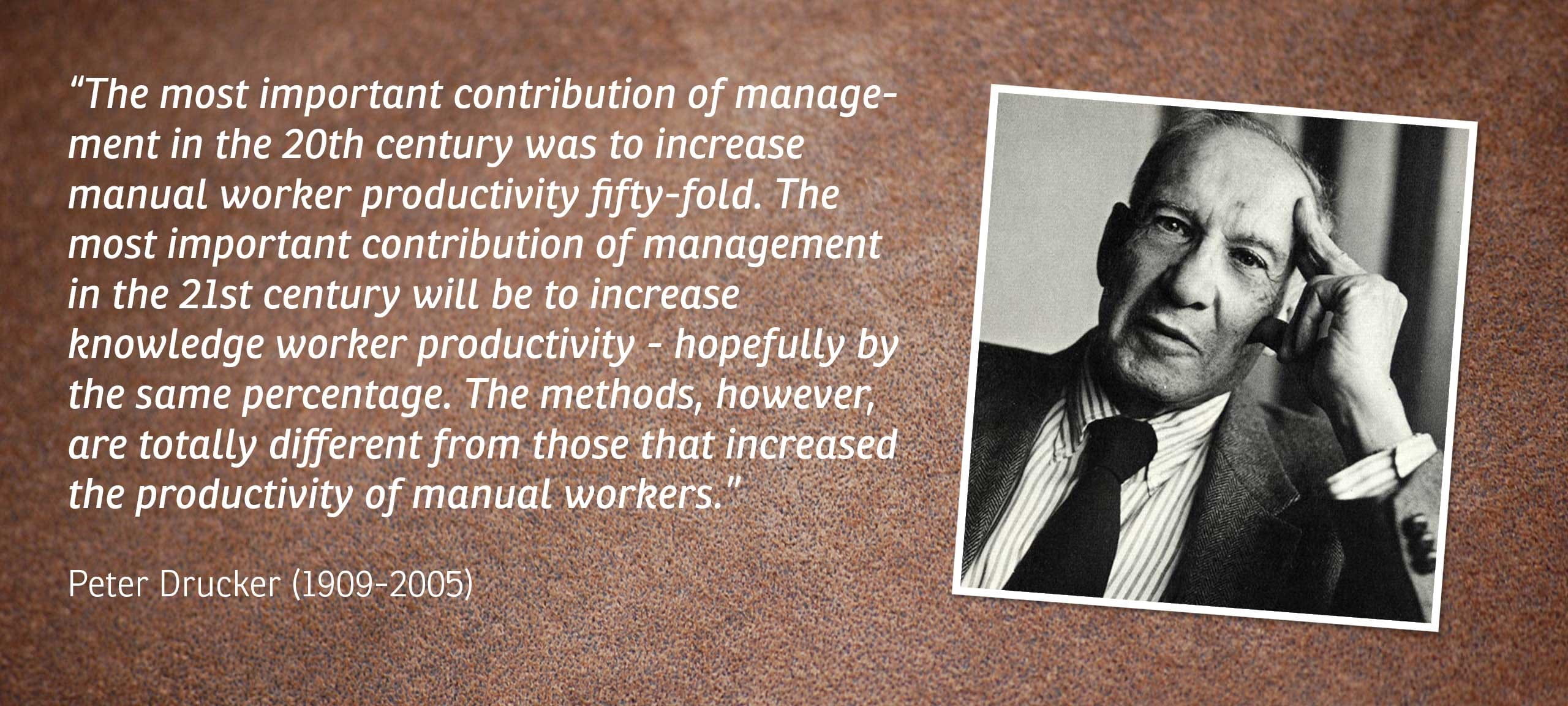 Challenges to Employee Experience
Today's employees are what Peter Drucker forecasted in 1959 as the 'knowledge workers' and hence it's high time enterprises create avenues, platforms and culture for these workers to perform to their utmost potential: not fearing of losing their jobs to artificial intelligence- the very intelligence they are originators of!
AI is automating tasks; paperwork is minimal, and 'Landmarks of Tomorrow' have arrived. Today's employee/knowledge workers need not spend time on menial jobs as they do the critical thinking, take faster and informed decisions and let AI, Analytics, automation and machine learning do the rest. But currently, high skilled employees are spending umpteen hours in handling basic emails, searching for information and spending hours just to communicate and collaborate effectively.
The COVID-19 pandemic-led new normal is the perfect time for brands to pull up their sleeves and adapt modern digital workplace for better collaboration, employee engagement & productivity.
Digital Workplace: For effective employee experience
---
Bringing social and collaborative technologies into the workplace is predicted to increase employee productivity by 20-25%

McKinsey study of high-skill knowledge workers
---
Digital workplace will have to so evolve and are so evolving (fortunately) that latest innovative disruptions are leveraged to address these challenges. Modern Digital Workplace simplifies the way employees handle basic communication, collaborate, and access basic internal and external information and even advanced search capabilities. Digital workplace tools like cloud storage, instant messaging and communication tools are best at addressing these challenges- leaving employees for achieving their best productive potential.

As businesses have been forced to adapt to new ways of remote working during the ongoing pandemic - flexibility to work and access digital assets securely from anywhere, anytime and any device have accelerated the existing demand for new age modern digital workplace.
Microsoft ,for example - with its OneDrive and SharePoint solutions along with other apps in Microsoft 365 Suite is revolutionizing the way teams and employees achieve their productive best by putting all information at one place - reducing data silos. Microsoft with its Azure cloud services and Microsoft Teams collaborative platform is helping employees collaborate and communicate seamlessly- reducing time spent in communication noises.
Use Case: Espire Infolabs helps ACU move to a new way of working with Microsoft Teams
The Australian Catholic University (ACU) is ranked among the top 2% of all tertiary institutions and is in the global top ten of Catholic universities. ACU embarked on a mission to enable the best experience for employees and students securely irrespective of their location or device.
This digital transformation by ACU aimed to create a modern workplace environment that ensured seamless collaboration and optimized communication intended to increase efficiency and enhanced staff experience by integrating new technologies and applications. As part of Digital Workplace innovation, ACU embarked on a journey to transform their existing applications:
Access to SharePoint Online by replacing on-premise SharePoint
OneDrive for Business by replacing network home drives
Teams and Teams Telephony for communication and collaboration by replacing Skype for Business and Cisco desk phones
Microsoft Teams for standardized, simplified, and improved Video Conference experience by replacing complex and disparate VC systems
ACU Virtual Assistant (AVA)- chatbot developed for instant and on-demand support to ACU staff within Teams and SharePoint


Digital workplace transformation at ACU now offers full online functionality, the ability to access workspace, join meetings, collaborate, interact with peers, and engage with internal and external stakeholders. With eight campuses nationally at ACU, this has also facilitated continuous dynamic virtual social interactions between campuses as physical distance simply doesn't matter anymore.
Read here for : MICROSOFT TEAMS IMPLEMENTATION FOR UPBEAT BUSINESS RETURNS
Time To Decision/Market
Modern Digital Workplace is transforming the way employees connect with their organization for a fluid, seamless and effortless employee experience that both satisfies their urge to be creative and to access the tools they have otherwise access to in daily lives. It enhances not just collaboration but also leads to an effective workforce that translates to business growth and faster time to decision- faster time to market!
Future Proof Digital Workplace
From innovative IT deployment to remote workplace solutions and seamless company processes and practices, the modern future-proof workplace compromises of a collection of ideas, tools and most importantly effortless platforms for both an intelligent and empowered employee. Artificial intelligence will always be dependent on human intelligence and the early enterprises recognize this, the better it is for their growth journey!
Turning to a modern digital workplace is certainly wiser for enterprises to capitalize on the gains of automation and rapid shift in technology. Seamless collaboration and automated centralization are critical to forging forward into an AI-backed organizational future, and no strategy but a future-proof digital workplace can better suit the present need.
Are you enabled to operate your business remotely or still thinking on how to increase collaboration & productivity for workforce who are WFH? Global partnerships with over 20 leading brands such as Microsoft, Kofax, Quadient, Sitecore, Messagepoint, and others - enables Espire to be your one-stop destination for business on the go, thereby redefining customer experience with quick business gains.