Why Microsoft Teams implementation promises Upbeat Business Returns in Times of Crisis
The global crisis around COVID-19 outbreak and the struggle for its containment has forced organisations and their workforce to work from home (WFH) or work remotely - thereby, taking a collective ownership to reduce new cases and flatten the curve of the spread of this pandemic.
So, where does businesses stand today in terms of readiness of much-needed technology infrastructure to support WFH & ensure effective collaboration and productivity, while working remotely?
Today, more than ever - the need for working remotely, along with safeguarding business continuity organisations revolves around the use of digital workplace platforms which makes it flawlessly easy for employees to collaborate effectively, without disruption on productivity.
These turbulent times will also lead to a future where more organisations will adopt the flexible & remote work culture.
"In a recent webinar snap poll - 91% of attending HR leaders indicated they have implemented WFH arrangements since the outbreak, but the biggest challenge stems from the lack of technology infra & lack of comfort with new ways of working." - Saikat Chatterjee, Senior Director, Advisory at Gartner
Technology Adoption & Optimum Utilization
Lack of technology infrastructure and inadequate platforms are acting as the real major barriers to work from home needs of organizations and employees, in present times. There is a need is to leverage and acquire the necessary tools & ensure that there is optimum utilization of available platforms - when and where organisations have limitations to upgrade.
This lesson learnt by all the digital workplace adoption laggards from this global crisis will surely make way for renovating their technology readiness and adopt the new culture of remote/flexible working for such times in the future.
The Role of Microsoft: Teams, SharePoint (Microsoft Office 365)
"Teams integrates well with the Office 365 suite, which is very important. Our CIO decided that Teams has superior functionality to the other solutions we were considering and integrates better. That will save us money." - Forrester study: The Total Economic Impact™ Of Microsoft Teams

Microsoft Teams allows - multiple ways of connecting, collaborating, and sharing for your workforce.
The text chat conversation workflow offered by Teams helps your employees seamlessly communicate - at par with the best messenger platforms in the world, along with helping employees flawlessly revisit their chat history and missed conversations.
Similarly, audio chat workflow provided by Teams offers more personal and preferred voice communications - eliminating confusions and in general typing delays and errors during text chats.
Teams is also enabled with a seamless video chat workflow, helping employees to connect and collaborate better with one another - such as conducting virtual face-to-face meetings & conference.
Lastly, Microsoft Teams enables mobile employees to be more productive & better connected - all adding up to the look & feel of a virtual workplace!
Overall, Teams users are pleased with how well it integrates with the rest of Office 365 suite, along with citing associated cost savings as a major factor to adopt Teams. For a standard 5,000-user organization, the Forrester study reported benefits and costs of roughly $30.3 million and $3.3 million respectively, resulting in an overall net benefit of $27.1 million over 3 years.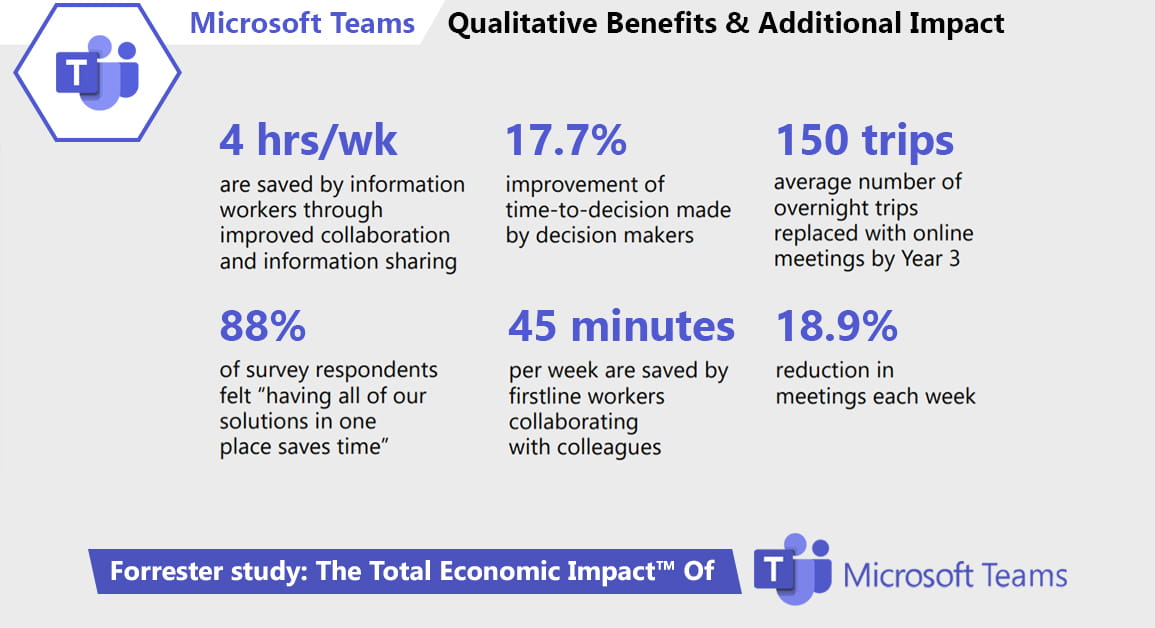 What a Microsoft Teams (Office 365) WFH day looks like:
Making use of Office 365 with your data in Microsoft Cloud, to get the best of insights
Effectively communicating with Teams Chat with colleagues, partners, customers, and prospects
Sharing files via Teams, OneDrive for Business, or SharePoint Online for optimum collaboration & real-time updates
Meetings - View & talk with one another via video conferences & meetings for instantaneous association


Are you enabled to operate your business remotely or still thinking on how to increase collaboration & productivity for workforce who are WFH? Global partnerships with over 20 leading brands such as Microsoft, Kofax, Quadient, Sitecore, Messagepoint, and others - enables Espire to be your one-stop destination for business on the go, thereby redefining customer experience with quick business gains.