Sitecore Managed Cloud: Drive Digital Experiences at scale with Cloud
Digital experience has emerged as the competitive battleground for businesses across sectors to enhance their customer engagement and drive loyalties.
According to PwC research, "The number of companies investing in omni-channel experience has jumped from 20% to more than 80% in the new normal."
Businesses have started investing in digital experience platforms and technologies aggressively to drive omni-channel digital experiences throughout the customer journey. Organizations want to focus on their key business processes and operations, they want to reduce their IT dependencies for carrying out regular enhancements on on-premises technology deployments, therefore, they are actively moving to cloud for hosting their DXP solutions. Sitecore empowers businesses to host their different DXP products on cloud, to streamline system integration, enhance the speed of deployments while providing improved security and data privacy.
In this blog, we will discuss about Sitecore Managed Cloud, its benefits and deployment options for businesses to enhance CX at scale.
What is Sitecore Managed Cloud?
Sitecore Managed Cloud is a service by Sitecore which allows business owners to actively host and maintain the installation of different Sitecore products like Sitecore Experience Platform (XP), Sitecore Experience Manager (XM), and Sitecore Experience Commerce (XC) on Microsoft Azure Cloud.
Top Benefits of Sitecore Managed Cloud
1. Business Benefits
Businesses can eliminate the high capital infrastructure costs which are associated with hosting the Sitecore platform and other applications on-premises. With a 100% pure cloud deployment model, Sitecore Managed Cloud provides flexible pricing options to the business based on actual website traffic consumption. Thereby, enabling faster deployments on Microsoft Azure's flexible, enterprise-grade cloud platform.
2. Operational Benefits
Sitecore Managed Cloud provides a single portal access to seamlessly manage and monitor the complete environment. It alleviates the burden of the IT teams by reducing the need for regular deployments on multiple back-end systems and applications. An infrastructure availability with Microsoft at 99.9% uptime provides the businesses the option to add newer functionalities on-the-go with Sitecore Experience Cloud solutions.
3. Improve Marketing Capabilities
Hosting Sitecore's digital experience platforms on managed cloud will allow marketing teams to improve their time to market, thereby, facilitating omni-channel communication delivery while increasing prospect engagement on digital channels for greater customer acquisition. By driving personalized customer experience, businesses can improve lead generation, lead quality as well as lead nurturing time while reducing the cost per conversion (cost of sale).
4. Security & Compliance
Sitecore Managed Cloud provides businesses with enhanced security and compliance like ISO, SOC2 and PCI, complete with disaster recovery, backup capabilities and associated governance. It reduces the risk of penalties from data privacy and GDPR breaches and allows businesses to meet compliance needs of regulated industries.
Sitecore Managed Cloud Deployment Options
1. Sitecore Docker Containers with Kubernetes
Sitecore Docker Containers with Kubernetes can be leveraged as a hosting solution across multiple data centers globally. It allows the developers to monitor and support production deployments, avail infrastructure services and integrated support. Sitecore Docker Containers with Kubernetes provides the highest levels of security and achieves positive business results faster with custom architecture deployments.
2. Azure App Services (PaaS)
Azure App Services (PaaS) supports the entire application lifecycle, be it- building, testing, deploying or managing. It empowers the developers to deploy cloud-based enterprise platforms or applications without excessive coding time and at an affordable price.
img2
Managed Cloud Extended Options for unlocking greater growth
Sitecore managed cloud not only providing basic Sitecore infrastructure, but also complete cloud requirements not limited to following
Monitoring and Alerts using AppInsight, Azure, Grafana, Alerts etc
Security using WAF, Front Door and Cloud Flare
CDN using Azure or Cloud Flare
Disaster Recovery with options like Cold, Hot etc as per customer requirement
Sitecore Managed Cloud Topologies (Sizing)
Sitecore Managed Cloud provides brands with enhanced flexibility to seamlessly upscale and downscale their cloud requirements and computing capacity as per their unique business needs.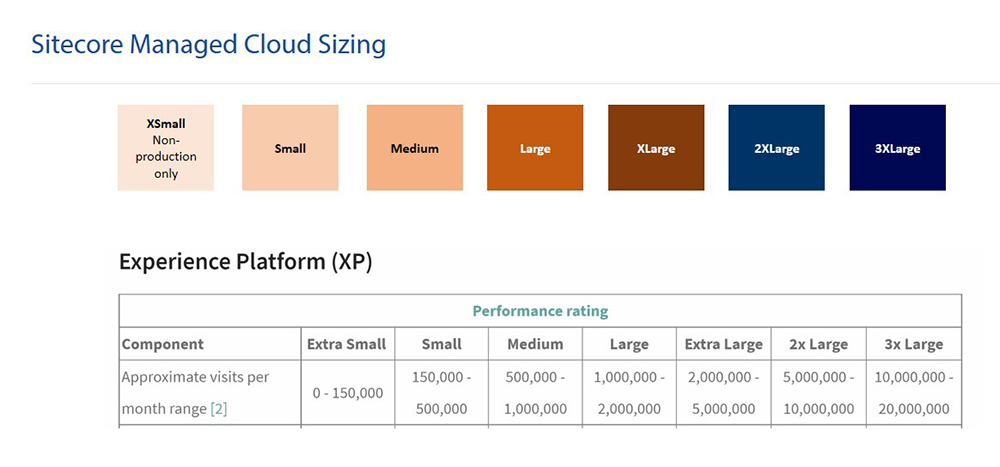 At Espire, we are assisting businesses get maximum benefits from their digital experience platforms. Whether it's a Sitecore assessment or a Sitecore upgrade, be it on-premises or hosted on cloud, we have helped businesses drive impeccable digital experience with greater ROI and campaign engagements.
To know more about our Sitecore capabilities, visit > here https:// www.espire.com/technology/sitecore or reach out to us at marketing@espire.com