Manufacturing Insights: Technology Solutions for the Manufacturing Sector to achieve Total Experience
Digital transformation is revolutionizing key business processes for the manufacturing sector. Disruptive technology solutions are not only simplifying complex manufacturing processes but also empowering business teams with real-time data for better decision making.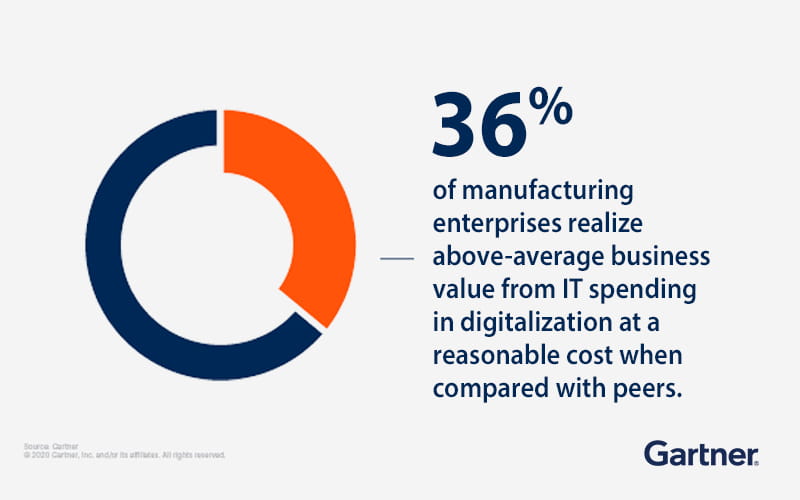 Advanced manufacturing companies are implementing new technologies like Artificial Intelligence (AI), Internet of Things (IoT), Data and Analytics to drive growth and profitability. To ensure success, CIOs must go beyond the hype of new technologies and develop future-ready strategies to manage change and capitalize on opportunities, states Gartner.
It is conclusive to deduce that future-ready technologies will reduce lead times, foster cross-functional collaboration between teams and enable businesses to deliver exceptional customer experiences.
In this blog, we will share key insights on technology solutions for the manufacturing sector to achieve Total Experience and Business Growth.
1. Data and Analytics for Improving Business Performance & Operational Experience
Manufacturers had to depend on expensive tools for capturing critical data on their manufacturing processes, supply chain and customer experience, to identify if there were process breakdowns or any pitfalls. With the emergence of predictive analytics, big data analytics, machine learning and industrial internet of things, businesses in the manufacturing sector can get a 360-degree view of their production process, supply chain, delivery, and customer service, which enables them to identify loopholes and maximize business performance.
Data and analytics solutions help manufacturers with demand forecasting, streamlining order management and optimizing inventories. With predictive analytics and data visualization tools, manufacturers can optimize equipment and process capabilities to maximize their operational experience.
With predictive demand forecasting, customer churn rate etc, Espire is helping leading manufacturing businesses get the most of their data. Know more about our service offerings for data and analytics!> here
2. Digital Workplace Solutions for Improving Employee Experience
Technology centricity and innovation has become the backbone of the manufacturing industry for driving process improvements and maximizing employee productivity. Digital Workplace solutions empower businesses in the manufacturing sector to enhance connectivity and collaboration between the plant and employees. DWP solutions provide cross-device access to critical business data, for example- an employee can seamlessly access production capacity details, monitor inventory, or even check job schedules real-time on their mobile phone with a DWP application. Digital workplace solutions not only provide a secure way to store data but also foster communication between teams, thereby improving employee experience and productivity. Know more about our Digital Workplace Solutions!> here
3. Digital Experience Management for Enhancing Customer Experience
Customer experience has become the key differentiator for business success. With the rise of the hustle culture, modern day customers expect real-time order tracking updates, unified digital payments and omnichannel customer experience at the tap of a button. By delivering personalized digital experiences, setting up self-service portals, sending order tracking details, simplifying payment dashboards and provision of customer support services, manufacturing companies can elevate the overall customer experience and build lasting relationships with their customers.
Espire is assisting leading businesses in manufacturing sector elevate customer experience to build lifetime customer loyalty. Know more!> here
4. Digital Engineering Services for Warehouse Management
Manufacturers can optimize complex warehouse processes like picking, receiving, packing, storing and shipping of products by leveraging agile technology solutions exquisitely developed for their business needs. By leveraging the power of digital platforms, manufacturers can also monitor supplier performance, product quality and get real-time transportation updates. Know more about our Digital Engineering capabilities!> here
Gartner predicts that by 2024, organizations that provide Total Experience will outperform competitors by 25% in satisfaction metrics for both customer and employee satisfaction.

Typically, manufacturers tend to overlook operational experience as part of the overall total experience. Manufacturing companies can maximize their growth potential by investing in scalable technology solutions to elevate employee experience, optimize business processes for driving operational experience, improve customer service and digital experience, to achieve digital transformation and total experience.
Espire is helping leading brands in the manufacturing sector build business resilience and unlock growth. To get key insights on our services and technology capabilities, visit or get in touch at marketing@espire.com