Improve Business Experience & Operational Efficiency in Reinsurance with agile & scalable technology solutions
As a leading Digital Transformation and Total Experience Leader, Espire is helping businesses in the insurance and reinsurance sector drive impeccable customer experience, employee experience and business experience by designing agile technology solutions to fast-track growth and enhance total experience. Here is a Snapshot of our expertise in Reinsurance. We have helped reinsurers save money by using automation and intuitive cloud based solutions to attain
Zero financial leakages
Strong solvency ratio
Reduced audit time
Process automations
Increase profitability
Better risk planning
Reduces OPEX/CAPEX costs
Envision future enhancements
How Espire can help leading brands in the insurance sector implement automated reinsurance
As an expert in providing both inward and outward reinsurance services, Espire is helping leading brands in the insurance sector in the areas of application development, automations and efficient transactional communication for insurers with reinsurers using cloud technologies.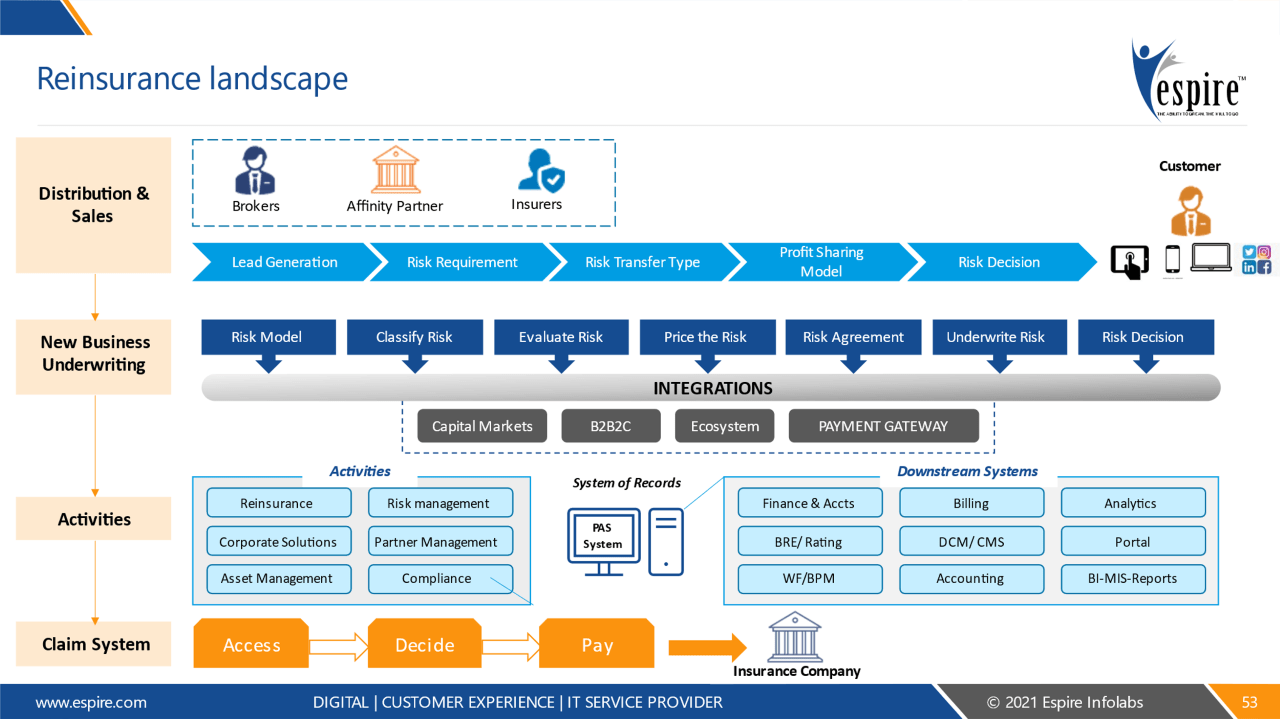 Our reinsurance solution capabilities include:
1. Process and Workflow Automation
Espire helps insurance companies drive process efficiency and business innovation by implementing state-of-the-art tech solutions and extensively automating process and workflows. Below are some of the key features in this space -
Inward and outward reinsurance capabilities support Lloyd's market business
Reinsurance line of businesses supported are Facultative (FAC), Quota Share (Treaty) and Excess of Loss (XL)
All types of brokers and reinsurers arrangement are supported
Auto reinsurer's recovery calculations based on pre-defined business rules setup in the system
Automated outward ledger closings/reinsurer closings calculations and posting to the ledgers
Fully automated/controlled Crystallisation/Commutation processing of cedents/reinsurers
2. Digital Communications
Delivering engaging customer communications forms the bedrock of building lasting customer relationships and loyalty for insurance companies. Leading companies in the insurance sector can leverage agile Digital Communications or Customer Communication Management solutions for seamlessly driving contextual customer communications across touchpoints. This is supported with :
Auto Email Notifications (inbound/outbound)
Auto Email Ingestion
Users Registration/Onboarding via Email
Auto controls in a system acts as a placeholder, reinsurers can leverage it for sharing status reports in the form of a notification to the customers. For example, the first notification can be a settlement presentation notification and a concluded agreement notification can be shared on the completion of the processing.

3. Data Analytics & Artificial Intelligence
Reinsurance
With our expertise in data analytics, BI and reporting, we are helping leading reinsurance brands simplify complex processes of report generation and data management by designing below OOTB report accelerators
Credit Control Report
Reinsurance Listings Report
Reinsurance Invoicing Report
Reinsurance Workflow Reports
Insolvency & Restructuring
Our reinsurance framework has got below unique data analytics accelerators specifically for run-off market which have been developed based upon best practices from UK and European reinsurance market
Commutation Report
Cedant Ultimate Reserve Report
Insolvency & Restructuring - Crystallisation Report
Triangulation Report
4. E-Business
Our Reinsurance framework has got below add-on features which makes our customers life easy, and they need not to be dependent on other applications and pay unnecessary extra usage charges. Hence this is a single standalone solution for all customer's reinsurance business needs.
Technical Accounting/Cash Management
Ledgers
Rate of Exchange Maintenance
Multi-Currency