Adopting Total Experience Transformation to tackle Business Challenges & drive Customer Loyalty
The COVID-19 pandemic will certainly be remembered for all the uncertainties and disruptions it created for individuals and businesses across the globe, but brands accepted the challenge head-on and devised innovative ways not only for business continuity but also for exceptional digital customer experiences.
As the COVID-19 crisis continues to linger and disrupt public life, businesses will have to keep delivering super engaging CX in 2021 & beyond.
The concept of delivering enhanced customer experience, the role of multi-experience with the development of IoT devices and advancement in AR/VR domain, has been a popular concept in recent years. However, in Gartner's recent announcement of Top Strategic Technology Trends for 2021 a new strategy of Total Experience is picking up attention.
Gartner touts Total Experience as the competitive differentiator that will be harder to replicate by others as opposed to a siloed & fragmented approach.
Total Experience: The Concept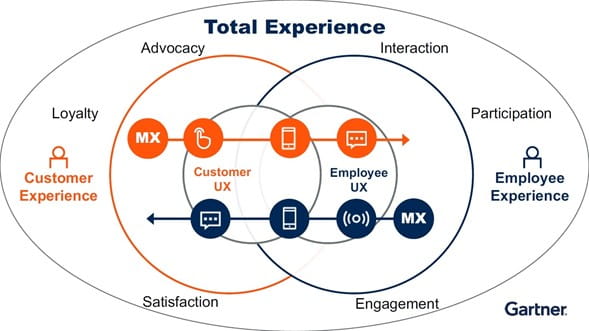 Total experience (TX) combines the experiences of people in one umbrella term that incorporates customer experience (CX), employee experience (EX), multi-experience (MX) and user experience (UX), helping businesses drive their revenues and outcomes, at a faster pace. TX subsumes the overall experience where technologies are aligned and conjoined to improve the experience of both customers, employees, and users.
Moving Away from the Siloed Approach
The ever-rising competition amongst brands for meeting elevated customer demands and at the same time attracting skilled talent has made it imminent for businesses to focus on both prioritizing employee experience and customer experience at the same time.
However, brands have always focused on improving both these experiences in a siloed manner i.e. one being independent from the other. The present focus with Total Experience, is however, about ensuring that the focus shifts into a more holistic approach by designing and evolving key metrics that are aligned to measure and co-relate the effects in both the experiences.
The fundamental premise behind Total Experience is to create an all-encompassing and engaging employee and customer experience by breaking down the barriers between different business segments and strategies.
Total Experience for a Remote and Virtual World
Understanding and identifying the critical intersections and synergies between employee experiences, customer experiences and user experiences can help brands leverage the right tools to deliver impactful outcomes for all the stakeholders and create a healthy and robust business model. In 2021 and beyond, brands will need to foster the right employee experience for meeting the elevated customer expectations and needs in times to come.
Distributed workforce models and remote customer facing operations have made it a necessity for brands today to align both customer and employee needs for remaining relevant in the post-COVID world that will be more digital, more remote and more virtual. Strategizing and ensuring the right mix of innovative/disruptive technology and Total Experience solutions will be a must have new-age strategy for brands in 2021 and the years to follow.
Unlocking Seamless Experiences
A cohesive Total Experience strategy will go a long way for brands in not just ensuring motivated employees and satisfied customers but in creating lean cost optimization models and justified investments while serving both the external customers and internal employees.
Total Experience transformation will be built on the premise of a unified communication model, platforms and workflows that eliminate the redundancies and offers seamless experience for employees and customers.

In a world led by digital technologies, effective communication tools have always played a key role for a seamless and optimal experience. Modern communication technologies have tremendously helped businesses during the ongoing global crisis to remain connected and ensure business continuity by fostering collaboration, exchange and sharing of ideas or data irrespective of geographical remoteness.
Similarly, communications built on the omnichannel and multi device needs of customers have become a necessity for brands trying to meet customer expectations today and in times to come. Total Experience strategy must ensure that employee communication needs are effectively met while customer communications across all devices and channels are made seamless.
Total Experience in 2021 & Beyond: Capitalizing on New Disruptions
Total Experience strategy is a one-stop solution for brands to boost organizational effort in capitalizing the new disruptive technologies of present COVID era including remote work and distributed customers.
At Espire, we believe that true Digital Transformation can only be achieved with Total Experience (TX), and it is the sum of Multi-Experience (MX), User Experience (UX), Customer Experience (CX), and Employee Experience (EX).
Businesses with the ability to treat their operations as a unified whole and targeting the entire range of experiences will certainly position themselves as leaders in coming years. It will make them capable for delivering their services in remote work conditions and omni-channel ecosystem for a rewarding customer and employee experiences.
Espire's Customer Engagement Hub (CEH) includes all key enablers of excellent Customer Experience (CX) - such as Digital Content Management, Experience Design, Customer Communication Management, Customer Analytics, CRM and IoT. Our partnership with global digital and customer experience technology leaders coupled with our extensive industry experience uniquely positions us to deliver top-notch digital and customer experience transformation solutions.
Reach us at marketing@espire.com for any query and subscribe to our blog for latest industry updates, trends, and insights.