Sitecore CDP Optimization: 5 Steps for deploying Customer Data Platform to drive effective digital experiences
The Customer Data Platform (CDP) has become a critical part of the modern technology stack, as a one-stop solution for data orchestration and management. CDPs help business owners get a comprehensive view of the customer data to deliver superior customer experience across all digital channels.
What is Sitecore CDP?
As a leader in Composable Digital Experience Management, Sitecore is always ahead of the curve. Sitecore CDP comprises of all the core data management capabilities along with intelligent decisioning, predictive analytics, experimentation, and orchestration for driving positive brand experiences.
The Sitecore CDP comprises of 3 main components: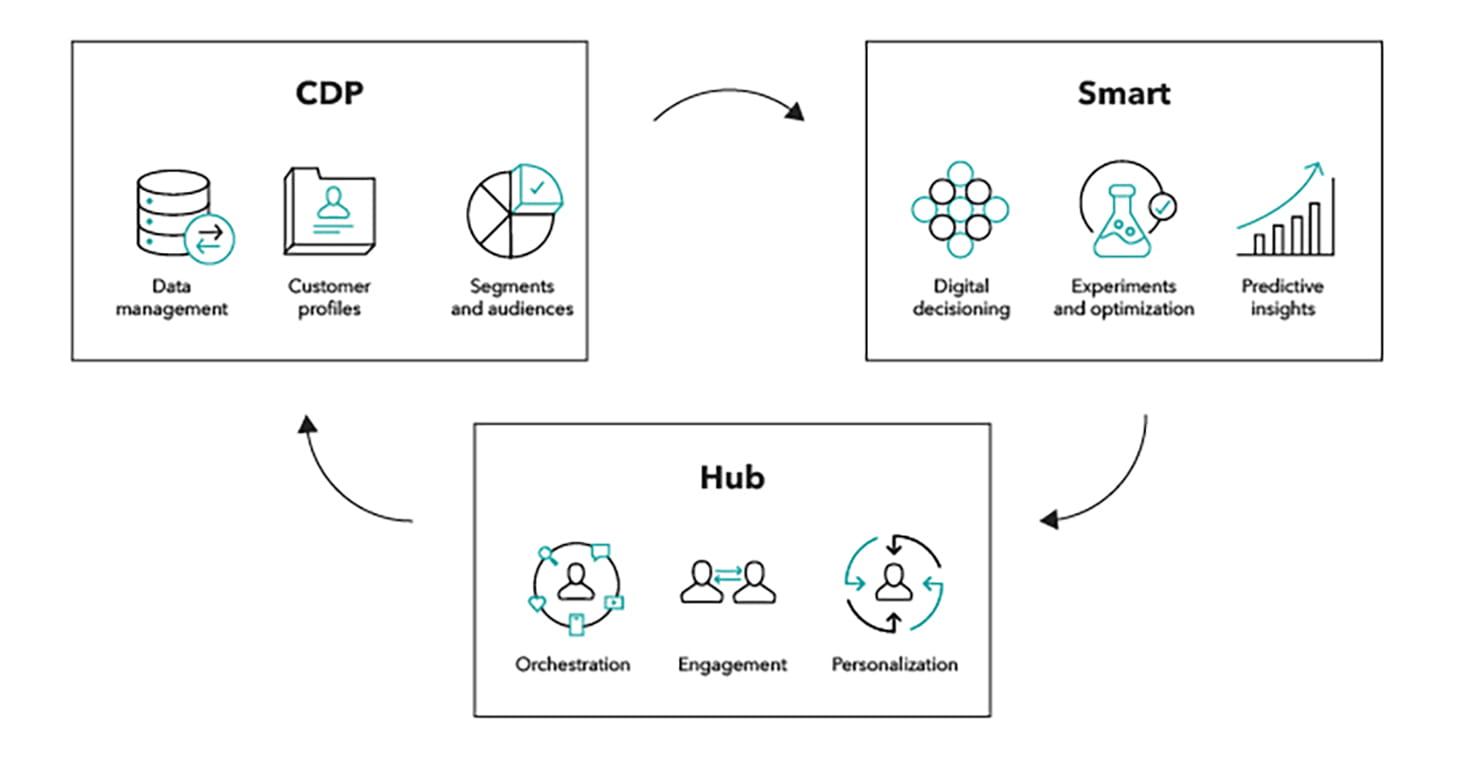 1. CDP
It provides marketers a comprehensive view of every customer in real-time to facilitate personalized interactions across digital touchpoints. It efficiently tracks every action of the customer including their clicks, search and tap. Then, it consolidates all the customer data from every touchpoint in one place. With real-time segmentation of customer profiles, it helps businesses to unlock the power of data and maximize customer engagements.
2. Smart
Smart empowers marketers to leverage predictive analytics, decisioning technology and real-time experimentation to optimize every customer interaction with the brand. With predictive analytics, brands can drive intelligent interactions in real-time context while the decisioning technology and A/B testing features help create impeccable experiences across digital channels.
3. HUB
Hub enables brand marketers to create integrated customer experiences across every digital app, platform, or channel, by delivering hyper-personalized communications at the right time and through the right channel.
In a nutshell, the Sitecore CDP has been exquisitely packed with features to leverage user data to personalize and optimize every customer interaction across channels for greater customer engagement and loyalty.
In this blog, we will share how to seamlessly implement and optimize your Sitecore Customer Data Platform in just 5 steps!
1. Check your Sitecore Readiness
The first step of kickstarting your CDP Optimization program is understanding the status of your digital system maturity and data capabilities. With Espire's Sitecore Assessment, businesses can get an end-to-end view of their customer lifecycle to design a personalization roadmap and analyze data architecture readiness.
2. Designing value creation models
As a second step, the team needs to design separate value creation models for the end-to-end customer lifecycle, including key touchpoints and channels to drive greater conversions from all digital touchpoints.
3. CDP integration
It's in the third phase that the Sitecore team needs to integrate the CDP with the data sources including:
Batch (which involves customer profiles, segments, various scores)
Interactive ( which comprises of orders, contacts, interactions)
Stream (including searches, page/product views, cart activity, identity)
Apart from that the team is also required to export and transform individual user profiles. After which they can activate the performance dashboards for mapping the activities and effectiveness. The CDP can then be seamlessly integrated across all delivery channels like web, social media, CRM, email and contact centres, applications etc to deliver great digital experiences.
4. Experience delivery
Once the CDP is activated, the team can easily design UX/UI, images or draft communication to seamlessly drive differentiated and personalized digital experiences across all integrated channels. They can also carry out A/B tests for specific delivery channels to optimize experience delivery to customers, as per their unique needs.
5. Result Analysis
As the final step, the team should regularly map CDP optimization progress with the help of performance dashboards in order to deliver unmatched customer experiences across touchpoints, segments and use cases.
As a digital transformation leader, Espire has been helping global businesses implement Sitecore platform solutions to drive positive returns-at scale. Connect with us for a Sitecore Consulting Assessment- here!
To know more about our Sitecore capabilities, visit-https ://www.espire.com/technology/sitecore or contact us at marketing@espire.com