Our Credentials & Achievements
Gold Partner - ANZ | Silver Partner - UK, US, Singapore
Winner for Best Personalized Experience
Vikas Kumar (Director, CX & DXP Services)
Sushovan Saha (Associate Director, Global Marketing)
We are a Digital Transformation and IT Consulting Company with a Cross-Enterprise approach -
delivering exceptional customer experiences, complemented by innovative operations & analytics solutions.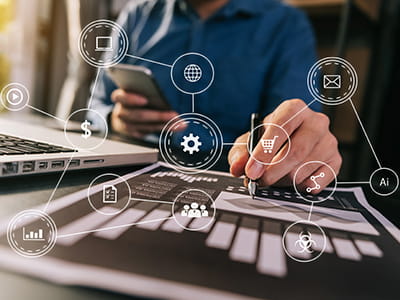 With over 2 decades of experience behind us, and global operations spread across 11 locations worldwide - our Agile Digital Transformation Services help brands to be resilient to market disruptions and focus on business outcomes and returns

We believe that true Digital Transformation can only be achieved with Total Experience (TX), and it is the sum of Multi-Experience (MX), User Experience (UX), Customer Experience (CX), and Employee Experience (EX)

To make this possible, we adopt a cross-enterprise approach, backed by robust operations systems - leading to meaningful customer engagements, retentions and increase in new customer acquisitions for businesses. Thereby, we are the preferred partner for our customers, and we aim to become a TX leader with end-to-end services of MX, US, CX and EX

Our focus is to bring a positive impact to brand's profitability and revenue streams, with emphasis on delivering engaging digital experiences, especially when the world traverses through a new normal
Our Sitecore Offerings
Design Engaging Experiences for changing Customer Demands
Espire assists businesses deliver impeccable digital experiences for building ever-lasting customer relationships. Our services include digital strategy & consulting, website development, interactive design, personalization, user experience, SEO and mobile transformation
Drive Personalized CX across Touchpoint
We help brands craft a 360-degree customer experience roadmap by implementing Sitecore Experience Platform (XP) which leverages customer data, analytics, AI, and marketing automation capabilities to nurture customers throughout their journey with real-time personalized content, across any channel
Drive Personalization at scale with Sitecore AI
Espire deploys Sitecore AI to help businesses personalize their customers' online experiences at-scale. We leverage marketing automation along with experience forms to drive effective engagements even in campaigns, events or webinars
Streamline your Marketing Communications with an integrated platform
Espire helps businesses bridge the gap between customer behaviour and brand communications by leveraging Sitecore content hub- an integrated platform for content planning, production, management and distribution across multiple channels with a single click
Cloud-managed services | Drive scalable digital experiences
Espire helps businesses maximize their geographical footprint by integrating their digital solutions with Sitecore Managed Cloud Service via Microsoft Azure and achieve business results faster
Strengthen your customer experience journey with Sitecore Connectors
Espire empowers businesses to reap the benefits of Sitecore solutions by integrating them with the technology solutions they already use
Advisory, Consulting & Implementation Services
Espire provides advisory and consulting services to help businesses mitigate the most critical business bottlenecks, create new organizational models and strategies, while developing resilience for business scalability
Migration & Upgrade Services
Espire's team of experts provide complete assistance during software migrations, integrations, upgrades, and maintenance to facilitate seamless operations and uninterrupted service
Speak to Our Digital Transformation Specialists
Let's get you started on the digital-first & transformation journey. Reserve your free consultation or a demo today!