Sitecore Search: A Game Changer in Content Search
Many brands still underestimate how important it is to have a well-functioning and optimized internal site search. Your site search tool can be the deciding factor between a happy customer and a frustrated user that won't come back. Without proper site search, your website could be leaking sales or in other ways end up costing more than you realize.
Forrester reports that as many as 68% of shoppers would not return to a site that provided a poor search experience.
Site Search is a feature that allows users to search for specific content or products on a website. It is typically located on a website's homepage or in the header, and it can improve the user experience, increase conversion rates, provide valuable insights, and keep businesses competitive in the online marketplace.
Sitecore Search for Lightning-Fast and Personalized Site Search
Search is a critical function for most websites, and businesses are increasingly realizing that their search functionality is inadequate. Visitors expect to find relevant information quickly and easily, but too often, their search queries return too many irrelevant or out-of-date results.
Moreover, site search is not just an issue for users; it is a shared struggle between content and marketing managers who lack tools to tune search and its impact on site experience, and developers and IT who get bogged down in implementation and upkeep complexity.
Sitecore Search aims to tackle these challenges and provide a new standard for site search. It is a lightning-fast, predictive, and personalized content search solution built for marketers. It is a cloud-native, SaaS content search solution based on Reflektion (Sitecore Discover) technology with a refreshed superfast architecture and intuitive user interface.
Sitecore Search is designed to achieve more with less complexity, faster, more predictive recommendations, and individualized visitor intent. Sitecore Search offers a more packaged, complete search-as-a-service solution for the external-facing web channel.

What's out of box in Sitecore Search
Sitecore Search works with inbuild intelligent crawler that supports any external (website) search and is not intended for internal, behind-the-firewall, intranet document search. There are three main types of search available in Sitecore: full-text search, field-based search, and faceted search.
Full-text search is used to search for content based on the content of the entire item. Field-based search is used to search for content based on specific fields within an item, such as the title or description. Faceted search is used to allow users to filter search results based on specific attributes of the content, such as the author or date published.
Anyone can try frontend behavior of Sitecore search on Sitecore website it-self
1. Search bar with instant auto suggestions and results based on different keywords.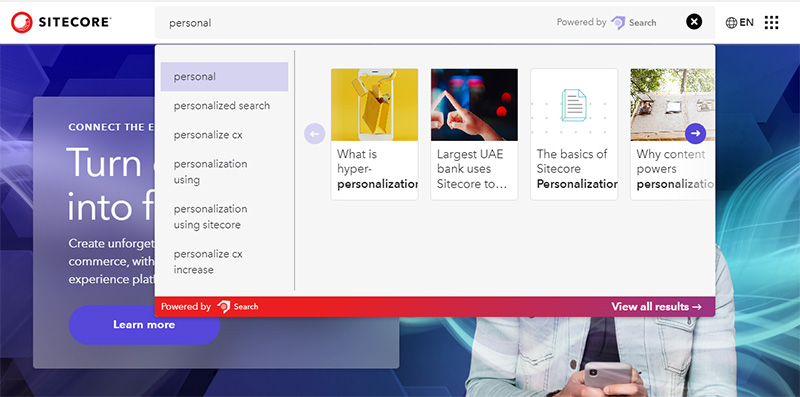 2. Search result page with facets and results.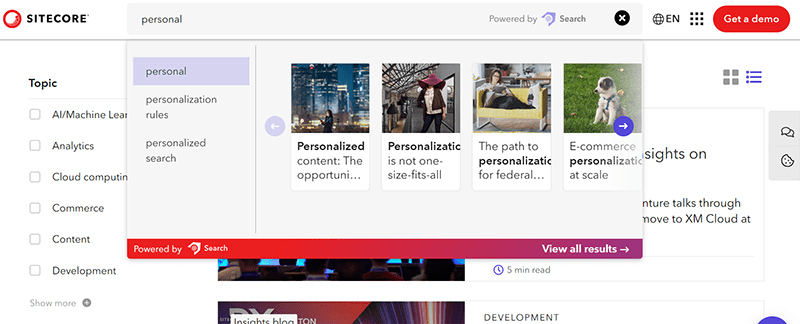 Devs and IT achieve more, with less complexity
Sitecore Search is a cloud-native, SaaS content search solution designed to provide lightning-fast and personalized search results for businesses. It uses powerful AI to understand and react to individual visitor intent instantly, with more predictive recommendations, and seamless experiences. Sitecore Search offers a more packaged, complete search-as-a-service solution, making implementation, integration, and upkeep simpler for external-facing web channels.
The only web search built for content & marketing pros
The visitor profiles, content profiles, and affinity-scored user profiles are used to track analytics, multi-locale and multi-region support, and A/B multivariate testing. The search also offers thematic and intent extraction, semantic analysis, relevance boost, and bury, guided navigation, and content promotion.
Machine learning data points and experience
It uses individualized visitor experiences, instant type-ahead, and personalized auto-complete based on phrase extraction across content. It combines visitor affinity models with content relevance to provide hyper-relevant results. The search also suggests questions and answers based on extracted content with AI.

More unified and scalable content discovery
Sitecore offers a unified and scalable content discovery solution that enables businesses to deliver personalized content and experiences to their customers. This solution includes advanced search capabilities, content tagging and categorization, and analytics to help businesses understand how their content is performing. With Sitecore, businesses can deliver relevant content to their customers at every touchpoint, increasing engagement, and driving conversions.
Business Benefits of using Sitecore Search on your website
1. Sitecore Search provides lightning-fast and personalized search results that improve user experience, engagement, and satisfaction.
2. It uses powerful AI capabilities to understand and react to individual visitor intent instantly, providing more predictive recommendations and relevant content.
3. It is easy to implement, integrate, and upkeep, reducing costs and improving efficiency.
4. Sitecore Search offers a more packaged, complete search-as-a-service solution, making it easier to manage external-facing web channels.
5. It can help businesses to deliver a more seamless and engaging digital experience to their customers.
6. Sitecore Search can improve brand loyalty and drive business growth.
Conclusion
Sitecore search is a powerful tool for efficiently discovering content within your website. By understanding the basics of Sitecore search, configuring it to meet your specific needs, leveraging advanced features for personalized and faceted search, and troubleshooting common issues, you can maximize the efficiency and accuracy of your content discovery efforts.
Espire is a trusted and established partner of Sitecore, a global leader in digital experience management software. With many years of experience in delivering successful Sitecore implementations we have a team of highly skilled and certified resources, including Sitecore Certified Developers, Sitecore Certified Marketers and Sitecore MVPs (Most Valuable Professionals). Our team has a deep understanding of Sitecore's technology and roadmaps, allowing them to leverage the latest features and capabilities to deliver innovative and differentiated solutions that exceed customer expectations.