Managed Services & Offshore Workforce: The way forward for CIOs to reverse fortunes in new normal
Truth be told - this is the best time for businesses to put on their thinking caps & strategise building future-proof enterprises. Smart business leaders are smart investors, lean, digital-ready and have progressed significantly in their digital transformation journey.
Here - remote working remains a part of the in-built ecosystems that is helping businesses manage their offshore workforce & continue with their business as usual. Also, modern businesses are fast realising that traditional way of hiring and nurturing staff has to give way to smarter mechanisms. There is a need to move towards offshore managed services - to get access to highly skilled workforce, without the need to hire & pay or train them.
From employee safety to work-at-home, data security, business continuity, and financial resilience - companies need to follow a clear plan to work collaboratively with their offshore service providers. We believe CIOs should focus their energies and those of their offshore service providers on two areas: 1) resolving immediate issues and 2) building resilience & planning for ongoing COVID-19-related impact - states Mckinsey April 2020 insights.
With the evolution of Big data, Analytics, AI & ML, and multi-cloud platforms - IT budgets have to be redirected towards new advances in technology and offshore services needs to be accepted with its advantages of freeing IT resources for mission critical tasks, reduced cost, agile platforms, and faster turnaround time & time to market.
Thus, organizations need to change the way of doing business for the new normal- offshore outsourcing, remote working and new technology adoption.

Key focus areas for CEO/CFO/CIO's today are:
Realigning spending towards technology disruptions
Move towards agile & DevOps way of working
Omni-Channel and cross channel presence
Intelligent Automation and Robotic Process Automation
Fluid and superlative Customer Experience
More Agility + Do More for Less


The McKinsey report further states that CIOs will need to work in true partnership with their outsourcing providers to change the delivery of technology services - not only to manage this crisis but also to power the business forward.
Application Management Services (AMS) & its Business Use Case
AMS are multi-year contracts to develop, maintain, enhance, and manage enterprise business applications. Service-level agreements (SLAs) define and govern these contracts, with the external provider having the primary responsibility for managing and operating offerings.
Customers expect application managed services (AMS) to deliver cost savings and productivity improvements, demanding year-over-year cost reduction of 5% to 7%, states a Gartner report.
Gartner projects the digital business consulting services (DBCS) market will increase by a CAGR of 12% over the next five years. To fund this, customers see AMS as a way to reduce costs by shifting the responsibility of day-to-day operations of the application landscape to a third-party provider.
Customers are looking at AMS providers to bring innovation and be a partner in their journey to achieve their digital ambitions.
We live in a world where everything is digital, and IT capabilities of brands no longer serve as the strategic differentiation factor, Contrarily, highly personalised & contextual customer experiences will be the only true differentiator for brands.
However, delivering to today's highly demanding customers require brands to focus on core competencies & channelise time and budgets, without getting involved in time consuming tasks of hiring & training of employees.
Offshore outsourcing not only saves cost for businesses but also leads to faster turnaround time, and increased ROI. The advent of powerful, fast, and revolutionary tools and platforms have made it possible & even easier for brands to communicate & manage productivity of their remote workforce. The brands which had adopted these cost-effective tools much earlier, have managed to turn the tides in their favor & made competition stiffer.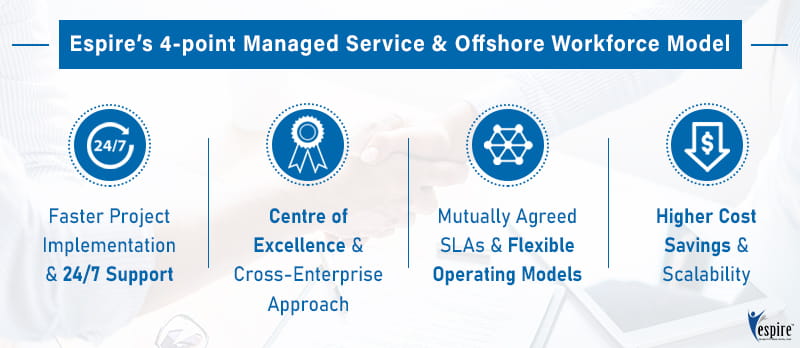 At Espire, we manage complex IT environments across industry verticals and global organizations, with 2 decades of extensive experience in IT services, consultation, implementation and managed services. Partnerships with over 20 leading businesses such as Sitecore, Quadient, Microsoft, Kofax, WSO2, OpenText, and many others enable us to achieve positive outcomes in the new normal, with faster turnaround time.