Composable DXP: Your 5-point Guide to Build Future-Ready Digital Experiences
Ever-changing customer demands, the rapid growth of digital channels and the dependence on devices - all are continuously altering the world we live in, along with how we consume digital experiences. We live in times when businesses need to constantly adapt to these changes to build business resilience and thrive even in uncertain times.
The need for driving connected customer experiences has compelled brands to adopt digital experience platforms (DXP), for end-to-end management and delivery of contextual communications to the customers. So far, most marketers in leading enterprises have been leveraging monolithic or a software suite-based digital experience platform which has a defined set of functionalities embedded in it.
A composable digital experience platform (DXP) allows brands to accelerate their digital transformation initiatives by building capabilities that are best suited to their digital needs, providing them the agility to experiment and deliver total digital experience - at scale.
According to Gartner, businesses that adopt a composable DXP approach will be able to deliver new features 80% faster than customers using suites.
What is Composable DXP?
Composable DXP leverages a microservices-based architecture to enable new tools and technologies to be added to the existing technology stack of the organization by leveraging cloud and APIs.
In simple words, Composable DXP acts as a single point of contact for marketers, empowering them to leverage leading tools to experiment and configure new possibilities as per their unique business requirements, thereby making it possible for them to deliver super engaging digital experiences - at scale.

Key Benefits of Composable DXP for Business to have Greater Outcomes
1. Flexible Development & Integrations - A One-stop shop!
Most monolithic suite solutions do not provide the flexibility to add enhancements and features to the existing vendor platform. Composable DXP , however, can be easily leveraged by enterprises to build agile solutions for driving key business goals. With the help of APIs and MACH technology, it seamlessly integrates with various platforms and requires minimum coding.
For instance - Leading ecommerce brands can leverage Composable DXP to consolidate business data from their CRM and customer data from their ecommerce platform, to personalize customer experiences across all channels.
At Espire, we follow an integrated approach for Composable DXP implementation which combines integrations, content management, personalization, and search & analytics services to help brands reach their business goals in record time.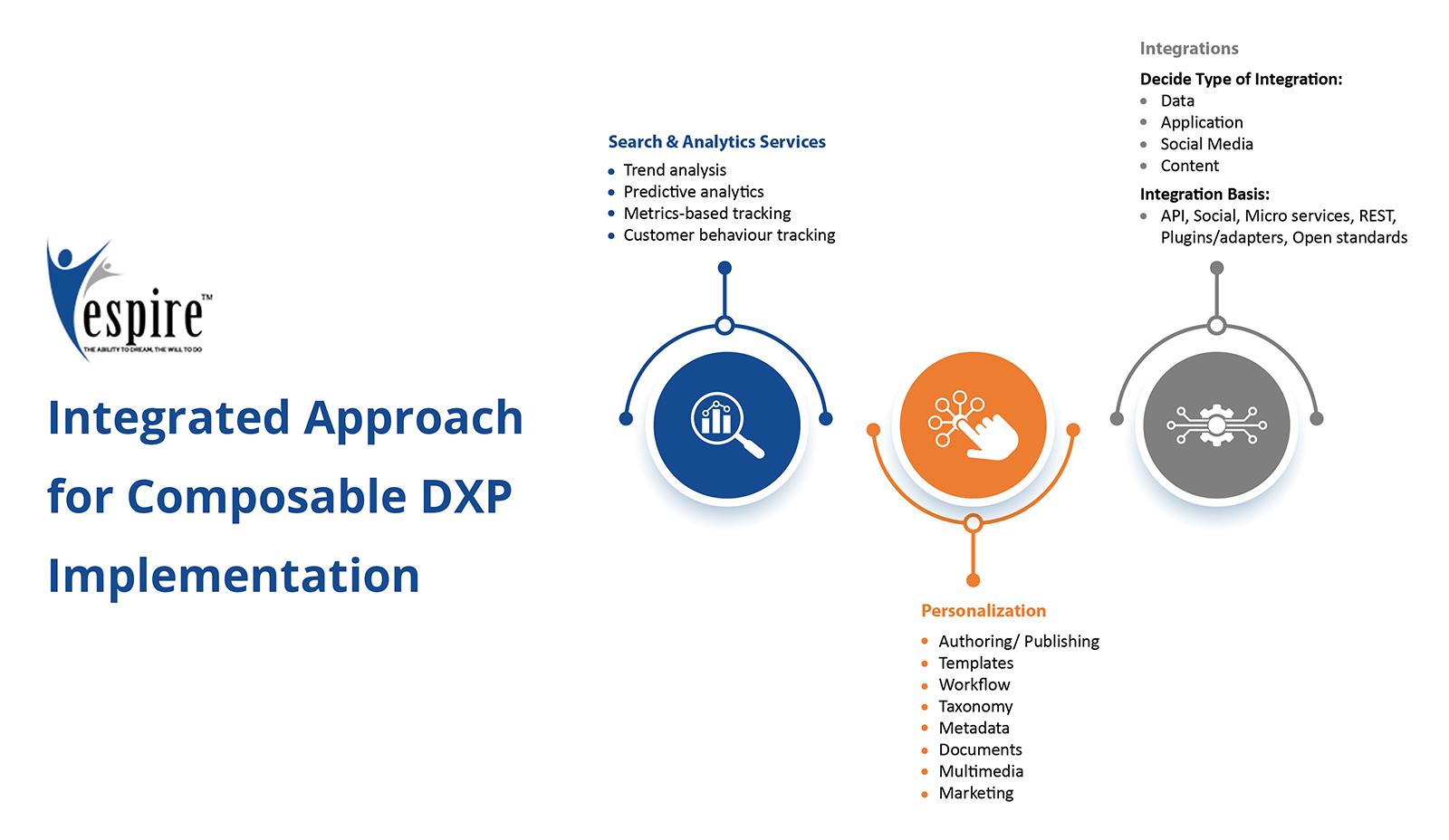 2. Improve Customer Engagements with CX Uplift
Content is a pre-requisite for driving customer experiences that stick. Creating and delivering communications which are in-line with the brand tonality is necessary for creating a unified brand voice and recall among customers. By utilizing composable DXP, various content assets can be modified into responsive and editable versions, which can be leveraged by the delivery teams.
Various enhancements and tools can be utilized with a headless CMS architecture to have a 360-degree view of the omnichannel customer communications being delivered. Composable DXP allows brand marketers to re-purpose content, create and test multiple variants and optimize the brand and customer engagements effectively.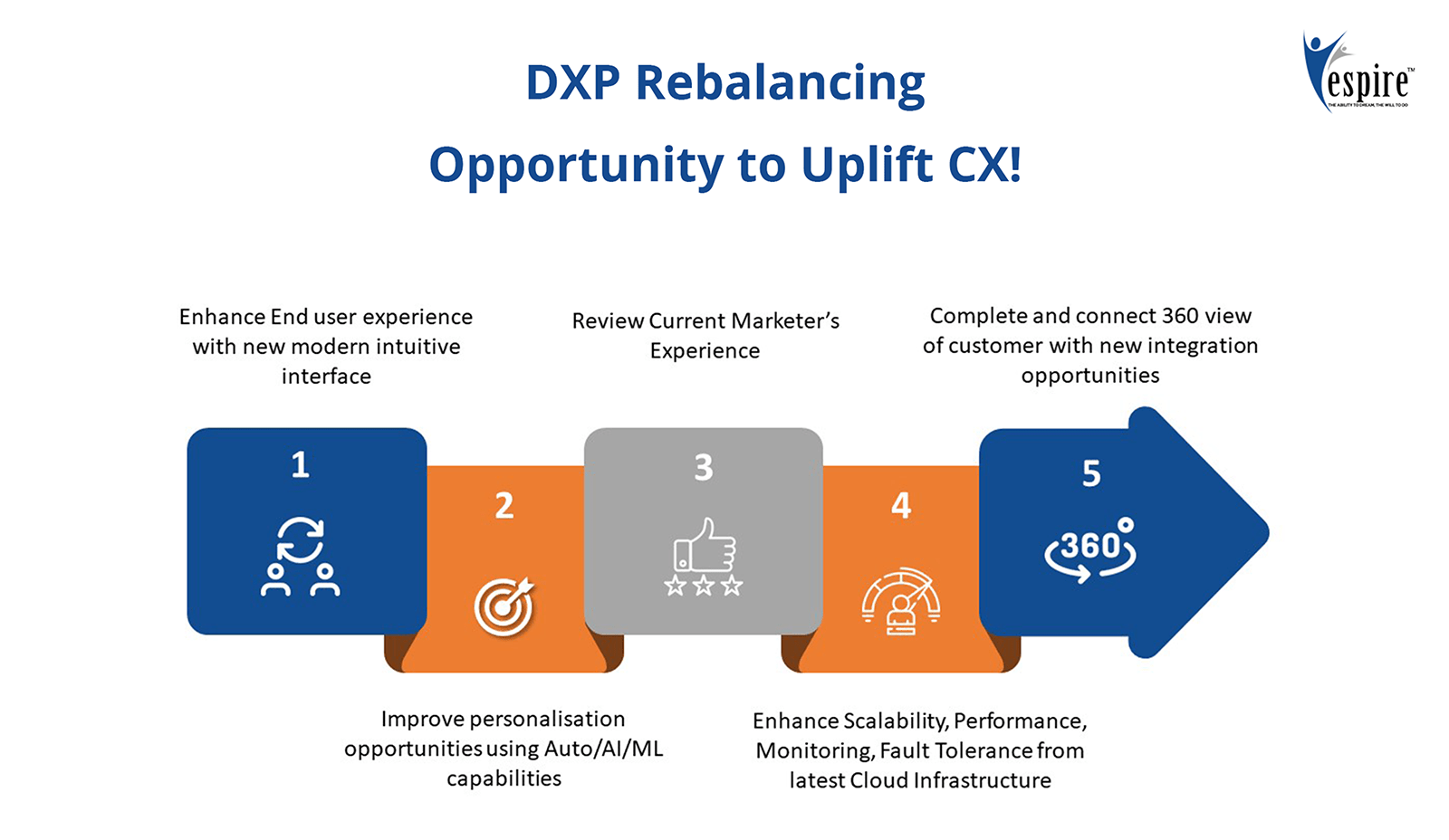 3. Drive Personalization at scale to exceed Customer Expectations
According to a BCG research, brands that deploy advanced personalization methods witnessed a revenue growth of more than 10% with enhanced customer retention.
The modern customer has multiple options and not enough time to evaluate the pros and cons for each of them, even a single unsatisfactory brand experience can affect the customer's choices. Personalization has emerged as a differentiating factor for brands as it directly impacts customer preferences and loyalty.
Composable DXP acts as a one-stop platform which synchronizes all customer communications, data from the sales platforms and customer service teams, empowering brand marketers to leverage data analytics and customer insights while designing campaigns for all customer touchpoints throughout the customer's journey. It ensures the right communication is delivered through the right channel and at the right time to drive business goals.
4. Creates synergies between IT & Marketing Teams
Deploying enhancements on a monolithic DXP platform requires the assistance from tech experts. Brand marketers often depend on their IT teams to execute complex codes, which is a time-consuming process that delays campaign execution.
Composable DXPs require minimal coding which eradicates the dependence on IT teams for carrying out even the smallest of enhancements. Thereby, empowering the marketing team to easily deploy enhancements on-the-go and improving the cooperation between the IT and the marketing departments.
5. Faster Time to Market and Higher ROI
The timeliness of a communication often acts as a deciding factor for customers while choosing a product or service. Under the dynamic business scenario, driving communications from a monolithic DXP is both - time consuming and not feasible. As the success of a marketing campaign depends upon its timeliness, a delay in implementation not only hampers the results but also deters the time to incorporate feedback.
Composable DXP has faster implementation cycles and can be easily integrated with digital marketing engines, asset management systems, customer data platforms, websites and apps, allowing marketers to drive impeccable personalized experiences across all customer touchpoints in the nick of time.

As an award winning DXP service provider, Espire has partnered with key DXP platforms like Sitecore, Contentful and many others to help brands drive exceptional customer experience across touchpoints. Over the past 2 decades, we have served over 50+ global business, won the Sitecore Best Personalized Experience Award, and have multiple MVPs, along with 100+ certified resources. Learn more about our DXP offerings > here
You can reach out to design a future-proof digital experience platform which complements your brand needs, enabling you to drive better business value and attain higher ROI. Get in touch with us at marketing@espire.com for your queries.