A Complete Guide to Upgrade to Sitecore XM Cloud- Why, When and How?
Sitecore XM Cloud is a SaaS based digital experience platform (DXP) offered by Sitecore, a leading provider of content management systems (CMS). It is the latest version of Sitecore's Experience Management (XM) platform and provides a comprehensive set of digital marketing tools, flexible and scalable infrastructure, and high-performance content delivery called Sitecore Experience Edge.
Sitecore XM Cloud's composable architecture allows organizations to create and manage personalized digital experiences for their customers, increasing engagement and conversions. With its cloud-based delivery model, Sitecore XM Cloud eliminates the need for organizations to maintain on-premises infrastructure, providing a cost-effective and secure solution for managing digital customer experiences..
XM Cloud powers custom content experiences with state-of-the-art CMS and out of box integration with customer engagement and marketing features to give you complete control over the customer's journey.
XM Cloud enables a Composable DXP? But what is Composable DXP?
A Composable DXP is a "pick-and-choose" or "go-at-your-own-pace" digital experience solution. This means the platform is broken up into smaller, interchangeable products known as individual packaged-business-capabilities (PBCs), which could include email marketing, customer data platform (CDP), e-commerce. hosting, search, or a combination of many other products.
In some scenarios, a traditional fully integrated DXP might be the better option, but there are benefits to a more composable approach. In general, this is about giving teams choices.
Solution freedom and flexible development as it allows you to build-your-own solution with best-of-breed applications
Lower total cost of ownership and higher return on investment (ROI)
Faster delivery cycles as it integrates easily with an existing tech stack

What is the difference between Sitecore XM/XP and XM Cloud?
Sitecore XM/XP and Sitecore XM Cloud are Sitecore offerings differ in terms of delivery model and infrastructure. Sitecore Managed XM/XM comes with product license for on self-managed or Sitecore managed Cloud operates as a platform-as-a-service (PaaS), while Sitecore XM Cloud offers a full software-as-a-service (SaaS) solution include CMS infrastructure as well.
Here are some more technical details about XM Cloud
It emphasizes composability, offering SaaS-based headless and API-based solutions
It does not have CD environments, meaning it no longer supports MVC renderings
It does include SPE and SXA modules as standard features
XM Cloud Architecture and Structure
Sitecore XM Cloud comprises of SaaS based CMS and highly scalable delivery module called Experience Edge which can connect to any edge-based hosting like Vercel for frontend web application. All this can be configured on Sitecore Cloud Portal using subscription access provided by Sitecore. You can manage the front-end hosting yourself or opt for Vercel based hosting by Sitecore, resulting in a complete SaaS based solution.
Developers can easily manage XM Cloud projects, environments and deployment related activities using Sitecore Deploy app with built in Git-Ops process.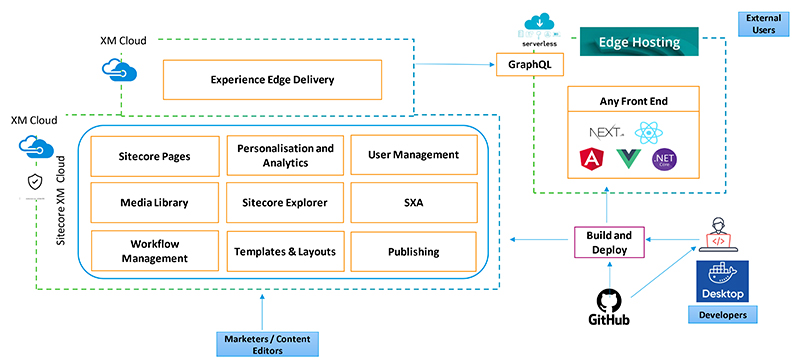 It is important to understand the following XM Cloud structure comprises of XM Cloud Subscription that comes from Sitecore. Projects here can be created from Sitecore base project, each project represents one code base and site structure.
Under each project multiple Environments can be managed as per license limit. Sitecore provides a multisite build feature which enables you to easily create multiple sites under each environment. These sites can be built by Components that come with Sitecore as well can be customized as per project requirements.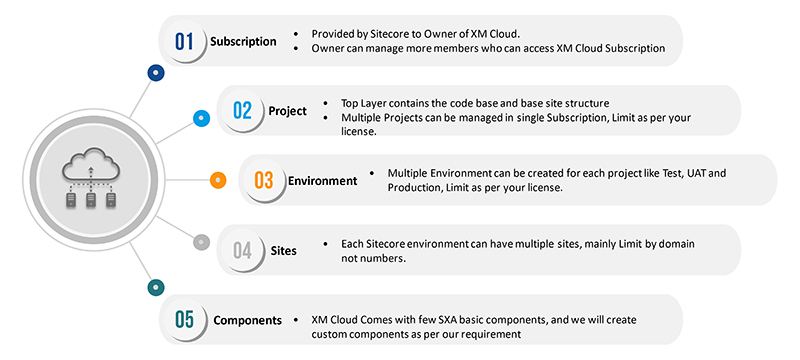 Advantages of Moving to a Composable Architecture - Sitecore XM Cloud
Reduce infrastructure costs - Sitecore XM Cloud offers free upgrades i.e. its gets upgraded automatically. With this you can reduce backend infrastructure and IT management costs.
Reduced Time to market - It reduces development time, Espire starter kit for XM Cloud further reduces the time to market by 30%.
Reduced site maintenance and technical development costs - Modern developer tools, frameworks, and APIs eliminate or dramatically reduce IT maintenance and upgrade costs and accelerate experience creation by developers through XM Cloud's support for modern Jamstack frontends and powerful CI/CD and dev-op tools, coupled with a choice of tools, integrations, and cloud deployment models.
Better Website Performance - You can easily get over 90% score of Google Light house with XM, a high-performance CDN, which ensures fast and reliable delivery of content to visitors, no matter where they are located.
Increase web conversions and leads - Sitecore XM Cloud provides over 20 top personalization use cases which deliver experiences dynamically optimized to improve leads and order conversions, based on customer actions and insights.
Streamlined Content Management - It provides a streamlined content management process, enabling organizations to manage their digital assets more efficiently.
Increased Collaboration and Efficiency - Sitecore XM Cloud provides a collaborative environment that enables teams to work together more efficiently. This increased collaboration and efficiency can help organizations to achieve their goals faster, leading to increased productivity and a competitive advantage.

Summing Up
In today's disruptive market, business leaders need to focus on modernizing their application infrastructure to complement the dynamic business needs and goals. A composable microservices-led architecture allows the application to adapt to the speed of business while enhancing responsiveness and scalability, paving the way towards driving greater growth.
Espire Infolabs is a leading Sitecore Gold partner and has extensive experience in helping organizations migrate to Sitecore XM Cloud. We have a team of certified Sitecore experts who can assist with every step of the migration process, from planning and assessment to deployment and ongoing support.
To keep pace with the changes in customer preferences and brand goals, we help businesses deploy our Total Experience solutions to design composable microservices-based digital platforms and applications best-suited to their business needs to fast-track their growth. Know more about our Sitecore capabilities! here or write to us at marketing@espire.com