Why Attend?


In the year since Sitecore announced a $1.2 billion growth investment into new products - Sitecore CDP and Personalize, OrderCloud, Send, and Discover (formerly Boxever, Four51, Moosend, and Reflektion, respectively), it has been adding much more than "complimentary capabilities" with expansion of portfolio to cloud-native, API-first, and microservices-based solutions.
The need of the hour for Sitecore Users is to be far ahead of the market in the ability to deliver a complete, SaaS-based, composable DXP - to adapt to changing customer needs, ensuring high performance and scalability, faster time to value with a reduced learning curve, greater flexibility to innovate quickly & much more!
Are you ready to sharpen your skills & deliver incredible value to your customers?
Join us for Sitecore User Community Meetup-curated by Espire Infolabs, bringing together the local community to learn & collaborate with Sitecore MVPs, and share learnings, knowledge, and experience on Sitecore Platform.


Key Takeaways:
Unique Opportunity to meet & greet with Sitecore Developers Community - fostering success & innovation together
Featuring technical talks, tips based on the latest technology, and a chance to connect (or reconnect) with the best of Sitecore developers and MVPs
Learn from 4-5 developer-led knowledge sharing sessions and demos
Creating a Culture of Innovation to Transform CX & EX
Topics to be covered- new Sitecore products (CDP, Send, Ordercloud, Personalize etc), composable DXP architecture, Docker, personalization, Jamstack, Searchstax and more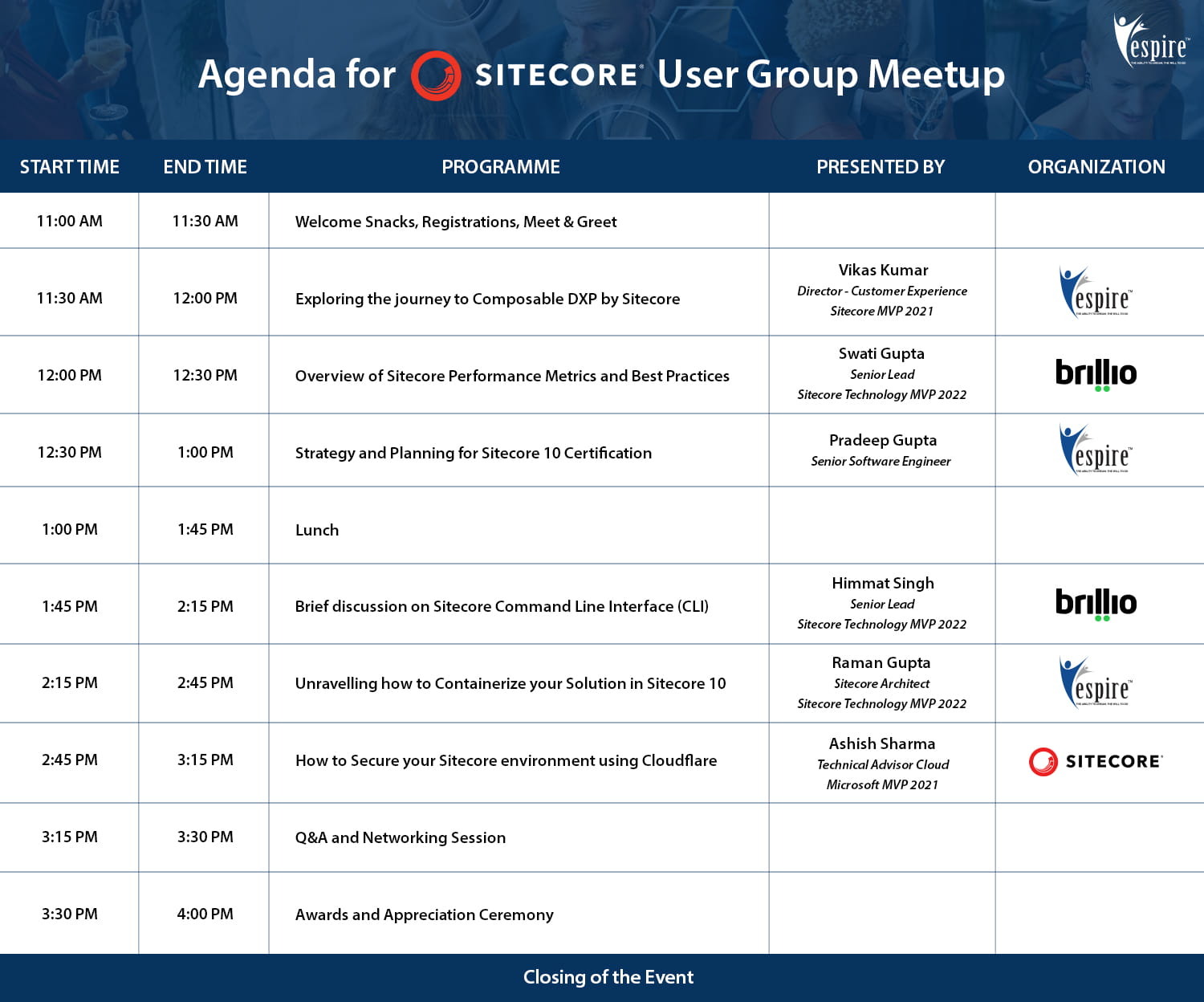 Meet Our Team

Vikas Kumar

Director - Customer Experience, Espire
Sitecore MVP 2021

Raman Gupta

Sitecore Architect, Espire
Sitecore Technology MVP 2022


Pradeep Gupta

Senior Software Engineer, Espire

Himmat Singh Dulawat

Senior Lead, Brillio
Sitecore Technology MVP 2022

Swati Gupta

Senior Lead, Brillio
Sitecore Technology MVP 2022

Ashish Sharma

Technical Advisor Cloud, Sitecore
Microsoft MVP 2021