Top 7 Strategic Technology Trends for Optimum Returns in 2021
The COVID-19 disruption has forced brands to restructure and redesign their strategies to meet and respond to the unprecedented challenges of the new normal. The pandemic has not only fast-tracked digital transformation but also put employee health and safety at the center of business operations.
"The unprecedented socioeconomic challenges of 2020 demand the organizational plasticity to transform and compose the future." Brian Burke, Research Vice President, Gartner
Gartner's top technology trends highlight the upcoming technologies that businesses must focus on for driving innovation and building future resilience. These trends are grouped into three broad categories, namely people centricity, location interdependence and resilient delivery. In our blog, we discuss how businesses can leverage these trends to drive scalability and strengthen their position in the market.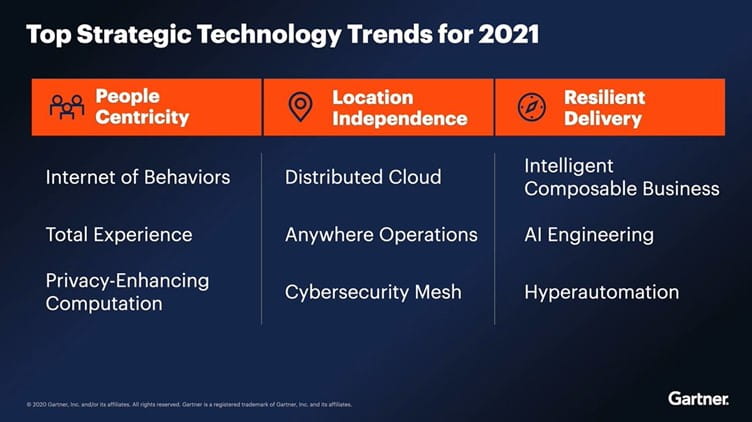 People Centricity: These technology trends lie at the heart of digital revolution that has penetrated the masses globally and has become an imminent need for people. These trends reflect how people centricity will continue to be the primary goal for businesses in years to come. Internet of Behaviors (IoB), Total Experience and Privacy-Enhancing Computing form a central part of people centricity group.
Location Independence :
COVID-19 has put new demands on businesses in terms of the place and geography they would normally function with shifting location needs of customers, employees, suppliers as well as the organization itself. These technology trends will support the growth of systems that will help businesses handle the new ways of working in the post COVID world. Distributed Cloud, Anywhere Operations and Cybersecurity Mesh form part of location interdependence group.
Resilient Delivery :
These technology trends have direct underpinnings from the year of crisis in 2020. These technology trends will help businesses to become resilient to face any future disruptions and sustain their growth velocity even in the face of a crisis. Intelligent Composable Business, AI Engineering and Hyper Automation form part of Resilient Delivery group.
Espire's Customer Engagement Hub (CEH) includes all key enablers of excellent Customer Experience (CX) - such as Digital Content Management, Experience Design, Customer Communication Management, Customer Analytics, CRM and IoT.
Let's discuss these strategic trends in detail to understand their implications on business sustainability and growth:
Trend 1 : Total Experience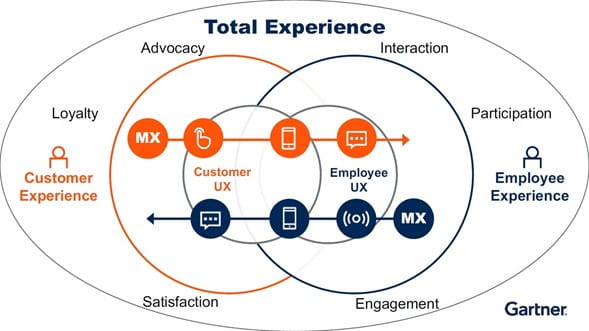 Total experience combines the experiences of people in one umbrella term that incorporates customer experience, employee experience, multi-experience and user experience that helps business drive revenues and outcomes. Total experience subsumes the overall experience where technologies are aligned and conjoined to improve the experience of both customers, employees, and users. Gartner places total experience as a competitive differentiator by tightly linking all these experiences together rather than improving them in silos.
Gartner predicts that by 2024, organizations providing a total experience will outperform competitors by 25 percent in satisfaction metrics for both customer and employee experience.
Trend 2 : Privacy-Enhancing Computing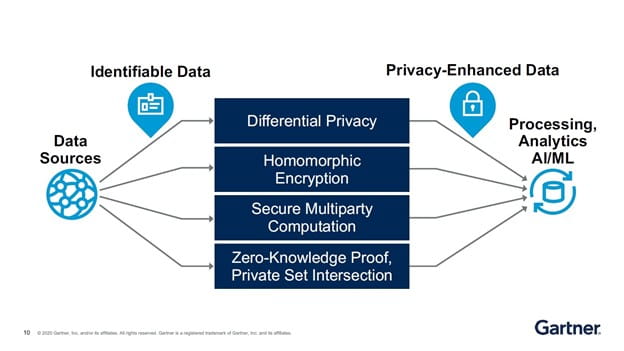 Privacy has become both a sensitive and popular issue as new regulations and checks are forcing organizations to remain more alert about privacy concerns of customers. The idea is to help people research and collaborate in a secure environment without sacrificing confidentiality. New methods like differential privacy, homomorphic encryption and trusted execution environments are now being offered for delivering privacy. Privacy-enhancing computation protects data in use and ensures secrecy or privacy of users unlike data-at-rest security control measures.
According to Gartner, half of large organizations will implement privacy-enhancing computation for processing data in untrusted environments and multiparty data analytics use cases by 2025.
Trend 3 : Distributed Cloud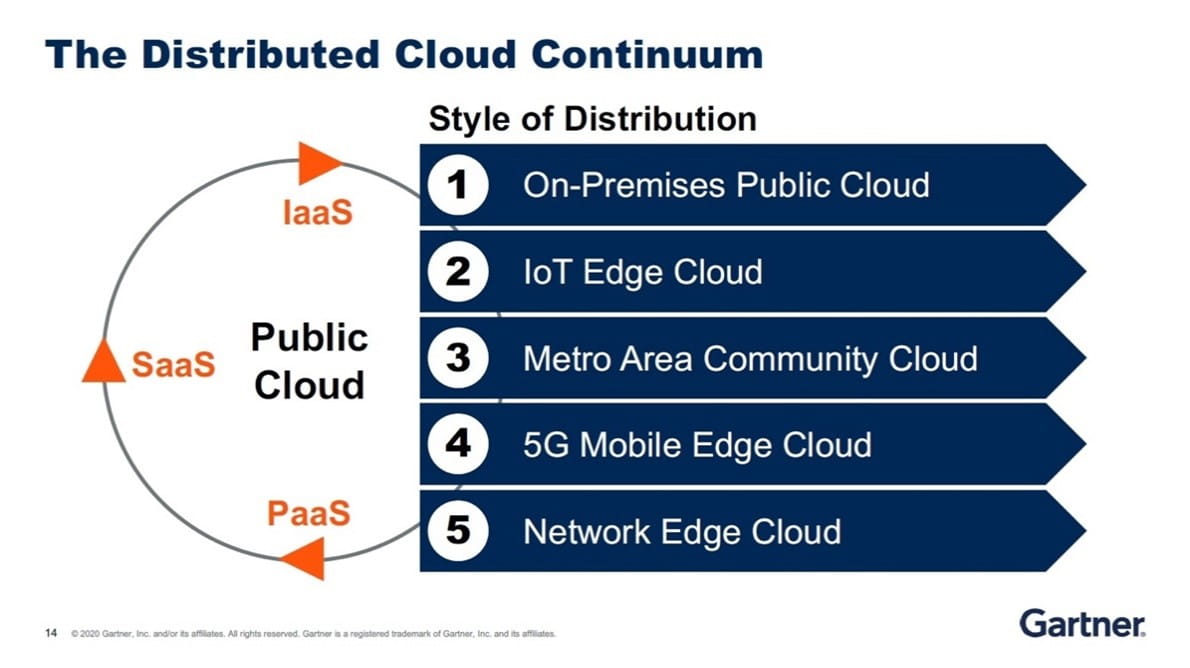 Growth of edge computing, newer regulations and data residency requirements have reduced the load of central clouds to a more distributed environment as computing takes place at different geographical locations, while the operation, governance and evolution of the service still remains the responsibility of the public cloud provider. Distributed cloud being physically closer helps organizations to reduce data costs, low-latency and adhere to laws that require data proximity. Yet, businesses can avail the services of the public cloud to manage the infrastructure. Gartner predicts distributed cloud to be the future of cloud.
Gartner says that by 2025, more than half of organizations will use a distributed cloud option at the location of their choice, enabling transformational business models.
Trend 4 : Anywhere Operations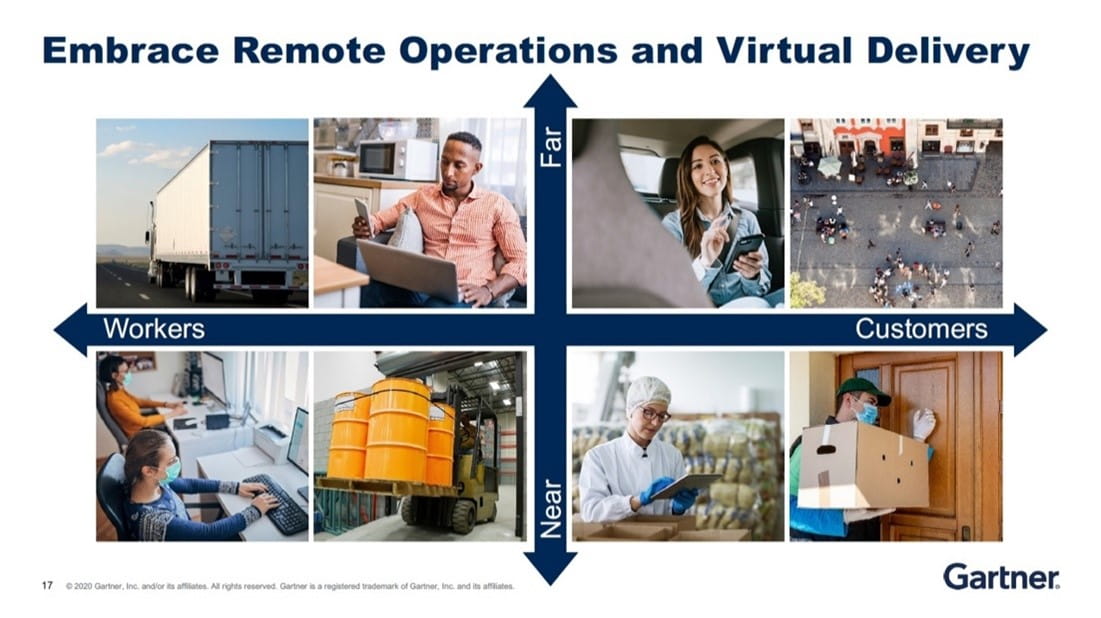 COVID-19 pandemic has accelerated digital transformation, the need to be digital first, mobile first, and remote first. Organizations today are ready to serve customers anytime and anywhere, with employees working remotely and services that can be availed anywhere.
According to Gartner 40 per cent of organizations will combine physical and virtual experiences for better productivity and customer reach by the end of 2023.
Trend 5 : Intelligent Composable Business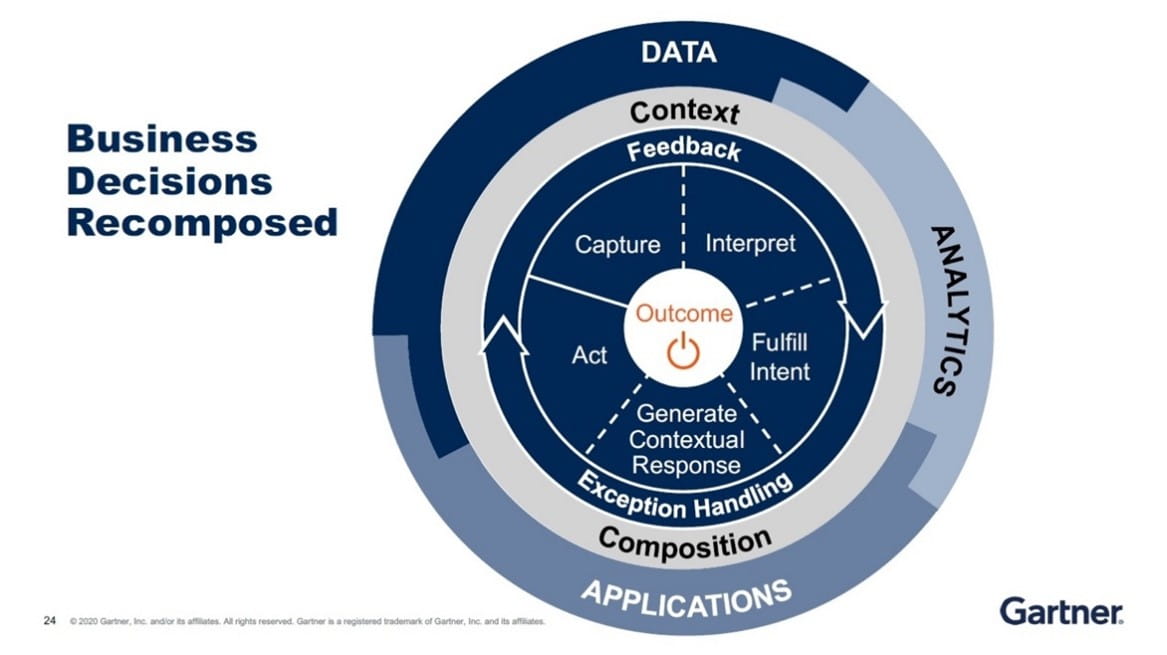 Intelligent composable business is about radically reengineering decision making by having access to real time information and the ability to respond quickly. The need for application composition platform, data and analytics will form the new normal for organizations looking to be agile in an unpredictable ecosystem. An intelligent composable business can adapt and reengineer itself according to contingent requirements.
According to Gartner, organizations with composable approach will outpace their competitors by 80 per cent for new feature implementation by 2023.
Trend 6 : AI Engineering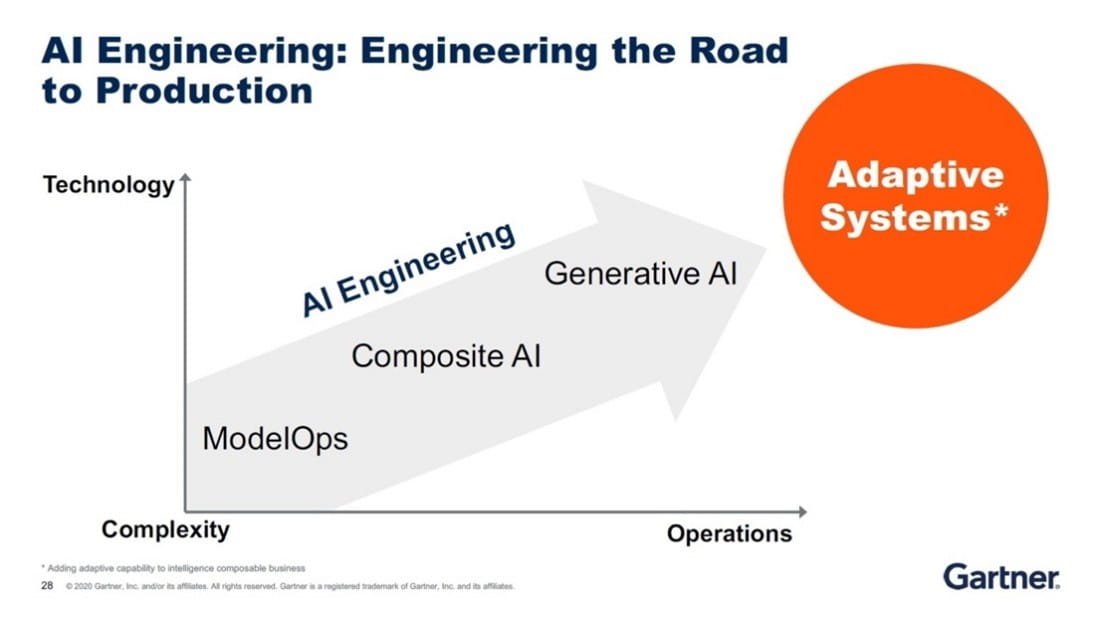 Many AI projects (47%) do not translate to production and this necessitates the creation of a sustainable AI operation that can be both productive and scalable. This could be made possible through AI engineering which is based on the premise of deploying DevOps, model operations and data operations. With DevOps model, organizations can successfully drive their AI projects with better governance and accountability with dynamic and faster AI models. It leads to operationalization of AI accountability and a responsible AI with more transparency, maintainability, scalability, and governance.
Trend 7 : Hyper-automation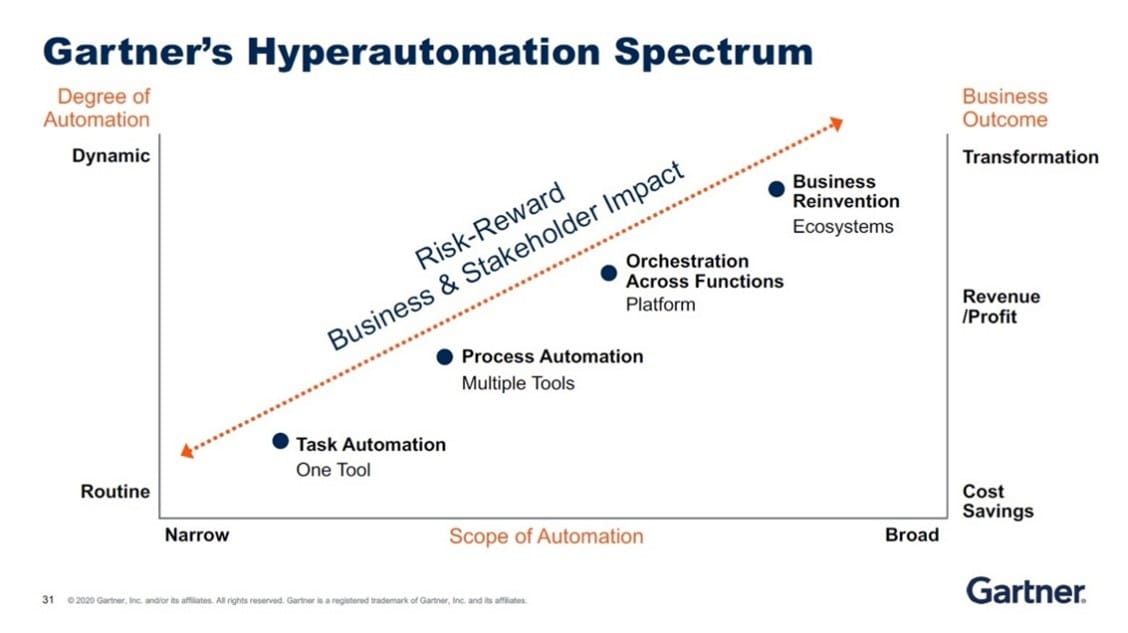 Hyper-automation as a concept deals with automating everything in an organization that has the need for it. Legacy organizations with technical debt are turning it into more liquid units with hyper automation. Organizations will find it a continuing trend in times to come as they deploy multiple tools and platforms to automate their business operations.
These technologies are not just futuristic but are critical for driving sustainable business growth, flexibility, and resiliency for today and for the unpredictable next normal. Enterprise leaders will need to prioritize and evaluate these top trends and how they can power their innovation strategy. The path towards digital transformation needs to be treaded if a business must make a great leap into the future.
Espire's partnership with global digital and customer experience technology leaders coupled with our extensive industry experience uniquely positions us to deliver top-notch digital customer experience and transformation solutions.
Reach us at marketing@espire.com for any query and subscribe to our blog for latest industry updates, trends, and insights.