Top 4 Benefits of Embracing Digital Transformation in Insurance for 2021
In a world of taps and clicks, businesses must embrace digital transformation to stay relevant and deliver an impeccable omnichannel customer experience. Gone are the days, when customers depended on insurance agents to suggest a suitable product which catered to their needs. The well-informed customers of today demand smart solutions that are exclusively configured to their unique requirements. The conservative insurance industry is undergoing a massive evolution, not just owing to the heightened customer expectations but also the new insurance players with diverse business models.
The transaction-oriented insurance industry is increasingly becoming dynamic and customer-driven. To hold a firm ground in the competitive market of today, eminent insurance providers are utilizing disruptive technology and predictive analysis to examine customer demands and deliver personalized solutions and great customer experience.
As per PwC's 22nd Annual Global CEO Survey, insurance companies have become more receptive of technological changes recently. Adapting to digital transformation and utilizing technological advances in the current global scenario has become imperative for insurance companies.
Digital transformation has the following benefits for insurance companies
Digital transformation solutions enable insurance companies to optimize their operations, streamline customer experience and provide smart unified platforms for brokers to aggregate information. It has transformed customer experience and brought forth the following advantages to Insurance companies:
Greater market penetration
Digital insurance is the leveraging of information and technology to optimize and transform customer experiences, products/services, business processes and business models internally and through ecosystem partners. - Gartner
Earlier, most customers depended on their insurance agents to tell them about the insurance plans and policies which cater to their needs but due to the advent of digitalization, customers can easily research about a policy, understand the key benefits and even compare it with other products. Some customers also read up on the claim settlement ratio and customer reviews before purchasing a plan. Insurance companies can utilize disruptive technologies like AI and machine learning to interpret customer behavior and target a specific pool of customers for specific products, this will help them improve their time to market.
Customer Experience
According to PwC, the number of companies investing in omni-channel experience has jumped from 20% to more than 80% in the new normal.The pandemic has accelerated digital transformation and customer experience has become of paramount importance to ensure customer retention. Prominent Customer Experience areas in Insurance are:
Online claim status check
Online claim settlement
Procuring new insurance plans
Filling a claim (FNOL)
Navigating different insurance processes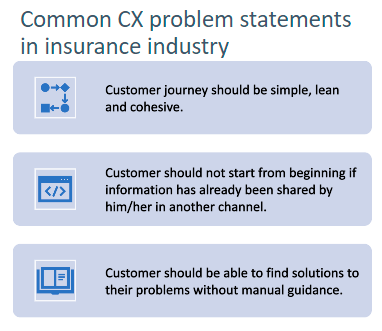 Prominent insurance companies are utilizing customer journey mapping and advanced analytics to capture and analyze customer needs and preferences. Utilizing big data analytics can also help insurance providers conduct thorough background checks and efficiently tackle fraudulent claims. Deploying superior CX can provide insurers a 360-degree omni-channel service delivery and help in evaluating customer satisfaction.
Better CX is a win-win for both insurers and customers, here's how: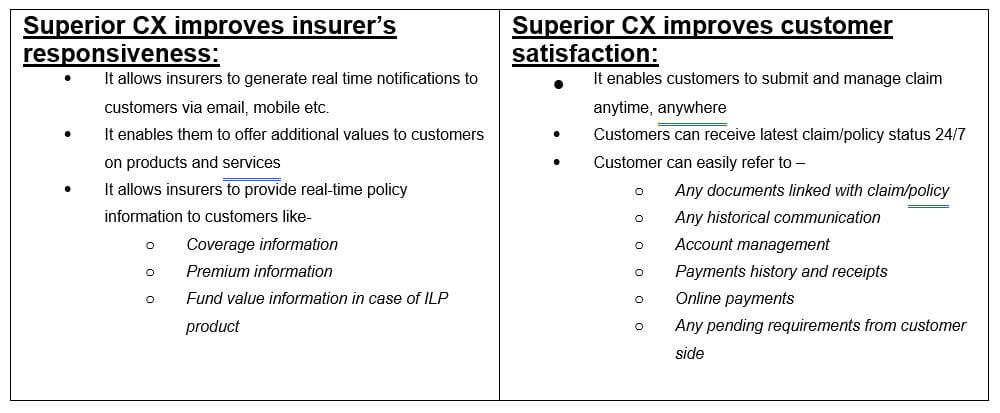 Faster Query Resolution with Customer Dashboards
Self-service customer dashboards act as a one-stop solution which helps customers decrypt the benefits, terms and conditions and coverage costs associated with the policy. It acts as a ready reckoner which helps the customers calculate monthly premiums and track payments on one unified platform. Even the customers prefer uploading documents, paying premiums, making claim requests or raising queries through a synchronized platform, which can be accessed on their devices from the comfort of their homes instead of constantly following up with the insurance agent or running to the insurance offices.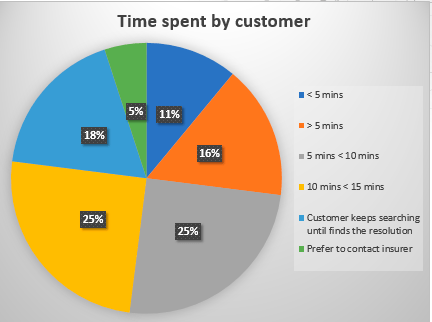 Self-service portals allow insurers to fasten the query resolution process by creating an accessible database of the most common FAQs by customers and creating omni-channel delivery options. Insurers can share the fact sheets on the portal itself to answer customer queries directly, reducing the time for query resolution.
For instance- When a customer raises an issue, the support staff can easily access their information stored in the self-service portal and resolve the problem instantly. This reduces the overall support cost by 10 to 50%.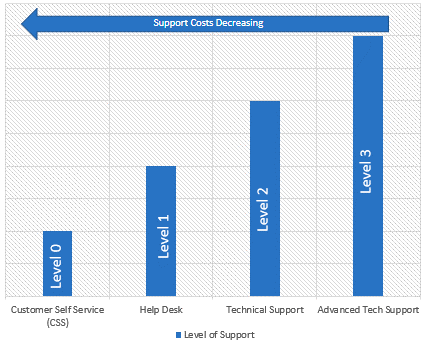 Disruptive technologies like machine learning can help optimize the policy writing process while CCM platforms and digital assistants can help standardize customer service. Deploying digital solutions in insurance will not only build transparency and trust, it will also help customers plan their long-term financial investments
Personalized Products
With the rise in Insurtech firms, skyrocketing customer expectations and the world embracing a digital-first approach, insurance companies are in the threshold of providing smarter and relevant solutions to customers. Insurance companies must utilize robust data analytics and AI systems for creating omnichannel and cross-device purchase paths to drive customers to make the final click. The task doesn't end with the customer making a purchase, it barely begins! Customer service and customer engagement must be prioritized by insurers, detailed information about the policy and its benefits should be proactively communicated to the customer on a regular basis for a heightened sense of trust and building a long-term customer relationship.
Digital Transformation is emerging as a key driver of change, enabling the insurance industry to become agile and scale greater heights. As the insurance industry embraces digital transformation and leverages disruptive technologies like AI, ML, Blockchain and Data Analytics, they are witnessing a radical increase in sales, employee productivity and profits while optimizing claims processes and enhancing customer retention.
Espire is enabling Insurance companies worldwide to revamp their digital experience management and CX strategy, resulting in up to 20-30% increase in revenue through new digital channels. You can reach our experts at Espire Infolabs for a quick consultation at www.espire.com/quick-contact. For any query, get in touch with us at marketing@espire.com & subscribe to our blog to learn more for latest insights & updates.