Sitecore 9.2 Upgrade top tips from Espire to simplify the process
In the era of hyper personalization and with end consumers demanding exclusivity, Sitecore has emerged as the platform of choice for organizations that desire to thrive on elevated customer experiences. To further foster brands to achieve this objective, Sitecore has come up with its version 9.2 - which is faster, slicker and smarter than any of its predecessors.
In the sections below, we have highlighted the benefits of upgrading to Sitecore 9.2, and how you can simplify the process, using Espire's homegrown 5-step approach!
The Need for Sitecore 9.2
Sitecore 9.2 provides huge opportunity for digital marketing and digital transformation leaders to upgrade the Sitecore platform to reduce existing customizations and optimizations of complete platform. Deep enhancements to marketing automation, email delivery, and xDB to CRM connectivity via xConnect allow marketers to create a coordinated marketing system and optimize customer's journey through all touch points- delivering incredible insights to customers, and highly qualified MQL to sales. Sitecore 9.2 is much more than this! In short, it is a centralized all-in-one platform, which negates the complex platform integration- reducing long project schedules, and controls costs.
1. OBSOLETE : The mainstream support end date for older version of Sitecore is slated by 31st December 2019
2. MARKETING LACK : As discussed above the all new Sitecore 9.2 comes packed with advanced marketing features for devising faster and precise go to market strategy
3. FORMS CHALLENGES : Sitecore 9.2 forms supports seamless form creation, submission and viewing
4. xDB STORAGE ISSUE : Sitecore 9.2 helps you limit and reduce xDB size. The reduced data size helps you both in lowering the Total Cost of Ownership (TCO) and maintain manageable crucial data
5. CONTENT MANAGER CHALLENGES : With the latest Sitecore version it gives a great advantage to marketers with seamless content manager performance and enhanced customization and integrations options
FOCUS AREAS IN SITECORE 9.2
The Sitecore customer experience manager software contains new age CMS and marketing functionality to give you complete control over your fully connected customer experience. It allows you to unify all your activities across multiple channels, from campaigns to visitor activity as well as performance measurement. Provided below are more focus areas for businesses from an enhanced technical and functional perspective
1. Sitecore Cortex™ : to leverage out-of-box artificial intelligence/machine learning (AI/ML) capabilities
2. Sitecore Omni™ : to utilize headless solution benefits
3. The Universal Tracker : helps you to track data from different sources for complete 360-degree customer profile
4. Integration with Content Hub and CRM connectors : helps in saving lot of time in integrating these systems
5. Federated authentication and Security Enhancements : separates identity provider for SSO and some robot detection capabilities
6. Marketing Automation features : helps to engage and complete customer journey
7. Analyzing and reporting : provides more richer, integrated and scalable reporting service
8. Sitecore Experience Accelerator : helps to build faster and gain ROI from Sitecore investment
9. Email Experience Manager : enhanced with lot more feature and is GDPR compliant
10. Content authoring : enhances the user experience with more out-of-box options, thus enabling better performance
Espire's 5 Step Approach
Espire is helping its clients seamlessly migrate towards the new Sitecore 9.2 upgrade through a well laid out 5 Step Approach which covers initial assessment and planning to training and final implementation. It generally takes 3-6 weeks in implementing the steps for general upgrade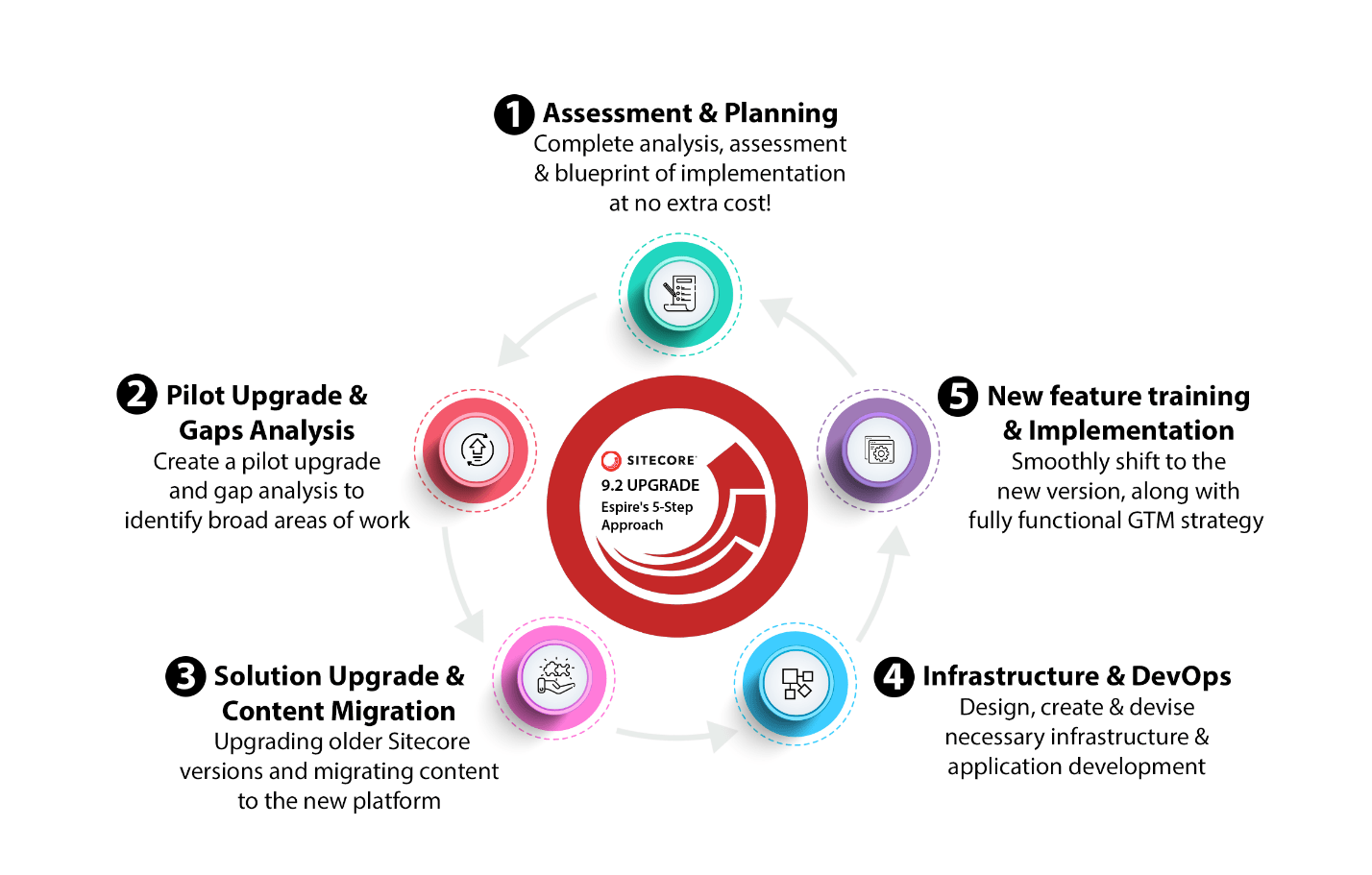 1. Assessment and Planning - Espire offers its prospective clients with complete analysis, assessment and blueprint of implementation at no added cost
2. Pilot Upgrade and Gaps Finding - The next step after clients approval to partner with us is to create a pilot upgrade and gap analysis
3. Solution Upgrade and Content Migration - The third step involves upgrading the entire Sitecore version and migrating the content to the new platform
4. Infrastructure and DevOps - In the fourth phase, we design, create and devise the necessary infrastructure and application development
5. New feature training and Implementation - The fifth phase ensures that our clients are able to smoothly shift to the new version and ready to utilize the full potential and benefit out of upgrade investment
Points to Consider for Pilot Upgrade
Start the upgrade in the development cycle itself and repeat it several times before executing it in the production cycle. This will help you identify potential upgrade issues, which you can fix before all your energies are directed to upgrade. If you encounter any errors, you can contact Sitecore support for immediate assistance. It is hence very much recommended that you work with a trusted Sitecore partner like us (www.espire.com), while you upgrade your current Sitecore instance.
The Way to Sitecore 9.2
It sounds simple' but it's important to realize that the upgrade is just a starting point. The main goal is to get closer to the delivery of a superior customer experience through 1:1 personalization. Thus, the upgrade is worthwhile only if done seamlessly without losing sight of the main goal - 'hyper-personalized customer experience'. The five-step approach recommendation to upgrade your Sitecore is to plan and manage risk, upgrade execution and testing; and modernize the ecosystem and growth plan.
Espire + Sitecore- A winning combination!
Espire is a Global Partner of Sitecore in experience management software that enables context marketing. With Sitecore, Espire is managing content, supplying contextual intelligence, and automating communications, at scale for leading organizations & multiple Fortune 500 firms. We empower marketers to deliver content in context of how customers have engaged with their brand, across every channel, in real time – every time! As a Sitecore partner and recent awardee of Best Personalized Customer Experience from Sitecore on September 2019, we would love to be uplift your brand with awe-inspiring customer experiences.
We would love to hear from you and be of any assistance. Drop us an email at marketing@espire.com.