Master Personalization with full control on your Content Lifecycle with Sitecore
At a time when customer satisfaction and loyalty is closely tied to customer experience, brands are constantly competing to ensure that they offer personalized and tailor-made content to their customers that is best-suited to their unique customer interests and preferences.
The tech-empowered customers of today are increasingly demanding an elevated digital experience from brands, dearth of which, forces them to change their brand preferences and loyalty. Brands must master personalization to deliver memorable CX and form real relationships with customers. It is here the role of content and end-to-end content life cycle becomes important as personalization is closely tied to the way you store, access, manage and deliver your content.
Customers with more positive experiences are expected to spend 140% more than those with negative experiences.
Some 67% of B2B and 73% of B2C customers have an elevated standards of customer experience and 53% of them believe that brands fall short of delivering to those expectations. - State of the Connected Customer, Salesforce Research, 2nd Edition
In this blog, we'll highlight in great detail how to exercise full control over your content lifecycle for delivering exceptional personalized customer experiences.
1. Content Crisis - Delivering Personalization at Scale
Brands and marketers are struggling to meet the demands of producing high volumes of personalized content for the rising number of customers. Brands are finding their content creation process unmanageable and fragmented. Fragmented content across multiple platforms, devices and tools makes it difficult for marketers to have a clear picture of all the content available to easily locate and tag content for specific audiences and to deliver the same at different stages of customer's digital journey.
2. Traditional Content Management Systems - A Hindrance to Marketers
The growth of multiple channels, platforms and devices has amplified the problem of content creation and distribution. Traditional Content Management Systems were initially meant to cater to single channel digital experience like that of a website and cannot cope with multi-channel content distribution.


Traditional CMS platforms give content authors and marketers a tough time to plan, collaborate and at the same time personalize and deliver an omnichannel content. These 'What You See Is What You Get' interface of the traditional CMS built to create, store and display content over a website finds itself incapacitated to give an overview of customer journey, conversion rate analysis and personalization at scale. All this has been dampening efforts of any brand trying to compete with omnichannel personalized experiences at scale.
3. Beyond Traditional CMS for End-to-End Content Lifecycle Management
As the world reels with the new normal and digital experiences become more than critical, moving beyond the traditional CMS is a precondition for brands that need to have full control of their end-to-end content lifecycle for delivering personalized customer journeys and offering memorable digital experiences.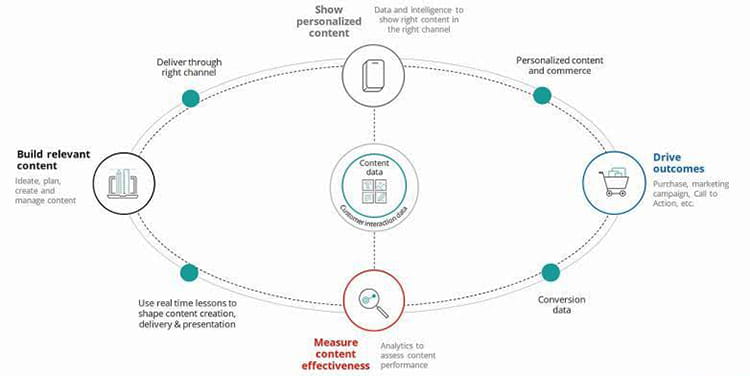 The need for marketers and content authors todays is to create omnichannel content by ideating, collaborating and communicating content ideas for production and delivery of content across all possible channels with ease and in quick time. Content authors need the ability to easily create and tag personalized content for specific audience and at specific stages of their customer journey. This should be followed by the ability to measure and assess outcomes for further calibration of content that is curated for even better and targeted outcomes for an end-to-end content lifecycle management.
Delivering End-to-End Content Life Cycle with Sitecore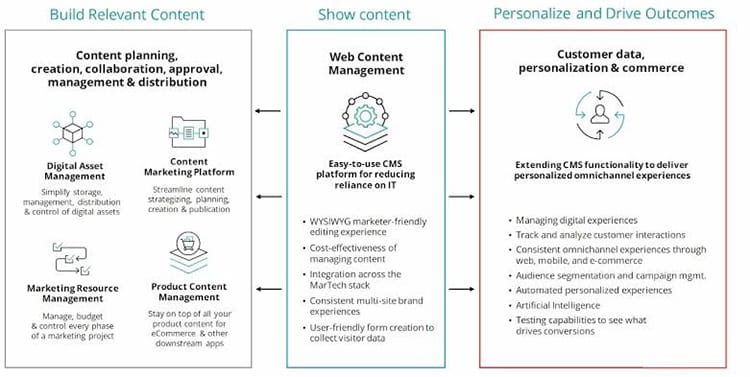 Sitecore with it Sitecore Experience Platform (XP), Sitecore Content Hub and Sitecore Experience Commerce (XC) is helping brands expand upon what a traditional CMS offers. Sitecore is enabling brands to leverage the benefits of existing CMS and expand their ability to master the end-to-end content lifecycle through content creation, publishing, engagement data and to kick start the journey towards an omnichannel personalized digital experiences at scale.
Sitecore helps brands today to personalize with ease, speed and at scale to keep pace with digital leaders and outdo the competition- delivering exception customer experiences. Going beyond the traditional CMS and ensuring that each piece of your content is put to right use for delivering personalization at scale gives you an edge over your competitors as you master your end-to-end content lifecycle and fuel personalized digital experiences for your customers.
Espire is a Sitecore global partner with multiple Sitecore projects delivered for global locations and clients across multiple industries. We are enabling digital transformation & personalisation by crafting awe-inspiring Customer Experiences. Reach us at marketing@espire.com for any further queries pertaining to the release or any assistance to the new upgrade and implementation.