As per IDC, the global datasphere will grow to 175 zettabytes in 2025. 75% of this data will require special care and handling; and an impregnable Data Governance implementation is must for large organizations.
Utility companies are large organizations with many discrete sub-organizations, each managing various programs, processes, and systems. Most departments within a utility company work in siloes, they rarely share data and often end up duplicating it. This duplication of data gives rise to inefficient processes, poor customer service and missed business opportunities. Today's mandate is, therefore, to evolve a governance model that ensures process, system, and data alignment to meet modern grid demands.
What is Data Governance?
Data governance enables companies to aggregate data across multiple processes and systems, particularly in customer and transmission subject areas. The Master Data managed data governance controls will bring in secure and trustworthy data, give accountability in sharing and consuming the data, meet agreed service levels and comply with legal and institutional frameworks.
Data governance forms the bedrock of business decision-making to guarantee customer stickiness, remodelling of business offerings and adding more service offerings at scale. With the rise in Cloud adoption and incremental use cases of sharing data with regulatory bodies, third parties, data aggregators, marketing firms, this controlled sharing of data is now obligatory rather a choice.
As the volume of data continues to grow, the importance of legal or compliant regulation becomes more critical. A robust Data Governance model is essential to define data and analytics strategy to ensure corporate integrity, business security, and consumer usability. Having a data governance framework improves effectiveness, provides visibility and control, and accelerates time-to-value of key business initiatives.
Key Objectives of a Data Governance Program for the Utilities Sector:
Data Governance helps organizations achieve the following enterprise objectives:
Increase the utility and reliability of data as an enterprise asset
Define decision rights and accountabilities
Ensure commonly used data components are consistently defined and well-understood
Guide the decision-making process around data management, particularly master data
Assure data visibility, entitlement, and sharing rules are well-defined and enforced
Increase the use and trust of data as an enterprise asset
Protect data and comply with regulatory requirements
Data Governance Focus Areas
As a leader in Digital Transformation and Total Experience, Espire has helped leading businesses in the Utilities sector orchestrate an extensive data governance plan to enhance operational efficiency and business experience. We have categorized prominent data challenges faced by businesses and their solutions to assemble appropriate business and technical SMEs for formulating policies, standards, and implementing rules. The top data governance focus areas for businesses include:
Data Quality Management
Master and Reference Data Management
Metadata Management
Data Lifecycle Management
Data Security and access Management
Data Retention, Destruction, and Archival Policies
Data Architecture, Modelling, and design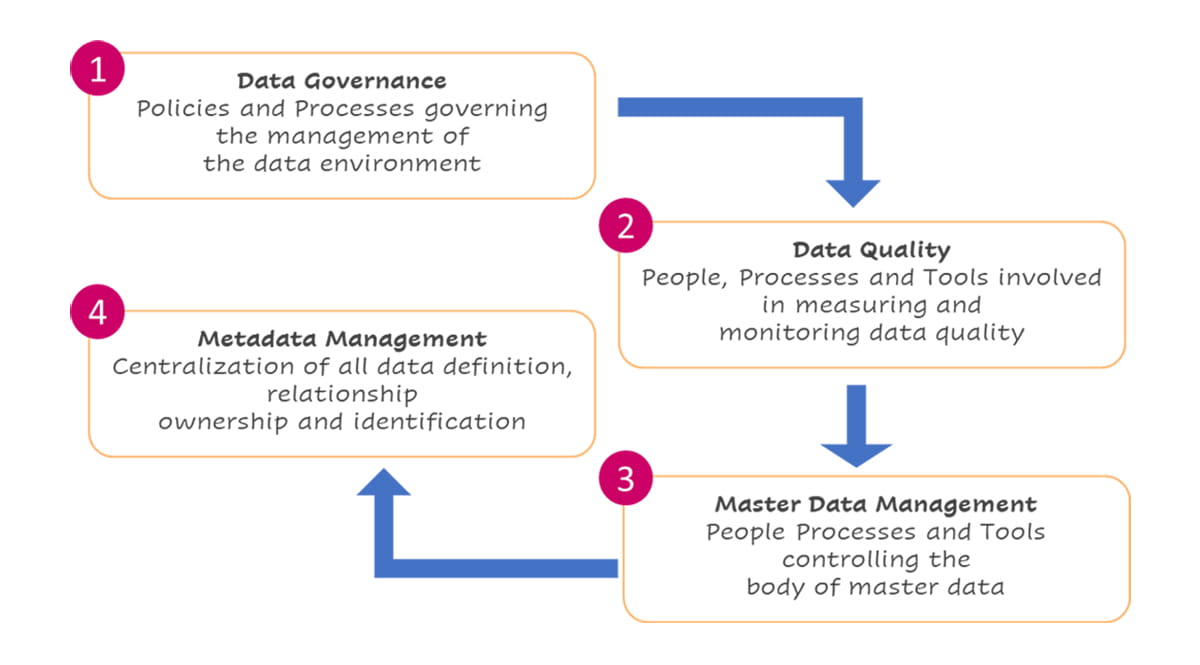 For utility companies, an effective Data Governance program leverages the logical layer and transformations within the technology to automate the persistence of newly defined standards and definitions across the organization resulting in "little to no" change management for upstream processes and minimal impact to downstream processes.
Data Governance helps Utility companies achieve Total Experience at scale by improving customer service and digital experience, enhancing employee productivity and experience with seamless data accessibility and collaboration, while streamlining business experience with process control and data ownership.
To learn about our capabilities in the utilities sector, visit > https:// www.espire.com/industries/energy-and-utilities or reach out to us at marketing@espire.com
Global Locations
Global Customers Served
Resources
Technology Partnerships
Years of Experience in Digital Transformation & Total Experience
Speak to Our Digital Transformation Specialists
Let's get you started on the digital-first & transformation journey. Reserve your free consultation or a demo today!