Customer Journey Maps: The Winning B2B Recipe to Help Succeed More
What is customer journey mapping?
When a customer visits your blog, website or brand page, he/she voyages into a journey and a Customer Journey Map (CJM) crawls across his/her footsteps - providing significant and relevant insights.
It puts the customer in the front seat in an organization's thinking process. Hence, the process of initiating a customer journey map aids user's experience (UX).
A customer journey map reflects the customer's experience throughout the journey. It is, therefore, a story designed to give deeper insights. Such mapping might not be the true representative of the customer's actual experiences, but very relevant to provide personalized user experiences.
Typically, organizations identify target groups or personas to sell their products or services. CJM simply acts as a "map" drawn out that shows the journey a persona is likely to take. The journey typically has a number of stages where communications are depicted across the various channels. At these communication points, it's important to capture the responses to gather experiences which can then be used to build the next best relevant action.
Due to its relative importance, it is imperative for a company providing Digital Experience Management, Digital Content Management or Multi-Channel Customer Communications Management services to create a customer journey map that can serve as the initial step towards tailoring products/services. The insights you arrive after creating a CJM will help in crafting business decisions.
A customer journey map will give you a picture of your end processes that may not be the ones what you had thought initially!
Why is there a need for CJM?
The focus for businesses is to better understand their customers and prospects. The goals for most organizations is to improve services and have the opportunity to upsell and cross sell to secure better business.
Mapping customer journey brings with it the advantage of driving higher revenue growth with increased targeted service delivery and efficient customer engagement. It helps ask relevant questions to customers and/or prospects. Hence, when a new prospect arrives, it will help decide how to reach to them, i.e. a newsletter may be the right fit for a prospect, rather than direct selling. CJM initially reflects on the current "as-is" map and tries to understand the necessity to change and refine for making the journey more effective for customers and prospects.
It is all about the right timing of call to actions. Thus, an organization with relevant journey maps can focus more on what customers/prospects are looking for, rather than blatantly going ahead with offerings. A true journey map puts the service delivery and sales engagement in a proper context and defines where the prospect sits on the map. Just as important when addressing next best action is the analytics performed on the communications received or not, as the case may be.
What Do You Need To Consider For CJM
FIRSTLY, we need to Recognize the wider ecosystem including the clients, suppliers, brokers and employees who are all part of your brand's CX journey
SECONDLY, we should consider the Customer Journey Mapping and we can start with a "touchpoint" that is not working. But typically you can map a journey, that covers a department or can be as wide as Retention journey across departments. This will provide a list of touchpoints being used, persona's aligned to touchpoints, types of communications taking place. The Important aspect is to analyze the CX on those touchpoints, "listen" to the touchpoints
What Do We Mean By Analyzing The Touchpoint
The sorts of information we are typically looking at are Read rate of communications about, who is reading and acting, and why certain audiences not reacting. This will help identify the potential challenge areas to focus on and show up areas that are working, to help drive better CX and the ROI story too.
Refining The CX - Need To Then Act On The Findings To Initiate Targeting And Personalization
It may require to change the touchpoints, introduce more touchpoints based on personas, change/simplify content and look for more richer content to enable a much more refined view
It may need to improve "back-end" processes e.g. introduce some AI to find the right personas for targeting retention
The need is to build an engagement with audience, become more connected, and drive a better outcome
You will need to provide the opportunity to address any challenges
It's an evolving approach where information is flowing out and coming in and there is a need to analyze and refine


The Indispensable Need for Customer Journey Maps
By now, you can understand that locating and understanding every touchpoint your customers will help you tremendously.
When you perform it consistently and ensure accuracy, customer journey maps will help you:
Improve your sales
Earn more marketing qualified leads
Increase site conversions
Increase customer retention
Speed up your sales process


The below figure enlists 7 key reasons why brands would need to pursue CJM: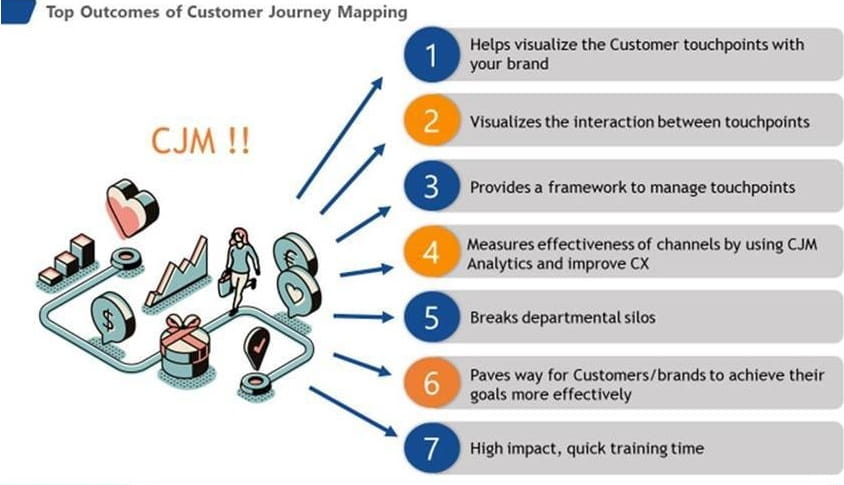 Final Words
A well-crafted customer journey map puts the customer at the center of every thought process while crafting any product or service. It is a very useful way for all types of businesses and all kinds of projects, whether they are interested in making a profit or not. A customer journey map helps us determine the relationship between specific experiences and stages that works best for the customers to enhance their experience.
It is the right mechanism for improved, efficient and targeted digital user experience as it helps a brand look beyond their obsession. It helps and arms the digital marketing team for improved ROI. Last, if not the least, is to be reminded that the customer's needs must always be at the forefront.
Do you want to see how a real Customer Journey Map looks like? Get a more in-depth look at our investigation process and how it helped our customers to define the course of their products.
Get in touch with us at - marketing@espire.com