The COVID-19 pandemic elevated the importance and urgency of digital experience management and delivery and reignited the importance of digital transformation. Most brand leaders are often struggling with the usability, scalability and uptime of their DXP systems, due to the spikes in traffic and growing demands of the digital channels.
Gartner describes a DXP as an integrated set of core technologies that support the composition, management, delivery and optimization of contextualized digital experiences.
Composable DXP has completely revolutionized the entire DXP landscape, allowing brands to decompose and create a technology stack which is well-suited to their dynamic business needs. Composable DXP supports brands in accelerating their digital transformation initiatives in the following ways:
Marketeers can use transformational tools like AI and Machine Learning to deliver consistent and contextual communications throughout the customer journey
They can leverage an omni-channel approach to reach out to the customers across multiple devices at the right time
By integrating with marketing automation and personalization tools, composable DXP helps brands drive targeted campaigns based on customer preferences and business data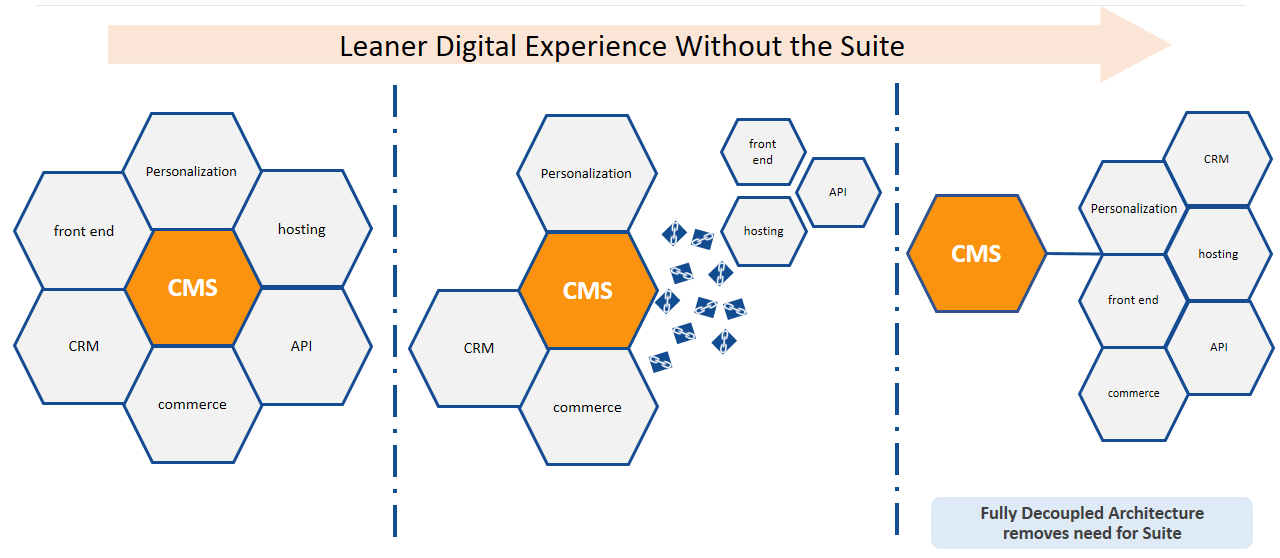 The future of DXPs is completely customizable, cloud native with an API-first approach, which maximizes the speed of campaign executions. In this blog, we will discuss the core capabilities of a composable DXP.
1. Content Services
Creating and managing content for driving multi-channel customer communications is necessary for driving customer engagement. A headless content management system forms the bedrock for composable DXP, which simplifies content creation and optimization process, making content deployment faster across multiple customer touchpoints.
In our webinar with Contentful, industry experts share the host of advantages of headless CMS to build better end-to-end digital experiences for 2021 & beyond. Watch the webinar on-demand > here
2. Customer journey mapping
Customer journey mapping is important to analyze customer preferences and deliver personalized communications across touchpoints
3. Customer data management
A CDP platform helps centralize customer data to help brands get a complete 360-degree view of the customer, to drive targeted marketing campaigns for greater upselling opportunities.

4. Search, navigation and insight
Website search, navigation and insights help brand marketers optimize website performance and transform user experience.
5. Commerce
Commerce platforms like OrderCloud, Salesforce or shopify help brands drive intuitive purchases throughout the customer's journey to enhance customer's buying experience and give a transparent view of the sales funnel.
6. Digital Asset Management
Digital asset management platforms act as a centralized library of digital assets like images, audio and video files, documents etc, allowing relevant departments to easily access and deploy the digital content at scale.
7. Marketing Automation
Marketing Automation helps brands drive automated campaigns at scale to drive greater customer engagements and greater ROI.
Espire's Composable DXP Approach for brands
According to Gartner, organizations using composable DXPs can deliver new features up to 80% faster than organizations using traditional suites.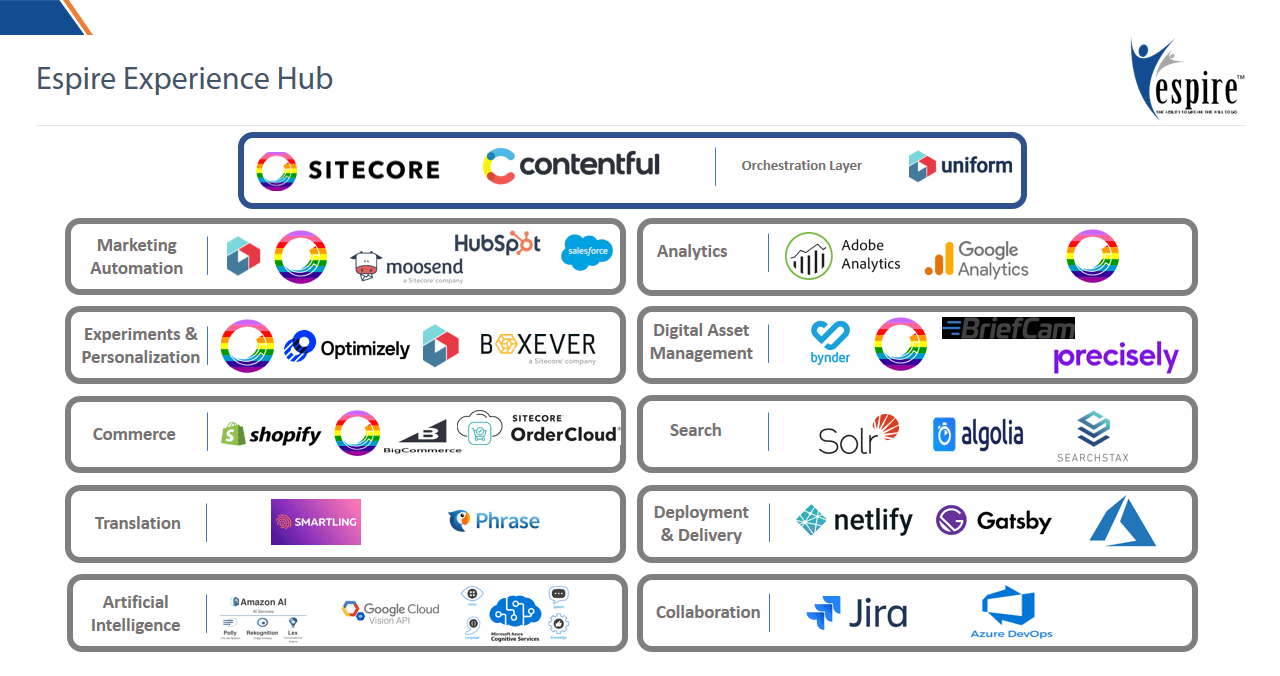 Espire leverages a wide range of tools and technologies to build a composable DXP solution, helping brands drive targeted marketing campaigns to attain business outcomes. Some of the benefits of deploying our modular stack-based approach are:
One Content Infrastructure i.e. Contentful or Sitecore
Faster Time to Value Architecture
Low Risk on Experiments & Iterations
Improved Agility with Faster Deployments
Espire can help your brand build a future-proof tech stack, which is in line with the dynamic business requirements and deploy a composable DXP architecture to help you deliver contextual user experiences across all touchpoints. To know how we're delivering impeccable digital experiences, get in touch with us at marketing@espire.com
Global Locations
Global Customers Served
Resources
Technology Partnerships
Years of Experience in Digital Transformation & Total Experience
Speak to Our Digital Transformation Specialists
Let's get you started on the digital-first & transformation journey. Reserve your free consultation or a demo today!