Top 6 Benefits of CX Personalization for Businesses with Sitecore Personalize + CDP
With 44% of customers claiming that they will likely become repeat buyers after a personalized experience, the need for personalized content is paramount, states Gartner.
Customer experience (CX) has become the key competitive differentiator for businesses to build customer loyalty. CX Personalization helps businesses map the customer journey, analyze user behavior and devise strategies to provide contextual digital experiences to customers according to their unique preferences.
Sitecore composable and headless architecture can greatly assist in CX personalization by providing a flexible and adaptable platform that allows businesses to customize their interactions with customers at every touchpoint. Sitecore CDP and Personalize are the core components of Sitecore Engagement Cloud part of overcall Sitecore composable DXP.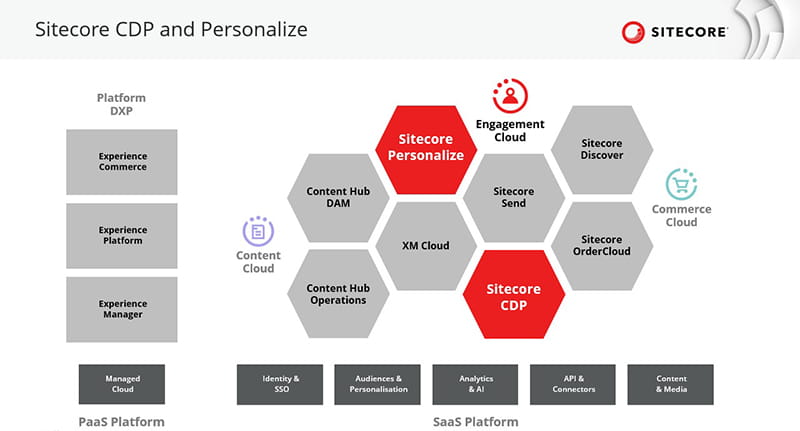 What is personalized customer experience and why is it important?
Personalized customer experience refers to the practice of tailoring a customer's experience to their specific needs and preferences, rather than treating all customers the same. This approach involves using customer data and insights to create a unique experience that makes customers feel understood and valued.
Customer personalization is important for several reasons:
1. Enhanced customer experience : By utilizing enterprise-grade software to provide targeted and personalized customer experiences, you can increase your conversion rates.
2. Increased engagement : Personalization helps to capture customer attention and engage them in a meaningful way to improve customer engagement and drive more conversions.
3. Improved customer retention : By understanding your customers' needs and wants through surveys, website analytics, and social media interactions, you can predict their future behavior and create new products and services tailored to your customers' preferences.
4. Higher revenue : Increasing your average order value is a profitable e-commerce marketing tactic. CX personalization encourages impulse buying, which can help even the savviest consumers to spend more.
5. Competitive advantage : By offering the whole package wrapped up in a personal parcel, you can set the standard for how CX personalization should work in your industry.
6. Brand Reputation : If customers have a negative experience, they are likely to look elsewhere. By consistently providing a personalized experience, you can ensure your brand's reputation stays intact.

Sitecore Personalize and Customer Data Platform (CDP)
Sitecore Personalize is a cloud-based platform designed to help businesses personalize their digital customer experiences at scale. Sitecore CDP can connect your data for relevant and holistic customer experiences that turbocharge conversions and revenue.
Some of the key features of Sitecore Personalize include:
1. Real-time personalization : Sitecore Personalize uses artificial intelligence (AI) and machine learning (ML) algorithms to analyze customer behavior in real-time and deliver personalized content and recommendations based on their individual needs and preferences.
2. Cross-channel personalization : It enables businesses to personalize customer experiences across multiple channels, including websites, email, social media, mobile apps, and more.
3. Easy integration : It can be easily integrated with a variety of third-party tools and platforms, such as CRM systems, marketing automation software, and content management systems, to help businesses create a seamless personalized customer experience.
4. Actionable insights : Sitecore Personalize provides businesses with valuable insights into customer behavior and preferences, allowing them to optimize their personalized experiences and improve customer engagement.
5. Increased customer loyalty and revenue : By providing personalized experiences, businesses can increase customer satisfaction and loyalty, as well as drive revenue growth through cross-selling and upselling opportunities.
6. Scalability : It is designed to handle large amounts of data and can scale to meet the needs of businesses of all sizes.

Top 5 CDP + Personalize Benefits
Sitecore Personalize and CDP can help businesses create more personalized and engaging customer experiences, leading to increased loyalty, higher revenue, and improved customer satisfaction.
1. Increase web conversions & leads : Sitecore's CDP and Personalize provide actionable customer insights that instantly flow from every system that touches the customer journey and deliver targeted experiences dynamically optimized to maximize leads and sales conversions (CVRT), based on customer actions and insights.
2. Increase campaign conversions : CDP and Personalization tools help to create relevant and targeted marketing campaigns that drive more conversions and ROI. It provides valuable insights into customer behavior and preferences, which allows you to optimize your marketing campaigns for better results.
3. Increase average order value (AOV) : It provides insights based on unified, cross-channel customer data which can be activated as personalized experiences that drive cross-and-up sales. Also, experimentation features allow you to optimize content and enhance the purchase journey, further increasing average order value (AOV).
4. Increase customer self-service : It provides contextual and structured customer data and delivers targeted service experiences dynamically optimized to increase customer ability to self-service.
5. Increase marketer productivity : It reduces the amount of time spent analyzing segments and campaigns; and creating optimized experiences and campaigns for omnichannel execution.
Sitecore and Espire Infolabs
Sitecore composable architecture, which breaks down systems into smaller, independent modules, allows businesses to deliver more relevant and engaging experiences that can drive customer engagement, loyalty, and revenue.
Espire is a trusted and established partner of Sitecore, a global leader in digital experience management software. With many years of experience in delivering successful Sitecore implementations we have a team of highly skilled and certified resources, including Sitecore Certified Developers, Sitecore Certified Marketers and Sitecore MVPs (Most Valuable Professionals). Our team has a deep understanding of Sitecore's technology and roadmaps, allowing them to leverage the latest features and capabilities to deliver innovative and differentiated solutions that exceed customer expectations.