Six top ways Chatbots boost your Customer Experience
A high quality- not just any- chatbot is quick determinant of your CX strategy outcome. Infact, Ubisent study has revealed that 35 per cent of companies want more brands to adopt chatbot technology, whereas an Oracle study suggests that 80 per cent of them plan to use a chatbot by 2020.
What is a chatbot?
A chatbot helps your customers to communicate with you for new services, service queries or grievance redressal etc. The platform could be your website, mobile applications or skype and other messengers and communication platforms like Skype, Facebook Messenger, WhatsApp, and even Alexa. Big brands are already using chatbots to facilitate sales and find information.
In a hurry? Here's how a chatbot enhances customer experiences:
Reinvent your forms, Seamless chat, 24x7 customer service, Endless queries, zero error for sass, smoother customer journey, Less stress, good bye to IVR, and hyper personalization.
How a chatbot improve customer experiences
While the benefits to a company using chatbots include lower costs, the real winner will be your customers. Here's how chatbot enhances customer experiences.
Here are the eight top ways a chatbot can improve your customer experience.
1. Seamless live chat
Customers can handle chatbot in the same way as they do in an online conversation with their direct customer support staff, so the learning curve for customers to interact with chatbots is virtually seamless. Because many chat sites use natural language processing methods as they can analyze the customer's query and provide a response that meets the client's needs. Most chatbots can also be easily integrated into your website or smartphone apps- saving the customer time and difficulty searching the company's online resources and to get the answers they need.
2. All round (24 x 7) Customer Service
Live chat support staff need to rest - but your chat doesn't.
Customer needs often arise outside office hours, and they may need resolution when customer service staff are unavailable. Chatbots provide customers with the opportunity to get answers to their questions at any time, so they don't have to wait for a response from voicemail or email. The best chat sites can give the customer a feeling of talking to the live operator at any time.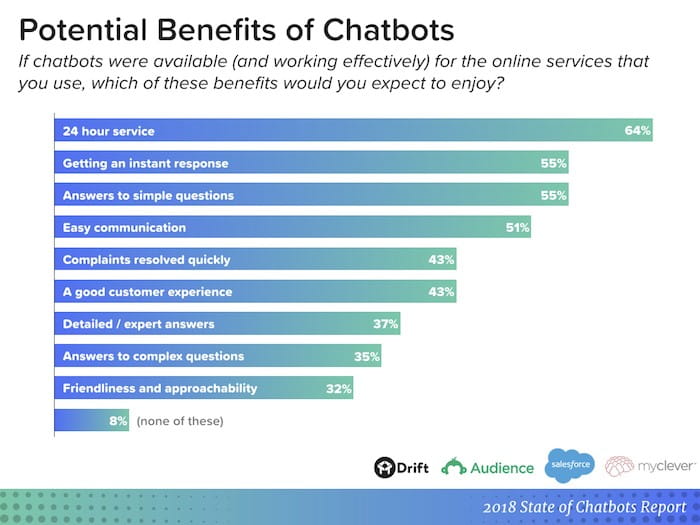 (Allows you to use chatbot to provide 24-hour service | Source)
3. Seamless CJM and Lesser Stress
To make it easier for a customer to purchase, chatbot can pop up any product page to provide additional information, video content, or even a discount code. Chatbots can also help customers collect information, such as the item they want to buy, how they want to buy the item, and how they want to ship it.
A recent survey by developer chatbot Helpshift found that 94 per cent of the more than 2,000 respondents are "scared of contacting customer support". Current ways of handling customer support calls, from foreign operators to automated phone lists, have done little to ease the customer's fear of reaching the vendor's customer service branch.
The survey also found that customers would welcome the use of chatbots to meet specific needs. At least 70 per cent of respondents said they would use chat sites if they could accomplish their much-needed tasks- reducing the time needed to solve problems, and the time needed to get customer service representative on the phone. It, hence, simplify the entire customer service process.
4. Goodbye Customer Support (IVRs)
One of the biggest complaints customers have about the customer service process is the use of Interactive Voice Response (IVR) systems during phone calls to support customers. These systems ask the customer questions and direct the customer's call based on their voice answers. IVR systems are highly disorganized, guiding the client through each response until it reaches the pre-programmed destination.
Chatbot, on the other hand, can be used in a similar way, but with less frustration with IVR. The client feels as though his voice is heard and understood, while chatbot can try to direct them towards an answer based on previous queries or direct them to a human representative.
5. Personalization
Flexible chatbots give you the opportunity to connect with customers on many different levels. It can serve as the customer's primary resource for technical support, account management, or sales information. Chatbots can also be programmed with different types of conversation styles, from accuracy and technique to friendly and helpful to marriage and humor. The different types of "characters" available with chatbots will make customers come back and share with the brand.
6. Redesign forms
If you want your customer's information, you give them a form to fill in. But they're boring, and often far too long. If the customer decides to fill it in anyway, they'll do so reluctantly.
A chatbot, on the other hand, spruces the situation up. Chatbots can get the same information that any form can — but without the friction and cognitive load that you get when you're staring down a form with 11 required fields, which, if you can believe it, is the industry average.