Sitecore AI-Auto Personalization: Enabling Automated Personalized Experiences
Sitecore AI is one of the important announcements at the Sitecore Symposium 2019 which was aptly themed as "Human Connections in A Digital World", and thereafter in subsequent multiple conferences. This will be Sitecore's own machine learning platform that is aimed towards auto personalization. Sitecore's auto personalization is an effort from Sitecore's end to cater to challenges marketers are facing today. It is aligned to resolve the basic inability of marketers who are clueless about initiating personalization in the very first place, who lack the right resources for implementing personalization strategy and goals- with poor and time taking user segmentation and no clarity of unique personalization requirement of customers.
Sitecore AI with its machine learning framework helps marketers to automate the process of delivering personalized digital experience with predictive insights. Sitecore AI will amplify and complement the ability of Sitecore Experience Platform for delivering targeted, contextual and personalized digital experience along the customer journey with content that is unique and relevant to the needs of the customers. It eliminates any guesswork by marketers by determining the most relevant and useful content for specific customers and optimizing the experience to customer's delight and ultimate conversion.
The Way to Sitecore's Auto Personalization
Sitecore announced three basic requirements to leverage AI for auto personalization.
Sitecore 9.X Platform on Cloud - The basic requirement is to have a Sitecore Experience Platform 9.X and above with the server running on the cloud
Goals and Engagement Values - The next step is setting up your goals, strategy and user engagement value scores
Content Variation and Enable Auto Personalization - After establishing the setup, AI implementation will be smooth and running. You would then need to select the required component and add content variation for same component on your website where you want auto personalization to run in the experience editor and use auto personalization rule


Sitecore AI with its machine learning capability can easily help you identify user segments and provide you with the relevant content and you as a marketer can free yourself from setting up user segments. Auto personalization however does not discount your presence as you are in the best position to understand and determine your business goals, needs and strategy.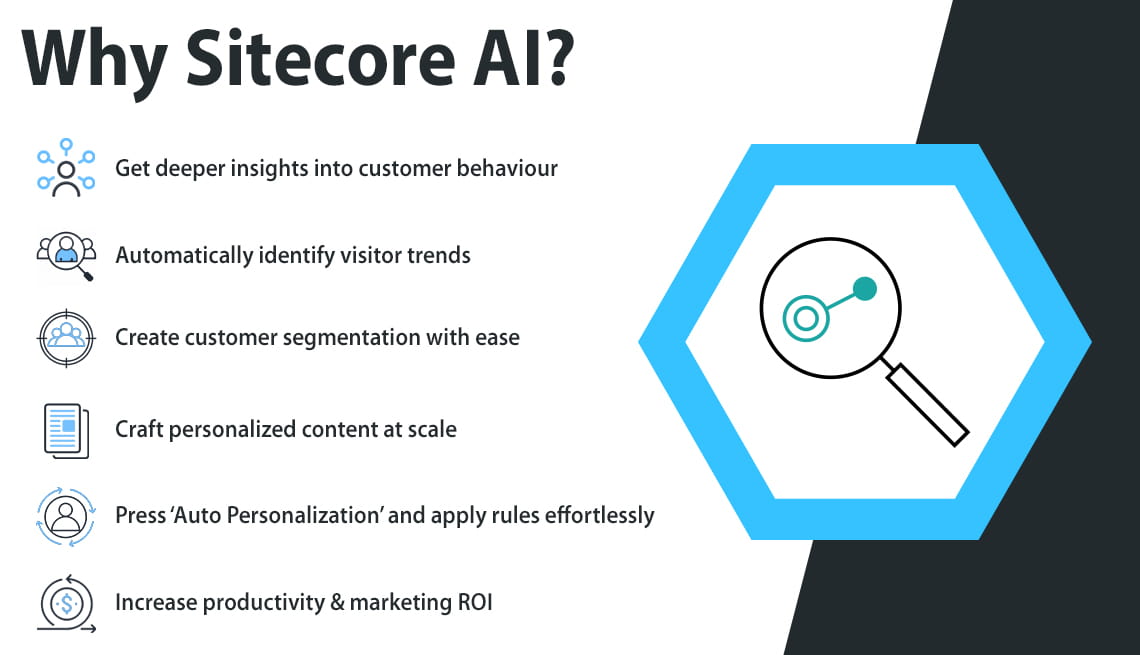 Sitecore AI Dashboard - Offering Predictive Insights
Sitecore offers a dashboard to give you an insight into the number of users, their behavior and profiles as well as their location and engagement value. It will enable the marketers to track the activity of Sitecore AI and understand how the different algorithms work to quickly get an insight that can be then shared with other stakeholders and arrive at informed decisions, understand the impact on goals and design future strategies. The dashboard helps marketers to understand how customers were grouped into user segments, the reason for selecting a specific segment for targeted offerings and how AI displays influential visitor attributes.
Benefits of Sitecore's Auto Personalization
Sitecore AI comes packed with the potential to accelerate data processing and analysis to solve the content crisis faced by marketers by forecasting user behavior trends, with minimal human interference. AI helps marketers to design smarter marketing campaigns by delivering an optimized content and offering a personalized experience at scale through an intelligent insight. Automatic user segmentation by an intelligent AI solution will help marketers tremendously to initiate their personalization strategies and deliver a unique 1:1 targeted personalization.
It will lead to an increase in the return on investment for companies
Auto personalization with its automated process will help in increasing productivity
It will offer deeper insights into customer behavior via the segment analytics suite
The auto personalization feature will help users to automatically identify visitor trends
It will help create customer segmentation and page element modification to deliver personalized content
It will enhance the power of Sitecore XP to craft contextual personalized offerings at scale with selection of best content suited to each customer
Auto personalization will free Sitecore XP users from manually applying time consuming and complex personalization rules
The simplicity of auto personalization would mean a simple selection of the term "Use Auto Personalization" after adding content without the need to apply rules


With the power of Sitecore AI, marketers can now be rest assured of an elevated and simplified personalization process with machine learning's ability to discover new insights about every customer from their previous behavior and experiences- helping them to try out different variations of content suited to particular customer.
We are a Sitecore global partner with multiple Sitecore projects delivered across global locations for multiple clients across different industry verticals. We are enabling digital transformation & personalization by crafting awe-inspiring Customer Experiences. Reach us at marketing@espire.com, regardless of your Sitecore experience and your maturity to Sitecore platform, for any further queries about Sitecore's AI offerings and to exceed your customer expectations-every time.