Remote Working for the Future: MS Teams with new Upcoming Features
Digital workplace is evidently the new normal and digital laggards as well as leaders have all accepted the reality as the globe witnesses the most unprecedented crisis in near times. Brand exercises and brand building always required fulfillment of expectations of customers. As the employees and customers went digital, enterprises too are now forced to go digital with some brands leading the game while others remain behind.
Digital Workplace is built upon a brand's ecosystem where its different stakeholders interact and communicate with each other - the way business-as-usual happens
However, there was a conspicuous absence or slow adoption of modern tools - in contrast to the rate of change of technology that is accessible to customers and employees. As the world witnesses the COVID-19 pandemic, brands and customers as well as employees have all realized how painstaking it is to communicate today with the usual tools of communication that were being pursued in the pre COVID-19 era.
So, eventually enterprises and all stakeholders are now focusing all their energies in ensuring that collaboration and daily interactions does not fall prey to their own inconsistencies and incapacities.
Since the COVID-19 outbreak, most companies have put their WFH processes in place. However, the biggest challenge of working remotely stems from the lack of technology infrastructure, and lack of comfort with new ways of working. By March end 2020, 2.7 billion minutes per day were being spent on Microsoft Teams meetings globally! Surely, the COVID-19 crisis has pushed brands to a new era of 'offices at home'.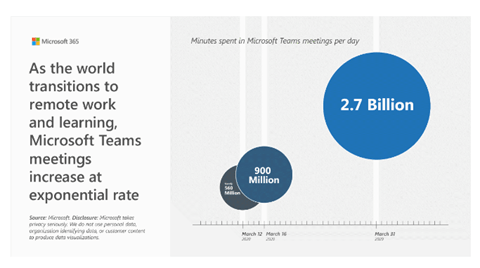 Role of Microsoft Teams: Catalyzing Digital Readiness
Microsoft Teams presently has seen huge jump in the number of active users. All this makes it evident that in times to come, a versatile and dynamic work stream collaboration platform like Teams will take the lead as enterprises are forced to being digital-ready and future-proof. If we are to focus on numbers, there are 200 million active users of Microsoft 365 (which includes Teams as one of the key tool)
Teams brings the best of all the worlds as it saves the most precious resources for any enterprise i.e. time and cost - for an effective ROI.
---
Employees can be thus allowed flexibility to have a say and are allowed to co-monitor tasks in progress, reschedule and most importantly have the feeling that they are in it together!
---
Plan, Schedule, Instant Message and Video Calls - All in One place
By integrating Collaboration and Communication tools together (SharePoint, Microsoft Planner, Microsoft Lists, Microsoft Forms, Chats, Calls etc.), Teams offers a unique proposition that brings the best of both worlds. A scheduler with a messenger service is a win-win situation as now employees can schedule meetings and tasks and communicate like never - saving time, clarity and peace of mind.
One Central Location For All Interactions - Effective ROI
Microsoft as it stands today is a huge ecosystem with different products catering to different needs of every enterprise in their specific digital journey. With Teams, what Microsoft has successfully been able to deliver is unification of all offerings into one tool. Simplicity amidst a complex mix of tools, platforms and vendors. As a central hub, Teams brings Microsoft 365 together for flawless work experience. Users can now have access to all Microsoft Office features within Teams itself and employ them at one place without the need to shift between programs, interfaces, screen or third-party tools.

Achieve Mobility with 'Teams' Flexible and on-the-go Collaboration
Teams Mobile offers a comprehensive counterpart to its web version and can be accessible through your smartphones (app and browser). This is helping employees to continue accessing files, co-author, co-edit and share files on-the-go without the complexity of sticking to their computer screens. Teams mobile is making WFH even simpler and cuts the noise that home environment brings with it in contrast to office ecosystem- great user experience for boosted efficiency.
Approvals App : Upcoming Feature of Microsoft Teams
Approvals in Microsoft Teams lets you easily create, manage, and share approvals directly from your hub for teamwork. You can quickly start an approval flow from the same place you send a chat, in a channel conversation, or from the Approvals app itself. Just select an approval type, add details, attach files, and choose approvers. Once submitted, approvers are notified and can review and act on the requests.
You can do all types of approvals in one place which includes approvals from SharePoint, Power Automate, ServiceNow, Azure DevOps, Dynamics 365, GitHub etc. (with 350+ connectors) . You can also capture digital signature with Adobe Sign and DocuSign to get legal consent or approval on electronic documents from people inside or outside the organization and this will be coming later this year.
Teams Brings in Human Face to Workplace
Finally, Teams also offers a more transparent, stringent and human workplace and will help enterprises in their efforts to go towards all-digital workplace. Microsoft Teams makes it simple for employees to not just access meeting and tasks but also who assigned them, who can assign them and customize each checklist on-the-go. Employees can be thus allowed flexibility to have a say and can co-monitor tasks in progress, reschedule and most importantly have the feeling that they are in it together.
Are you enabled to operate your business remotely or still thinking on how to increase collaboration & productivity for workforce who are WFH? Global partnerships with over 20 leading brands such as Microsoft, Kofax, Quadient, Sitecore, Messagepoint, and others - enables Espire Infolabs to be your one-stop destination for business on the go, thereby redefining customer experience with quick business gains.
Stay tuned for more updates and do remember to subscribe to our blogs for latest in technology!