Microsoft Graph: Top Usecases for Businesses to Bolster Productivity & Growth
According to reports, about 90% of the Fortune 500 companies have their data stored in Microsoft Graph. This graph, however, is not used to study mathematical structures and relations between two numbers! Microsoft Graph is a platform that provides a unified programmability, which enables you to securely connect with Microsoft 365, Windows 10, and Enterprise Mobility & Security (EMS), using REST APIs and client libraries to easily access and manage a wealth of data.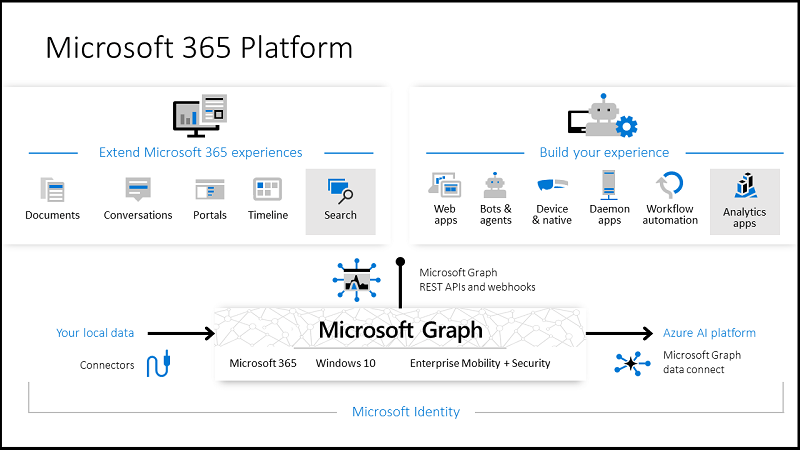 In recent years, Microsoft Graph has emerged as a preferred choice for large enterprises for building scalable solutions across multiple platforms and APIs. With its wide access to data and insights, it allows developers to create customer-centric solutions and deliver impeccable experiences across multiple devices to millions of users. In this blog, we will discuss the top use cases of Microsoft Graph for your business in the next normal & beyond
1. Integrates User Data Across Multiple Platforms
Microsoft Graph leverages two prominent concepts- User & Group.
It easily integrates with Azure, allowing businesses to build user-centric solutions. After appropriate permissions, Microsoft Graph services leverage the user data and share it with businesses in rich contexts and deep insights as real-time updates. Both these functionalities help businesses cater to both their employee and customer needs.
A Group on Microsoft 365, allows users to work together and foster collaboration. By integrating with Azure AD, OneDrive, OneNote, Outlook and Planner, Microsoft Graph, enables teams within an organization to work seamlessly across multiple platforms, share documents and insights, thereby, achieving departmental and business goals.
In a nutshell, Microsoft Graph helps businesses to easily integrate and manage all the Microsoft 365 services and features, while connecting all the user data on a single platform while supporting a wide range of scenarios.
2. Enhances Workplace Intelligence
While working in a large enterprise with a strength of at least 500 employees or more, it is difficult to know every colleague by their name, designation, department etc. Microsoft Graph allows businesses to leverage the profile API and create profile data with unique employee details.
These profile cards will allow people within an organization to easily access and view information about each other like their designation, reporting manager, contact information etc. Microsoft Graph easily integrates with Azure, Outlook, SharePoint, and many such service applications, enabling easy access to profile data, with just a tap of a button.

3. Improves Employee Productivity
While there are a multitude of factors contributing towards employee productivity like the work environment, collaboration between teams, skill trainings etc, access to smart applications which simplify the way an employee works, continues to remain an important factor.
Microsoft Graph leverages advanced analytics and machine-learning to provide key metrices to employees about the way they work, time spent on different tasks and their top collaborators. This data is insightful as it enables them to plan their work week better and maintain a healthy work-life balance. Not just that, it integrates with OneNote to help users plan and organize their tasks efficiently. Microsoft Graph even allows users to save their work on OneDrive and SharePoint, access and share their files with colleagues anytime, on any device by leveraging Outlook.
By successfully integrating with a multitude of applications like OneNote, Calendar, Mail, Workbooks, OneDrive etc, Microsoft Graph enables the employees to get work their done with effective collaboration, thereby improving employee experience and productivity.
4. Security
With Microsoft Graph, security integration is precise and unified. Whether enterprise service is supported by Azure AD Identity Protection and its suites or Microsoft Cloud and Windows Defender, all of these platforms can perform with Graph and its unified gateway, security insights and multiple action points across the partners ecosystem.
5. Cross-Device Accessibility
Microsoft Graph's latest feature allows a single unified endpoint access to all your data be it from Azure AD or Microsoft 365. To end device friction points, Microsoft transcends single device use to harmonize across devices and empowers for more human-centric utilization between devices, regardless of form factor or platform. With Microsoft Graph, access the activities and devices that belong to your customers, and deliver personalized omnichannel experiences.
6. Real-time User Notifications
Microsoft Graph notifications platform provides user-centric and cross-platform notification experiences. A seamless and integrated user notification delivery across different endpoints increases capability and maximizes outreach with targeted notifications to the right user at the right time.

7. Effortless Integration with Business Applications
Graph API incorporates two aspects of business applications: customer service/booking and business financials. With Microsoft Bookings simplify bookings and appointments in an efficient manner. It targets enterprises to enable users and customers to book a service via web or even through Facebook while providing business managers to streamline customer choice, services and pricing, including improving staff productivity.
On the financial side, Dynamics 365 Business Central is a one-stop business management solution helping an enterprise make optimal decisions. It provides an overview of your business, enabling you to manage your financials, automate your supply chain, improve customer service and optimize your operations.
Microsoft Graph is a must-have technology for businesses that are aiming to fast-track their growth, as it acts as a one-stop solution for bolstering employee productivity, enhancing collaboration between teams and safeguarding sensitive business data.
Espire Infolabs is a Global Partner for Microsoft Teams implementation. We have been continuously transforming the digital journey of our clients with an impressive customer experience delivery, aligning to their business objectives & ensuring positive business benefits. Drop us your feedback at marketing@espire.com and stay tuned to this space for recent trends and insights around everything digital!