Enhance Business Experience (BX) with RPA & Hyperautomation to bolster growth
By 2024, organizations will lower operational costs by 30% by combining hyperautomation technologies with redesigned operational processes, states Gartner.
Hyperautomation deals with the approach of streamlining complex business & IT processes by eliminating repetitive and automating manual tasks with the orchestrated use of multiple technologies such as Artificial Intelligence, Machine Learning and RPA. Organizations are already leveraging RPA technology to transform their business processes, and the next step in their automation journey is Hyperautomation to enhance their business experience (BX) and bolster growth manifolds.
What is RPA?
Robotic process automation (RPA) empowers brands to leverage an agile automation approach to achieve a scalable business process automation and reduce the dependence on manual processes while enhancing business as well employee experience (EX).
The top 5 reasons why RPA projects fail:
Successful implementers holistically think through the entire plan for digitization, instead of focusing on one RPA component. Utilising AI, LCAP as complementary tools goes a long way in transforming end-to-end business processes
Teams spend more time discussing which RPA software to use or the number of bots to deploy rather than debating which processes to automate
Change management is the other critical factor but often overlooked piece of the puzzle in design planning
Bots need constant management and maintenance over their productive life
Mostly RPA projects are governed by business and process-owners without IT involvement which causes issues when RPA needs to be operationalized
Top tips for a successful RPA Journey:
Formalize an organisation Automation Roadmap - The automation and strategy must be led by an overarching business strategy. Establishing CoE/ROM (Robotic Operating Model) early in the journey will help a long way towards a successful automation journey
Create a Joint IT and Business team to act as CoE/Governing Body to identify skills needed for the RPA journey. Determine which skills are available in-house and which are needed to be acquired from an external agency
Identify and quantify the opportunities to use RPA for revenue-generating activities in addition to cost-saving or compliance activities
Evaluate Processes for RPA candidates carefully- The focus should be on the whole process rather than a task to reap the benefits as it would yield disjointed outcomes
Espire designed an agile technology solution for automatic extraction of data for a UK-based leading housing association, which reduced dependence on manual efforts & helped save operational costs by >30%. Read More
How Espire & UiPath can help organisations rapidly identify & automate processes for business optimization!
UiPath creates IPA solutions by using artificial intelligence (AI) to amplify the power of their existing RPA technology. It offers a variety of products such as Automation Hub, Task Capture, Task Mining & Process Mining which could be leveraged to Identify and manage automation pipeline, store process documentation, and securely leverage reusable components with one easy to use, cloud-based solution.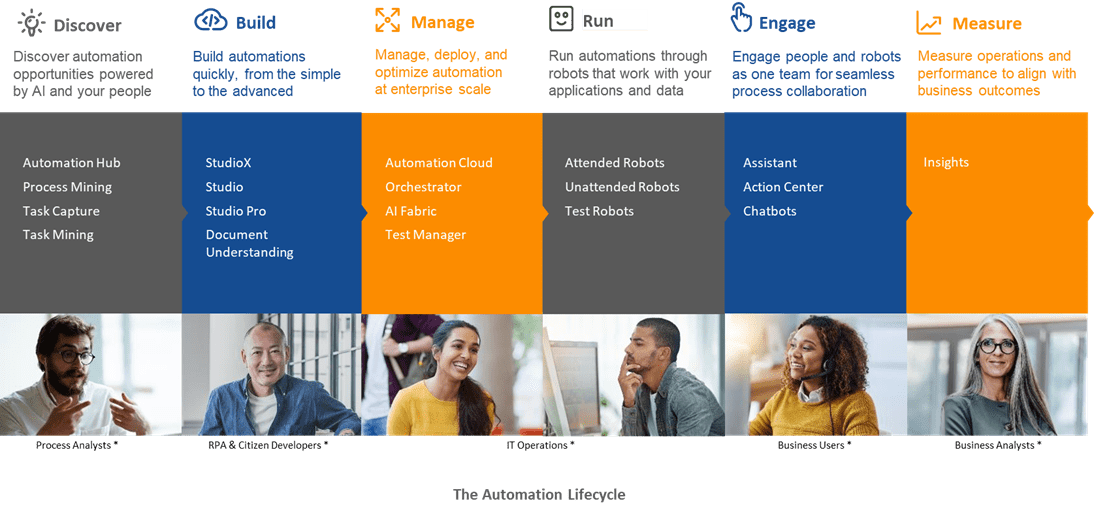 As a UiPath partner, Espire can help in accelerating digital transformation & improving business experience (BX) by making the automation journey successful and scalable. We have expertise in the overall implementation, starting from the Assessment phase to help shortlist & prioritize the candidate processes, building strategies and roadmap, developing a pilot, transitioning bot into an operational environment till its final implementation & maintenance.
Watch our webinar with Hyperautomation leader - UiPath, to unravel the power of Hyperautomation & transform your RPA vision into reality in record-time for positive business benefits!

Repetitive and manual tasks and processes take a toll on your employee's productivity and hamper creativity and innovation. We help Organisations automate all such work competently with Automation Solutions that cover Business Process Automation, Robotic Process Automation, Chatbots and Low Code Application Platforms - ensuring you have the bandwidth for human ingenuity to thrive while saving critical time, operational costs & enhancing Employee Experiences (EX).
Espire has global partnerships with leading automation technology names such as UiPath, Kofax, Microsoft Power Platform, WorkFusion. We have extensive experience in Implementing Enterprise-wide Intelligent Automation that will enable the brands to remain competitive, commit to innovation and deliver superior total experience.
You can explore more about our Intelligent Automation offerings > here! or drop us an email at marketing@espire.com