Paradox of choice in Digital Workplace and how Microsoft is transforming higher education
In today's age, workplaces are no more simply physical spaces occupied by employees in a defined area and time. Modern workplaces are ever connected setup where employees can work from anywhere and anytime with instant access to everything they need. Hence, today employees no more need to be dependent on physical spaces and time as they can easily connect with the set up and perform task on the go. Digital workplaces have evolved as the solution to make employees share, team-up, collaborate and remain more engaged, motivated and productive.
However, lack of digital workspace strategy and over emphasis on technology misses the very target of employee engagement and more importantly employee experience for creating an environment conducive for employee productivity. The problem adds up when employees have digital workplace resources more than what is needed and leads to confusion and delay.
Paradox of Choice - Use of fewer tools
With access to corporate tools that have overlapping functionalities, employees face a situation of the paradox of choice leading to inefficiency, unproductivity and delay. Employees get overwhelmed with abundance of tools that adds to the confusion of selection of apt tools for getting a task done. For example, an employee working in an organization having Microsoft stack needing to share a document within the organization has to face with various similar functionality tools like email, Teams, Yammer etc. Hence, the way out of this issue is to ensure that organizations should have fewer but effective tools.
Intelligent Workplace
An effective digital workplace requires to share workloads between machines and humans. After ensuring the strengths of each of them, we can ensure that technology is making super humans at work and in turn not competing with humans. Artificial Intelligence can transform knowledge management aspect of a digital workplace especially in case of tagging and labelling. Categorizing content and applying labels are important for knowledge management but humans cannot apply good metadata to the content they create and share. Hence, the ideal need is to ensure that machines tag and label content, whereas humans can focus on creating and sharing it, leading to placement of content at the right time and to right people. There is thus a need to use AI led chatbots to bolster the efforts of workforce.
Redesigning employee experiences
Organizations are still pursuing the traditional approach of broken internal communication with typical intranet content leading to low levels of user engagement. Fortunately, the recent trend of digital workplace is replacing the obsolete intranet. There is a dire need for user-centered design practices and to redesign workplace for real user experience and not just cosmetic makeovers which have limited effect on employee productivity and engagement.
Digital Workplace for Higher Education
As digital transformation matures and attains significance; the idea of digital workplace has gained momentum for universities to respond and engage students with learning that can be accessed, regardless of the learner's location or learning style. Digital technology is revolutionizing every sector and education industry needs to catch up with modern technologies in order to meet the demands of students and the higher education system in general. Educational institutions thus need to analyze, design, develop, implement and evaluate their strategy towards a successful digital transformation. Each university with its unique requirements needs to create its own roadmap for integrating multiple systems and data into a centralized platform for streamlining processes and transforming outcomes.
Microsoft Transformation Framework for Higher Education
In this scenario, Microsoft with its three decades of working experience with educational institutions is creating transformative changes with a holistic look at institutional requirements to develop a sound digital strategy from implementation to development of digital roadmap. The Microsoft Education Transformation Framework capitalizes on emerging technologies, such as artificial intelligence to manage student's lifecycle, modernize teaching, learning and research as well as to build a robust physical and digital infrastructure.
The framework outlines three important outcomes including: 1) Student Success and Lifecycle Management 2) Teaching, Learning & Research, and 3) Connected Campus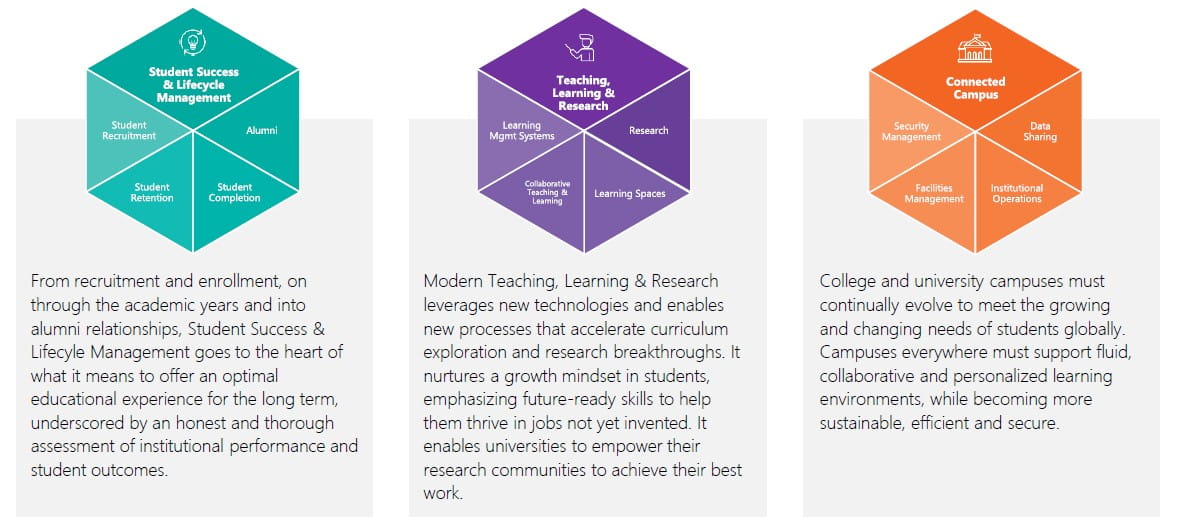 Student Success and Lifecycle Management
Microsoft transformation framework looks into every aspect from recruitment to enrollment, alumni relationship, student success and lifecycle management to offer an optimal student experience with long term vision. The program also keeps a track on institutional performance and student outcomes with honest and stringent parameters.
Teaching, Learning & Research
The framework leverages new technologies and develop new processes to speed up curriculum exploration and breakthroughs in research. The learning and research process nurtures creative mindset in students with futuristic skills that helps them to excel and grab new and future job opportunities. Universities adopting the framework successfully move towards a culture of research and innovation to drive excellence.
Connected Campus
Microsoft solution boasts of integrating campuses with a digital first approach and helps educational institutions to evolve and implement the practice of modern digital workplace. College and university campuses with an aim to meet the growing needs of students globally need to be fluid, collaborative, sustainable and secure with offerings that are relevant and personalized.
Digitally Transformed Workplace
With technologically driven world it has become critical for education system to adopt digital transformation sooner than later. Artificial intelligence, cloud computing, machine learning and analytics are aiding this process to deliver scalable and affordable quality education. This is the most opportune time for organizations to take up the opportunities offered by a digitally connected workplace with sound strategy as the solution to make both employees in an organization or students in the universities to share, associate, collaborate and remain more involved, motivated and productive.