Higher education has changed dramatically in the present times with university offerings evolving and changing rapidly as students are getting more empowered. Globally, the number of students enrolling and attending universities has grown multi fold. In this age of cut-throat competition, universities need to support and enhance student experience throughout the student lifecycle at each touch point start from the very first point of contact to becoming an alumnus. Student experience and resulting satisfaction are critical for universities. The stakes are getting higher as student experience is used to evaluate universities.
Initial omnichannel experience for prospective students play the key role for students while deciding to select one university over the other with similar credentials. Key questions that support an effective student experience are:
Are the prospective students offered omni-channel experience during the course selection and application process ?
Is the university presenting students with relevant contextual personalized information ?
Will the selected course cater to student's career aspirations ?
Are universities catering to the evolving digital demands and expectations of students ?


Personalized Communication for an Enhanced Student Experience
These days students demand consistent, insightful and personalized communication and university resources want efficient solutions to attract students effectively. Hence, every university today, looking to enhance student experience need to move towards digital transformation by transforming not only its IT stack but overall process from scratch. Universities need to keep their stakeholder's information up to date by tracking student interaction with the university across every touchpoint.
Universities, nowadays, need to understand each student uniquely and personalize communications by mapping and segmenting data to offer targeted offerings accordingly. Hence, universities need to move away from department-driven approach to university-wide approach to ensure quality and consistency in communications. With right digital technologies including content services, analytics, machine learning and bots, universities can track student engagement, satisfaction, attainment and later journey with university. They can also send automated messages to remind students of deadlines, events, reminders and alerts to help them plan their time and prepare for exams effectively leading to great student experience and positive impact on their wellbeing.
Universities as Digital Enablers
As digital transformation matures and education industry become more fluid, the scope of improving student experience with relevant communication is ever growing. Educational institutions need to become digital enablers using modern digital experience platform and technologies to reach out to potential students. The need of the hour is a robust digital strategy to transform business challenges into a strong competitive edge - accelerating student acquisition, student engagement rate and enabling students, staff and community.
Espire - Enabling Digital Transformation for Universities
Espire has been enabling universities to transform student experiences. We deliver cutting-edge digital experience platform, customer communication management, content services, advanced analytics and scalable platform to meet the specific needs of higher education institutions at every step and for every user level. Our expertise in digital experience platform powered by Sitecore leverages best practices to enhance student engagement for higher education institution.
In short, we play a key role in the student journey mapping from enrollment, to provision of facilities for residence, aiding enquiry and application, providing insights for choosing the appropriate course and finally converting the student in a life-long alumnus when they graduate from the university. Also, we offer the delivery of highly personalized messages to other stakeholders such as parents and donors.
We have been helping universities globally to achieve various goals :
Augment student enrollment and retention rate through digital solutions and content activities
Delivering high volume, personalized, contextual multi-channel customer communications to the student such as sending out reminders for payment of dues
Improve brand experience aligned with the customer's brand identity
Growing awareness of the institution domestically and globally
Build on-line engagement and deliver personalized web experiences
Manage huge content from a large number of content authors
Optimize student engagement and experience
Deliver a robust, flexible digital environment


Our Digital transformation solutions have led to :
Substantial increase in lead capture from website
Personalized student experiences delivered via the website and other channels
Seamless maintenance of the website and portal along with content integrity helping their marketing team to implement their brand narrative
Better performance and user experience
Seamless student / prospect tracking with better visibility into student journeys across channels helping with targeted messaging


Our Digital Service and CX Solution :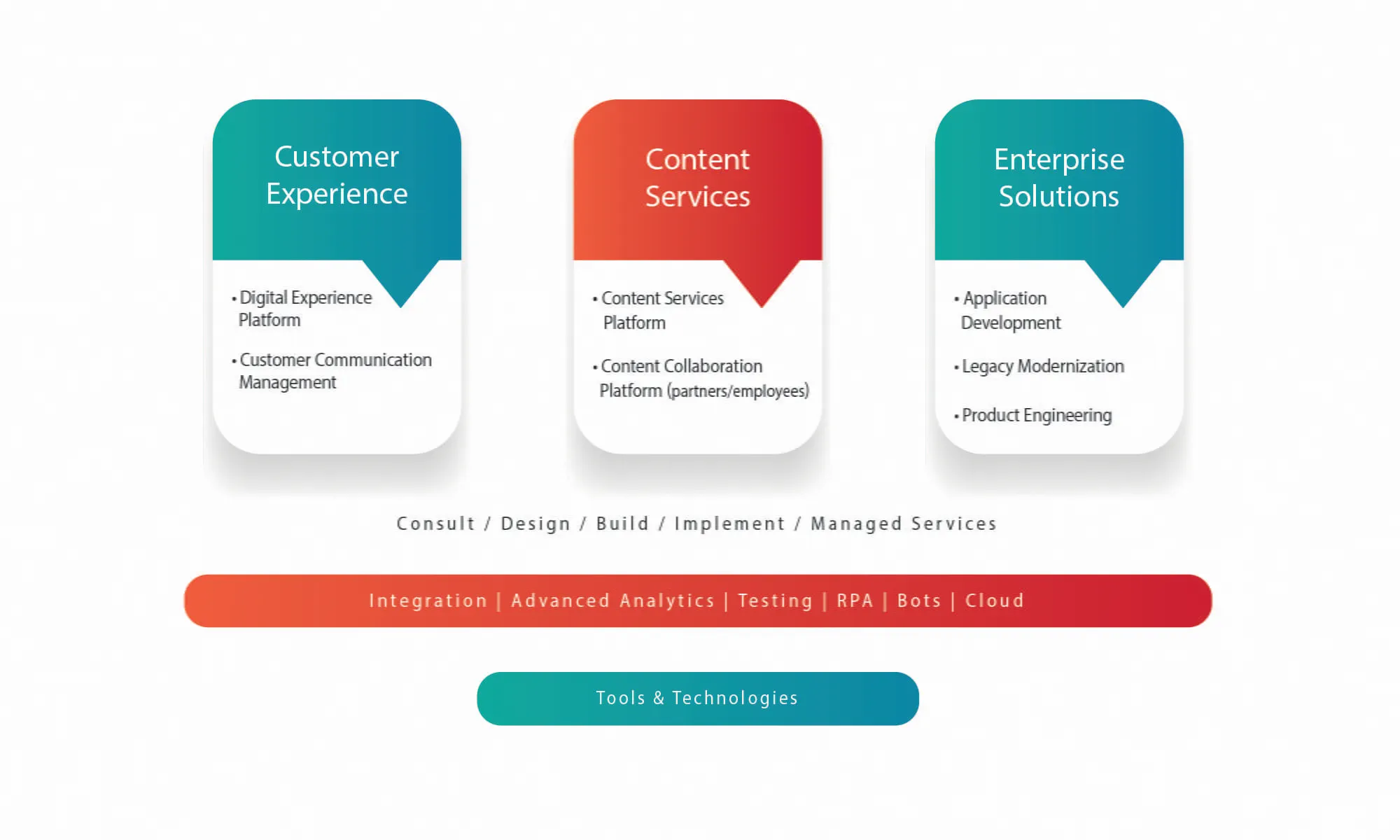 Global Locations
Global Customers Served
Resources
Technology Partnerships
Years of Experience in Digital Transformation & Total Experience
Speak to Our Digital Transformation Specialists
Let's get you started on the digital-first & transformation journey. Reserve your free consultation or a demo today!