Espire sponsors and participates in Thomas Cook's Dragon Boat Race 2019
The Peterborough rowing club wore a festive look on 5th June 2019. The occasion was the Dragon Boat Race hosted by Thomas Cook, the tours and travels company, for the second consecutive year in a row. More than 100 oarsmen tested their skills in choppy waters for the cause of ill, disabled and cancer-stricken children. Our team from Espire Infolabs too took to the waters with partner, Thomas Cook. As a proud sponsor of the event, the Espire team comprising Kaustubh Anil Varde, Account Director, Espire and others displayed a true sportsman-like spirit and competed with elan against professional rowers/oarsmen from across the world.
Commending the exemplary teamwork and sportsman-like spirit, David Hilton, IT Director, Thomas Cook, UK, said, "A big thank you to Espire Infolabs for sponsoring the Dragon Boat Race. We appreciate that you and your colleagues decided to join our team at the race. Even though we did not win, we enjoyed ourselves thoroughly! The Dragon Boat Race was a massive success, and everybody had a fantastic time. All the teams participating in the event were extremely competitive but thankfully nobody fell in the water!"
Speaking about how the event met its objective and raised substantial funds which would go towards various charities Thomas Cook is involved with, he remarked, "We have managed to raise £43,000 so far for the Thomas Cook Children's Charity with money still coming in until September. Once again, thank you for sponsoring us and helping make this event a big success !"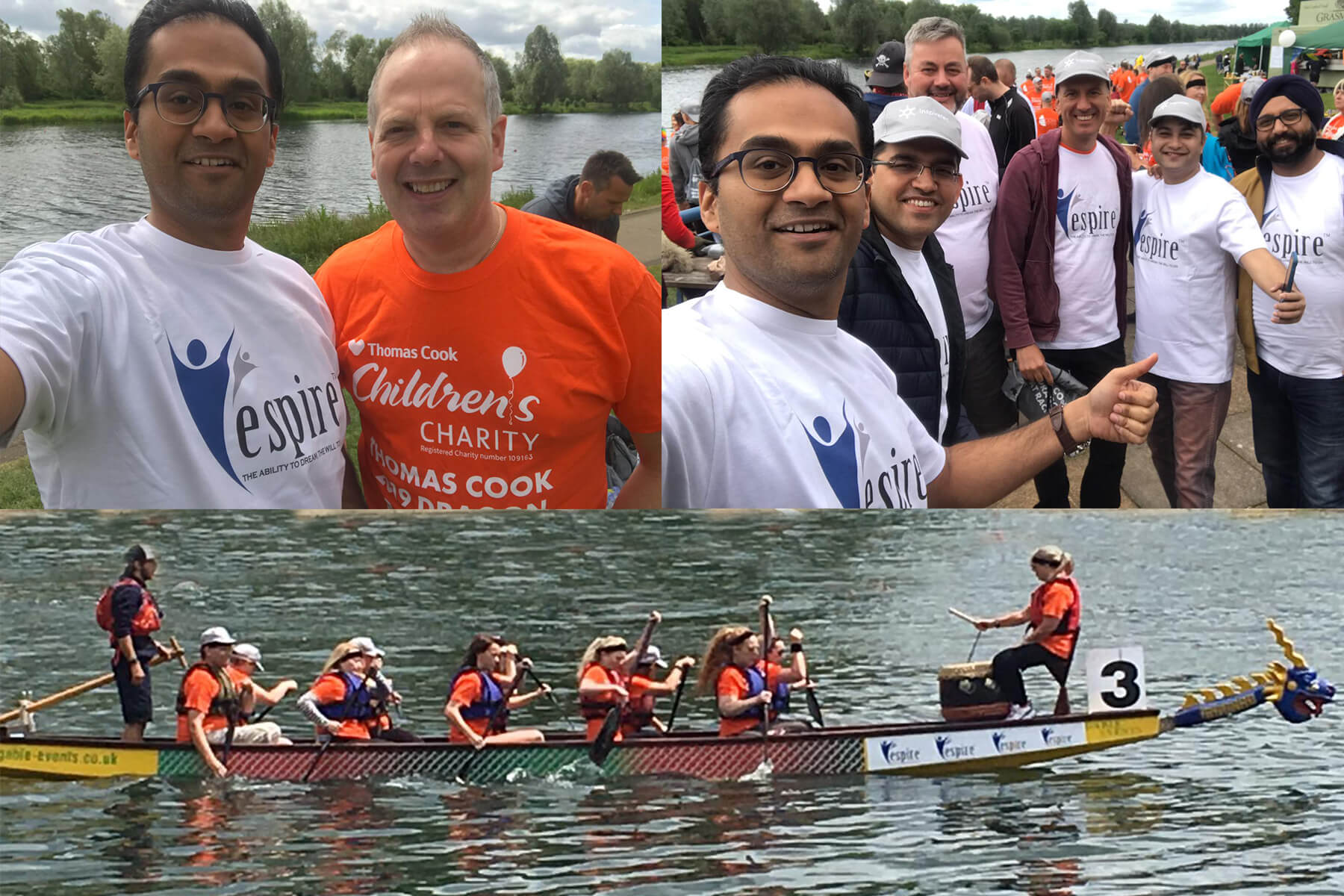 Raising £43,000 for children's charity and more to go
The Dragon Boat race is one of the landmark events hosted by Thomas Cook every year to support the many charities it is associated with. Extremely popular among adults and children alike, primarily because of the colorful boats with a dragon-inspired finish, this year too it was no different, with many rowers coming together not just to compete but also to contribute to a social cause. Clearly, the crowd had their favorites, and in the unison of many voices it was difficult to distinguish who was egging whom. No matter who finished first in the race, everyone had a great time as the event was no less than a mini festival of sorts.
Exhausted and yet excited, Kaustubh said, "This event will clearly remain one of the highlights of the year for me. Reaching the finishing line was an exhilarating experience more so because this was a worthwhile cause. We are proud of our association with Thomas Cook, one of the biggest names in travel and tourism today and of the commendable work they are doing towards the cause of children. And we are hopeful that we would be venturing further in this journey of mutual understanding in the years to come."
Partnering Thomas Cook in their Digital Transformation Journey
Thomas Cook is one of the world's leading leisure and travel groups, with 19 million customers reaching out to them each year for a planning a dream holiday. A true pioneer in the travel industry, they have opened a whole new world of travel destinations for the holidaymaker. With a rich legacy amounting to more than a decade and half, their vision is to be the best-loved holiday company, delivering inspiring, personalized holiday experiences for all its customers.
Fairly recently, along with our technology partner Pitney Bowes, we secured an engagement to partner Thomas Cook in their digital transformation journey. To be chosen over others for provision of services around digital enablement (CCM and cloud enablement) is a matter of immense pride for Espire. Summing up the excitement Espire feels about this new engagement with Thomas Cook, Pravin Patel, Managing Director - EMEA and North America, said, "We are extremely excited and proud to be associated with Thomas Cook, a giant in the tourism sector, supporting their Digital Transformation journey with our partner Pitney Bowes. We believe we have the right ingredients in place to provide leading edge customer experience solutions for their customers and the wider ecosystem of partners.
When we first came to know about the Thomas Cook Dragon Boat Race, we jumped at the opportunity of getting involved. Albeit apprehensive with the challenges of rowing at first, we not only thoroughly enjoyed ourselves but were rewarded to know that the support was for a noble cause. Well played, Thomas Cook! There is always next year (for us to catch up)."